18 RUSTIC WALL ART & DECOR IDEAS THAT WILL TRANSFORM YOUR HOME
Rustic wall art and decor became fashionably popular recently giving a new life to many heirloom objects that would be otherwise forgotten in the dusty attics of our ancestors' homes.
Why are rustic wall art and decor ideas so popular in the country as they are in the city?
What is so heart-warming and appealing in rough textures, reclaimed wooden surfaces, and worn-out finishes?
Why do modern city-dwellers gravitate to mixing old with new in their high-rise jungle?
Many things in life, fashion, and interior design come the full circle. And while we all long for the warmth of simple, earthy, and organic things, the design trends are pointing towards rustic farmhouse look.
It may be overpowering and inappropriate to have rough exposed beams in a modern townhouse interior, but it is totally OK to add some finishing touches that rustic wall decor brings. It gives us a sense of connection to the past, our family history, and our roots. It teaches a new generation an art of reclaiming beautiful things instead of throwing them away. It allows everyone to create a home atmosphere that is warm, welcoming, and inspiring. Rustic style is very forgiving and personal: if you like it and it tells your story, go ahead and use it.
Browse through some of the best inspiring ideas our team found on the web – it will help you to get started on your own wall decor project that will transform your home and tell your story. In addition to that, look at our collections of more than 100+ free farmhouse printables and printables.
1. 'Family Rules' Rustic Wood Wall Art Sign
Every family needs some ground rules. Why not put it in writing as a reminder and inspiration for all family members? A crafty person can easily make it as a quick weekend DIY sign. You can also order it on Etsy if you don't have materials or time to do it yourself. As you can see, you may need some old boards for your reclaimed wood wall art. No reclaimed wood? Not a problem – you may print it out and put your sign in a simple black frame for a modern farmhouse look. Be creative – customize it with your own family rules.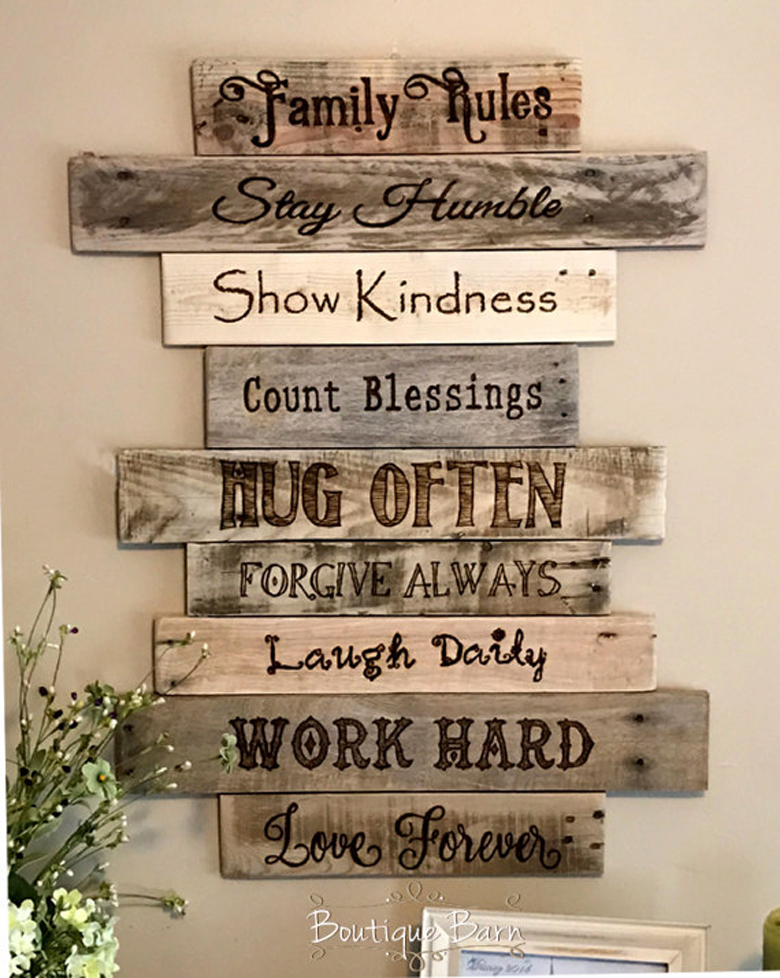 2. Rustic Candle Holders & 'Home' Wall Art
Our team fell in love with this look: reclaimed vintage table legs were upcycled as DIY candle holders giving a new life to something that would have been otherwise forgotten. White-washed frame with a simple wreath and white 'home' sign look great with a dark rustic wood in the background. Great idea for a mantel or a floating shelf decor.
3. Wood Branches Wall Decor
There is something warm and cozy about decorating with wooden branches… Bringing nature in with this simple multi-panel wall art will add a touch of rustic flavor to any decorating style. Makes an easy DIY project with a short list of supplies as you can pick any tree branch outside, cut them into three pieces, and reuse existing picture frames. So simple and a genius idea for a modern home! And it sort-of supports "reclaimed wood" wall art movement…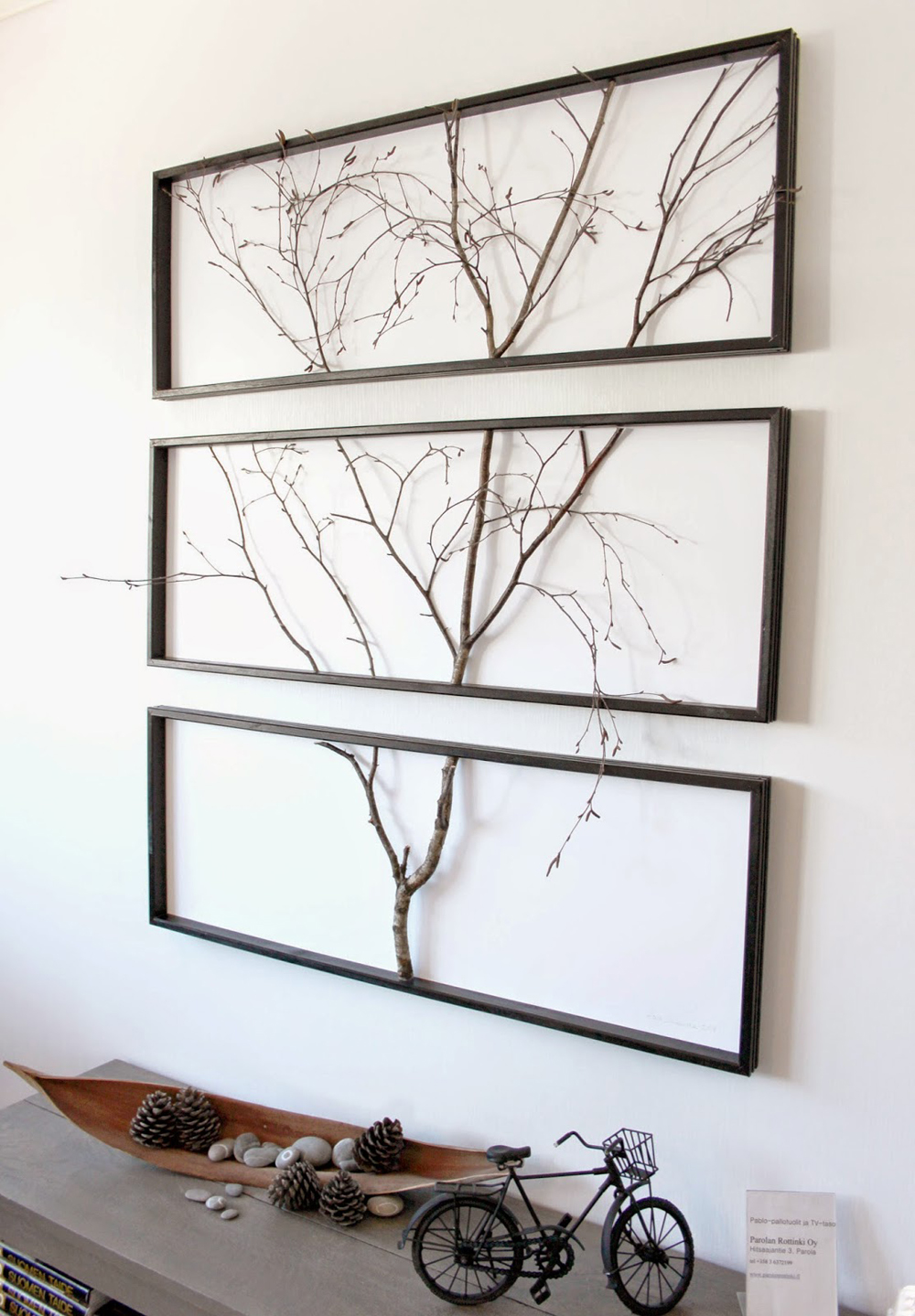 Source: ihanalehti.blogspot.fi
4. DIY Rustic Floating Shelves
Breaking the rules in interior design may pay big dividends – these rustic floating shelves make a bold statement and look modern, fresh, and airy in contrast with white walls in this DIY kitchen remodel. Live edge or natural edge is more popular than ever and is here to stay.
5. Mason Jars and Reclaimed Wood Light Sconces
Mason jars have been used numerous times in clever DIY projects. They bring just enough rustic flavor in combination with black hardware and reclaimed wood in these simple light scones. Can you do it yourself?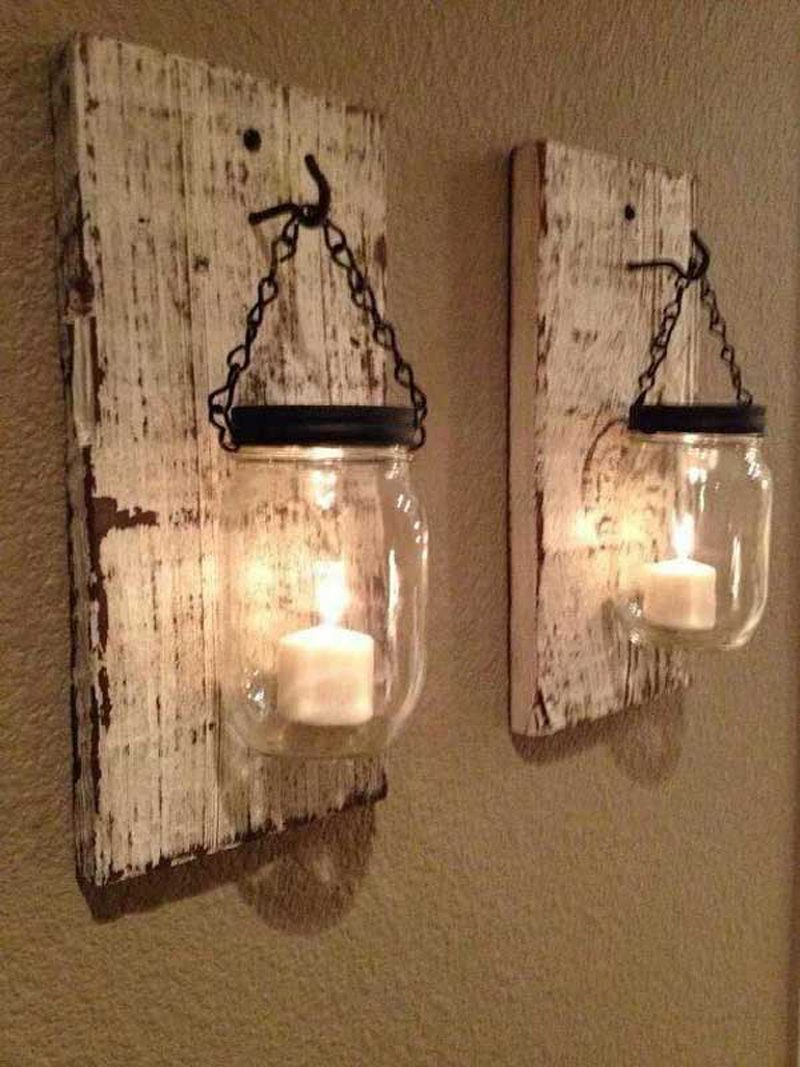 Source: architecturendesign.net
6. Antique Mirrors for Rustic Wall Decor
Lesson # 487 from Fixer Upper star Joanna Gaines: antique mirror and rustic side table make a great wall decor statement for any entryway or open dining room combination.
7. Wooden Canoe & Rustic Sign Wall Decor for Guest or Teen Room
This guest / visiting young adult room was a garage transformation brought to life by Chip and Joanna Gaines team for Fixer Upper. With a hint of a nautical theme in bunk beds' design, a rustic canoe (aka bookshelf) is a nostalgic reminder of childhood fishing trips. Simple lines of bunk beds and floating shoves are anchored by a signature big rustic clock – a great wall decor element for any room.
8. 'Yum' Rustic Metal Sign
These rustic metal letters have been salvaged to make a statement wall decor for a rustic-meets-modern dining room. A DIY wooden light fixture and a single green branch in a large clear vase placed on a wooden tray complement this fresh look for a dining table. And this project will be definitely a lot less expensive than brand new shiny contemporary metal wall art!
9. Multi-Panel Antique Rustic Wall Art for an Entry Way
As one of these gorgeous vertical carved panels would look lonely on a wall above the rustic entrance table, the three-panel wall art creates balance for this bucolic yet sophisticated entryway space. Greenery and a group of three wooden candle holders complete the look.
10. Farmhouse-style Stairway Gallery Wall Decor
This beautiful and very personal stairway gallery wall will give your home warmth and personality. Wall antique wooden signs make a bold statement in this multi-panel wall decor composition. Let your imagination be your guide and integrate some of your family heirlooms, antique store finds, and personal treasures to make this wall decor really "yours."
11. Rustic Wooden Chevron Sign 'Be Our Guest'
This clever and whimsical sign would be a great addition to an entryway or guest room. With the right picture frame and some reclaimed wood for your wall art piece, this can be a fun DIY project for a crafty person. You can add your own message in a white calligraphy font to create an interesting contrast with rustic wood texture.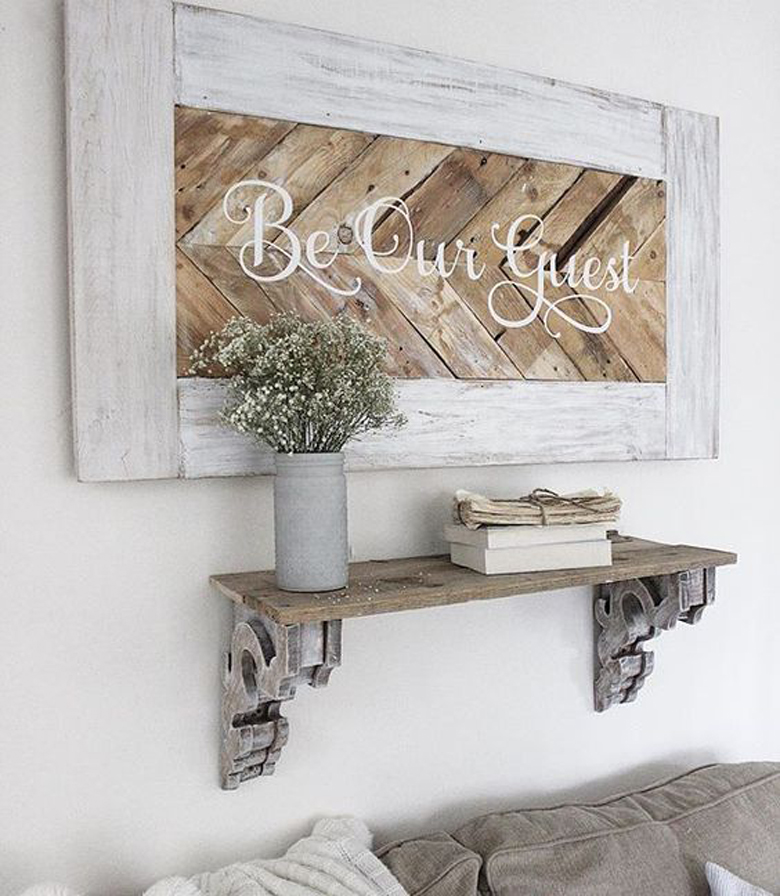 12. Easy DIY Rustic Dining Room Mirrors
This multi-panel wall decor is an easy weekend DIY project using cheap store-bought mirrors and white-washed frames. A clean green wreath with burlap hanger adds color and interest to this wall and goes well with a natural dining table decor.
13. Rustic Wood and White Branches Wall Decor
The play on contrasts makes any wood and white branches decor a timeless classic. Try creating your own by using and painting white some interesting branches that you picked in your garden or on a nature walk.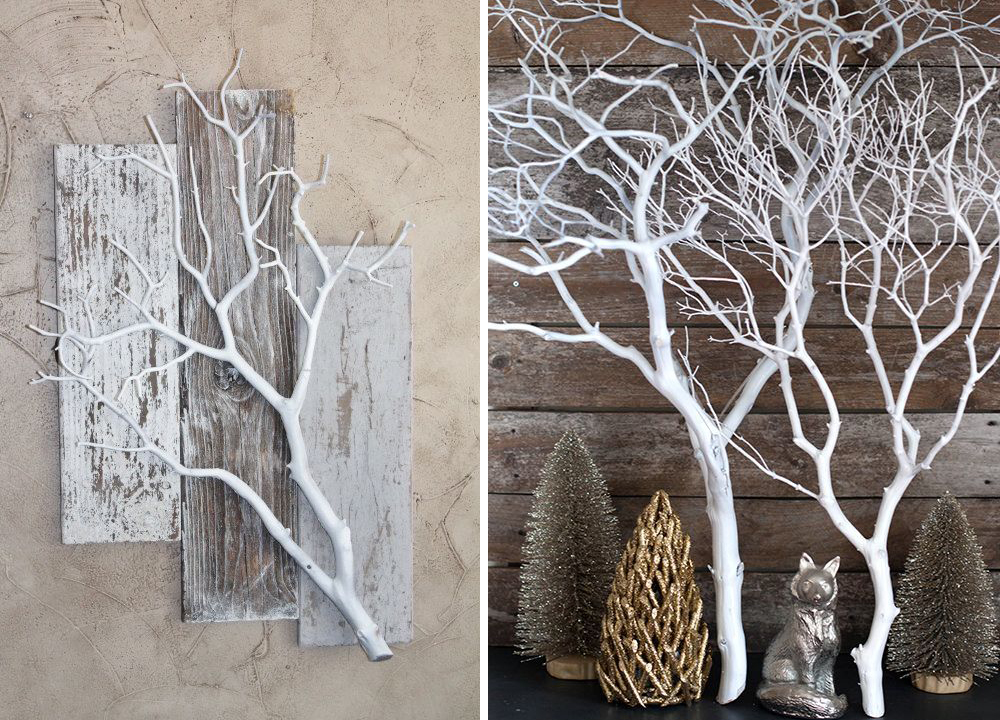 Sources: Pinterest & liagriffith.com
14. Modern Farmhouse Bedroom Antique Frame & Wreath Wall Decor
The classic colors of modern farmhouse design (white, grey, black, and green) work wonders in this cozy and airy bedroom remodel. Don't forget some accent pillows and wicker baskets as these decor elements help to personalize your space.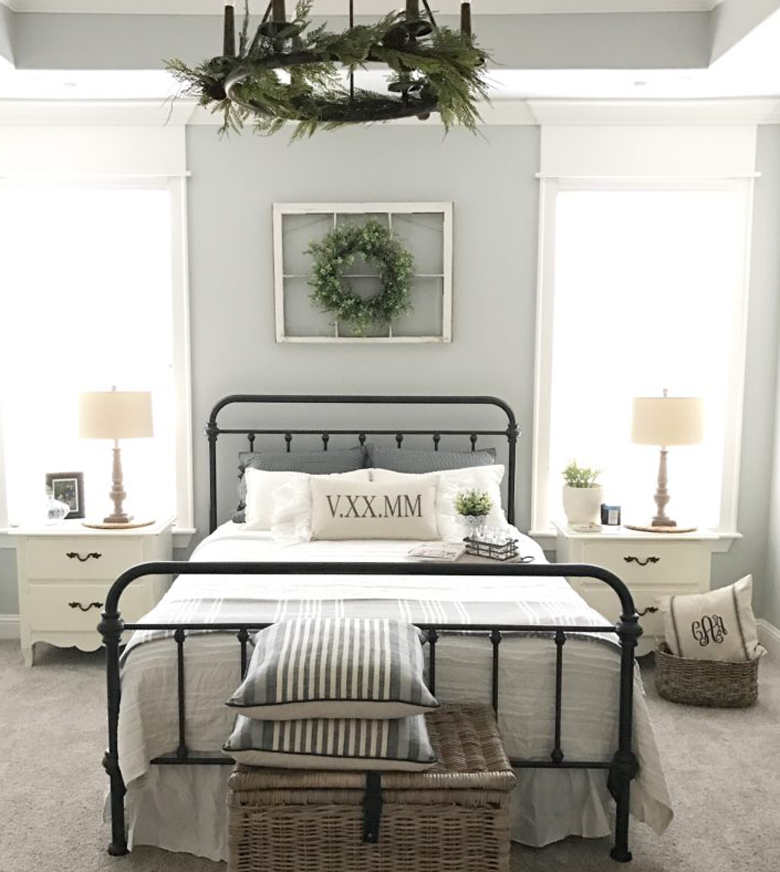 Source: www.ourvintagenest.com
15. DIY Scrabble Tile Wall Art
We love this very personal, playful, yet masterfully-balanced collage! Scrabble wall decor has been very popular for game rooms and kids' rooms but it can also be a great addition to a modern rustic family room, bringing together family history, decor, and art.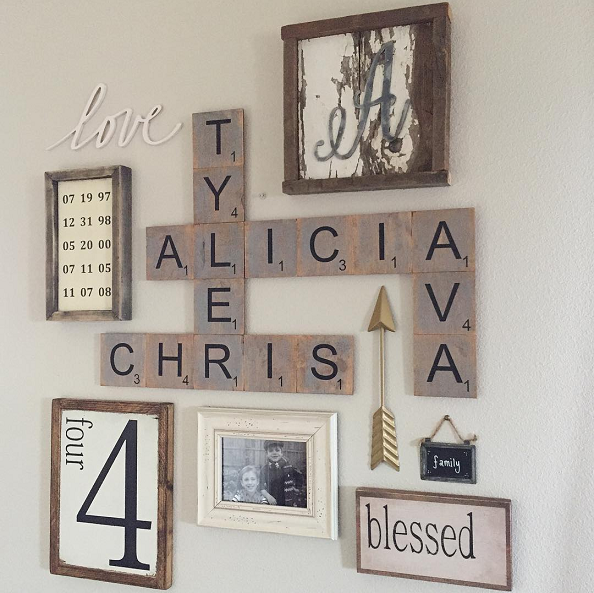 Source: craftymorning.com
16. Multi-Panel Wall Art Inspirational Signs
We would all agree that real home is 'a story of who we are' and even best interior designers could not convince us to use certain items if they don't 'speak' to our hearts. Make a bold statement and tell YOUR story while using simple frames and big panels with your favorite quotes.
17. DIY Rustic Mantel Decor and Reclaimed Wood Decor Sign
A rustic needlepoint loom serves a simple wreath in this homey wall decor piece. A white-washed wood and a dark frame along with other charming eclectic finds create a unique mantel display that is both natural and homespun.
18. 'Wisdom Begin In Wonder' Rustic Metal Wall Decor Sign
Magnolia market put rustic metal signs 'on the map' by shining a bright spotlight on local artisans. What makes it so appealing? We all want to live our life with a sense of wonder so we can explore and learn. This creative metal wall sign with a famous quote by Socrates makes a perfect inspirational gift to add wall decor to a teen room, study, craft room, or home office.