27 Outdoor DIY Benches You Can Build It Yourself
Buds and blossoms and lush greenery set a beautiful scene once Spring is upon us. You just want to breathe it all in and sit amidst the new life. What better way to do so by making your outdoor bench? With some tools, supplies, time, and these DIY outdoor bench ideas, you can make your nature seat and be sitting on a bench that you created for the months and years to come.
Think Outside the Bench Box!

Outdoor benches are not one-dimensional in design so get ready to explore some fun, innovative, exotic, and simplistic ideas for your next DIY project. With a little inspiration from these DIY outdoor bench ideas, you'll be on your way.
27 curated DIY outdoor bench ideas are listed here for you to decide which one suits your outdoor setting and personal preferences. Think outside the box, or bench for that matter and play around with color, stains, textures, and textiles. You might even find yourself at thrift stores or yard sales finding items such as bed headboards that you can use for your DIY outdoor bench ideas. At the end of constructing your DIY masterpiece, you can have fun purchasing coordinating outdoor throw cushions and lanterns to illumine your bench even at night!
1. Modern and Chic Patio Bench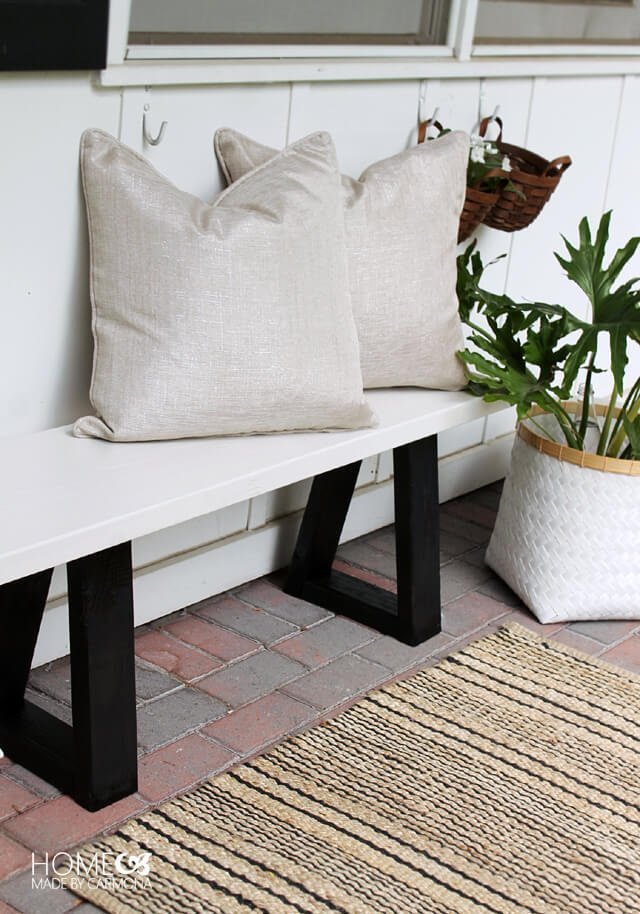 DIY Project Details: homemadebycarmona.com
If you are searching for the perfect bench but don't want to have the same one as your neighbors, go modern! The angular legs on this bench are unique, and the bench is small enough to move around to different locations on your patio in case you need to rearrange your outdoor seating. Placed next to a potted plant, it will be the perfect addition to your outdoor space.
2. Wooden Zen Garden Bench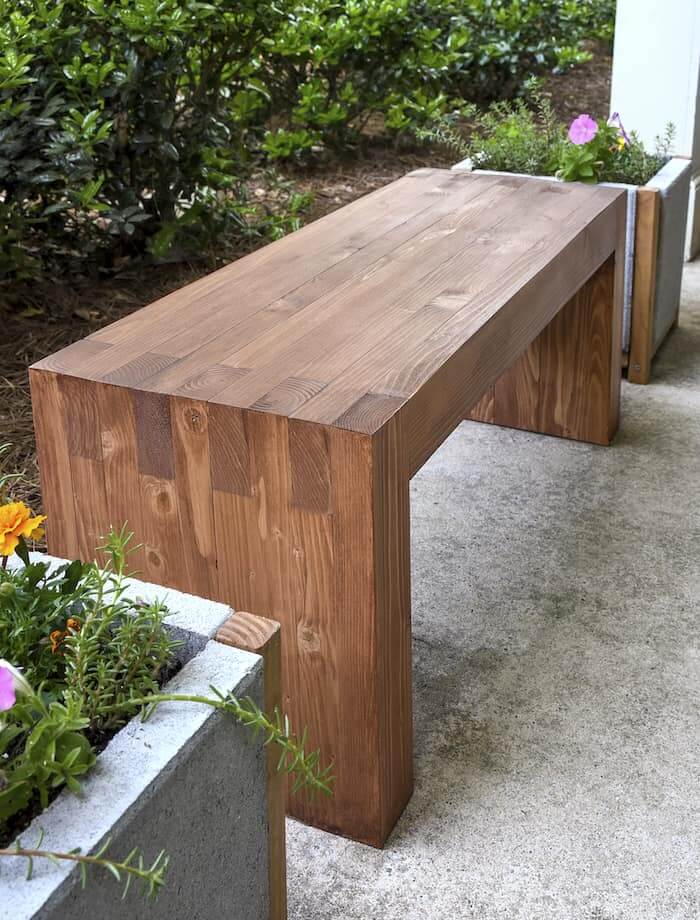 DIY Project Details: diycandy.com
A meandering garden path needs surprises along the way, such as birdbaths and a Zen garden bench. It is ideal for resting and enjoying the outdoors while you take in the sunset or journal. This outdoor bench is great for those areas that do not have shelter from the rain since this particular bench does not have a cushion.
3. Pop of Color and Comfort Bench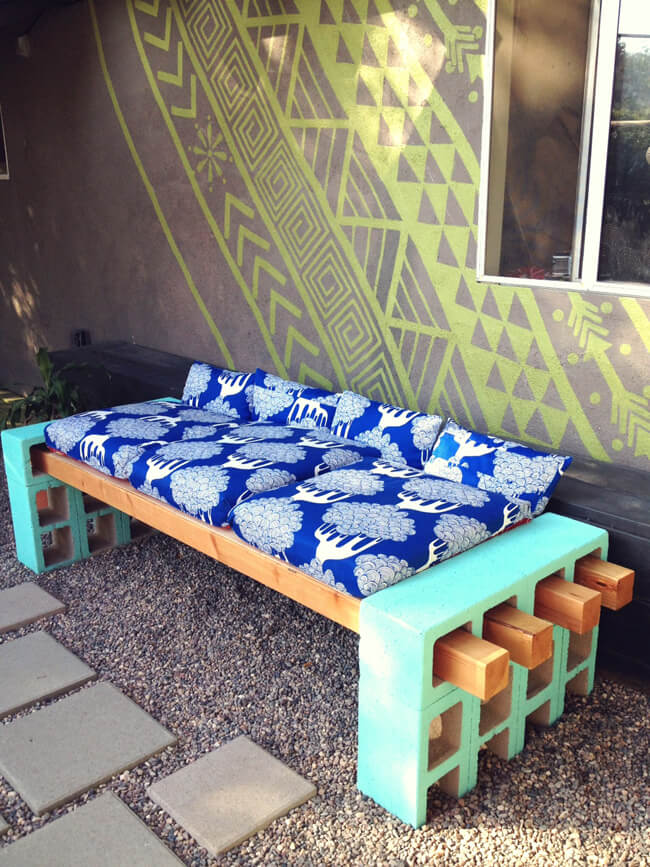 DIY Project Details: lenasekine.blogspot.com
Built from repurposed cinder blocks painted a bright color, this bench has a wooden bench seat and comfortable cushions to rest upon. It would look great anywhere you choose to place it on your property. Painting the cinder blocks a complementary color to accentuate the cushions gives this bench a put-together look.
4. Farm-Style Contemporary Bench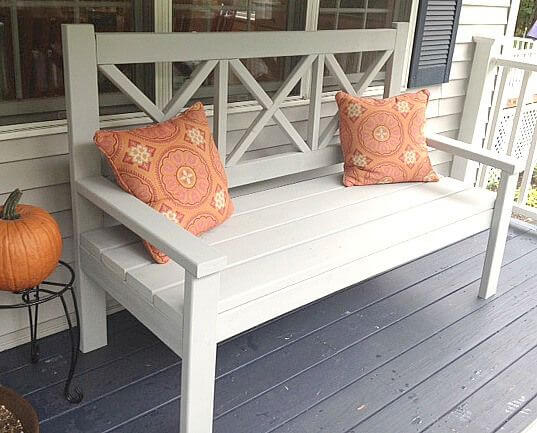 DIY Project Details: iamahomemaker.com
With its open back, this farm-style contemporary bench would look great on a covered porch with inviting cushions, or perhaps with a light throw blanket for chilly autumn afternoons. Large enough for two people, it's a great addition to any outdoor area. It is pictured painted a crisp white color, but this would look great in any neutral colors.
5. Antique Up-Cycled Head-Board Bench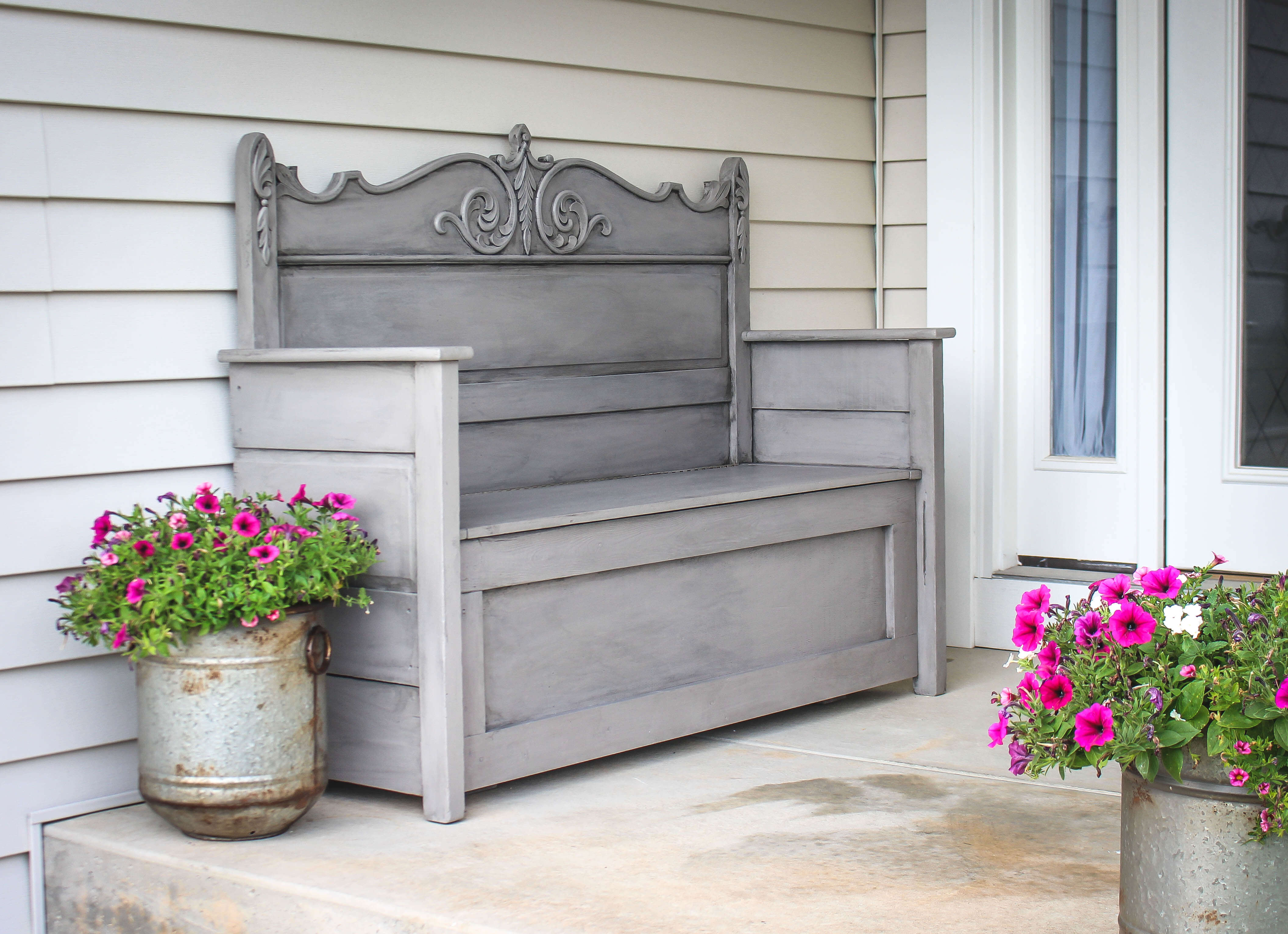 DIY Project Details: ruggydiy.com
If you come across an old antique headboard at a rummage sale, don't hesitate to purchase it! This is one of the main items you will need to make this cute headboard bench. This bench also includes a storage area underneath the seat for storing outdoor items such as sporting equipment or garden tools.
6. Rustic Multi-Purpose Storage Crate Bench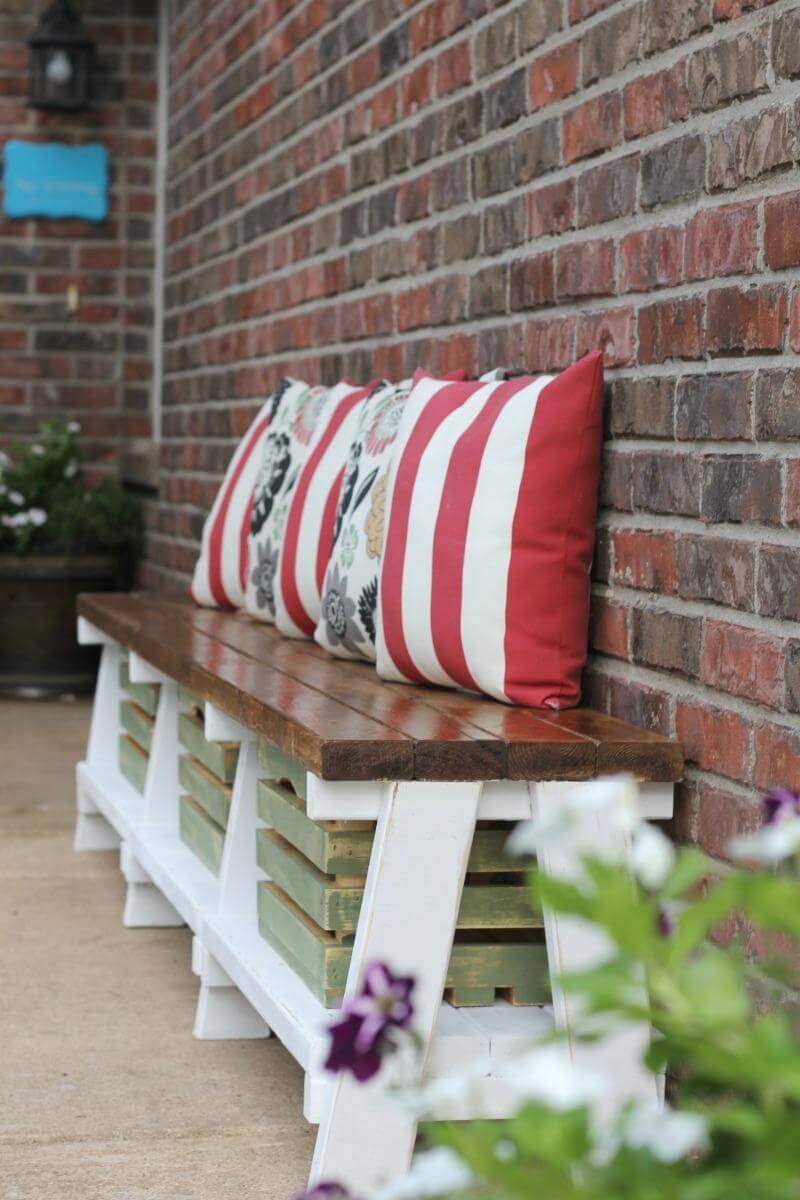 DIY Project Details: lifestorage.com
This outdoor bench has three wooden crates underneath the seating area, which is perfect for any storage needs. The color combination of white, green, and brown wood is a perfect complement for a brick exterior. While this bench may lack frills such as cushions or armrests, it is a perfect choice for a simple bench.
7. Innovative Corner Bench with Built-In Side Table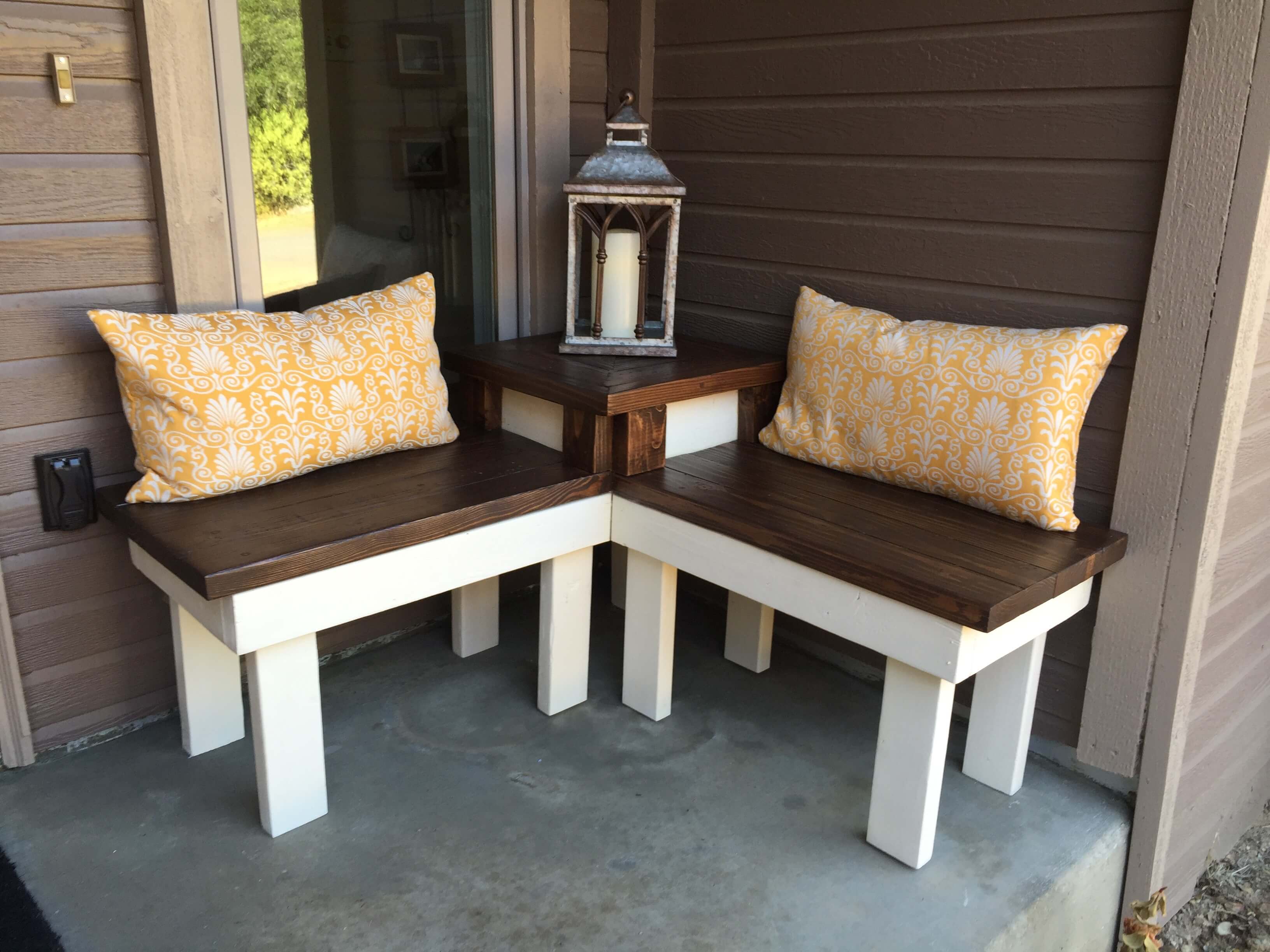 DIY Project Details: pinspiredtodiy.com
If you have a larger porch, you may be searching for a bench that will make use of empty space. This corner bench is a great idea when you need to fill that space and have seating for multiple people. The two benches meet in the middle with a raised platform, which is the ideal spot for beverages or decor.
8. Pagoda-Style Modern Bench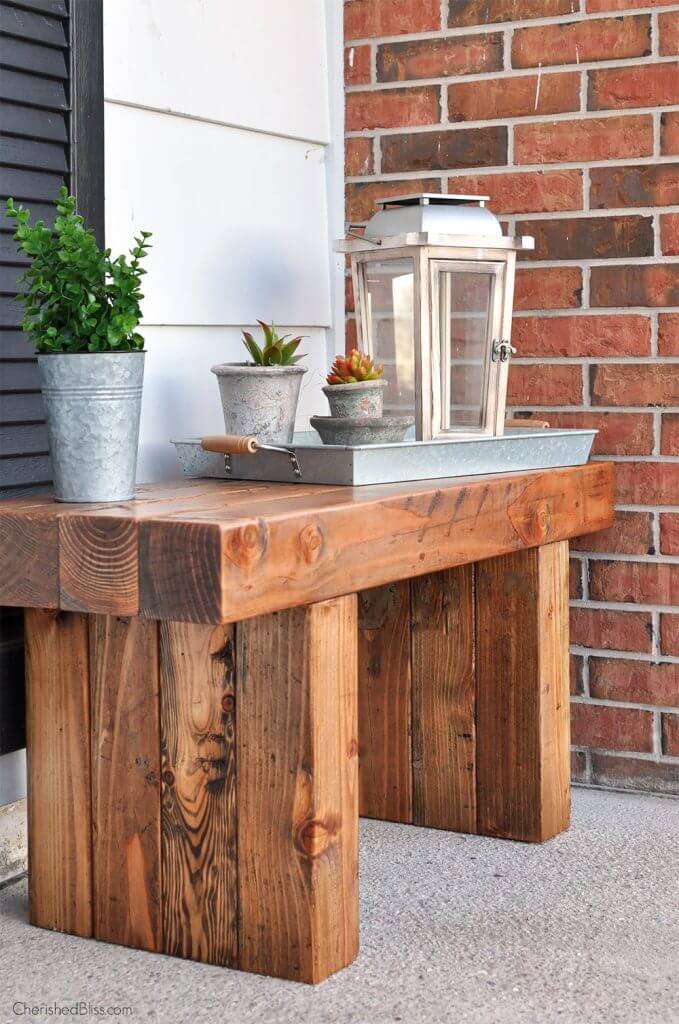 DIY Project Details: cherishedbliss.com
Made of heavy duty logs, this can be used as a seating area or a place to arrange plants or other decor. It would be best to keep this bench stained and sealed with a smooth finish to highlight the natural grain of the wood.
9. Stone-Henge Garden and Patio Bench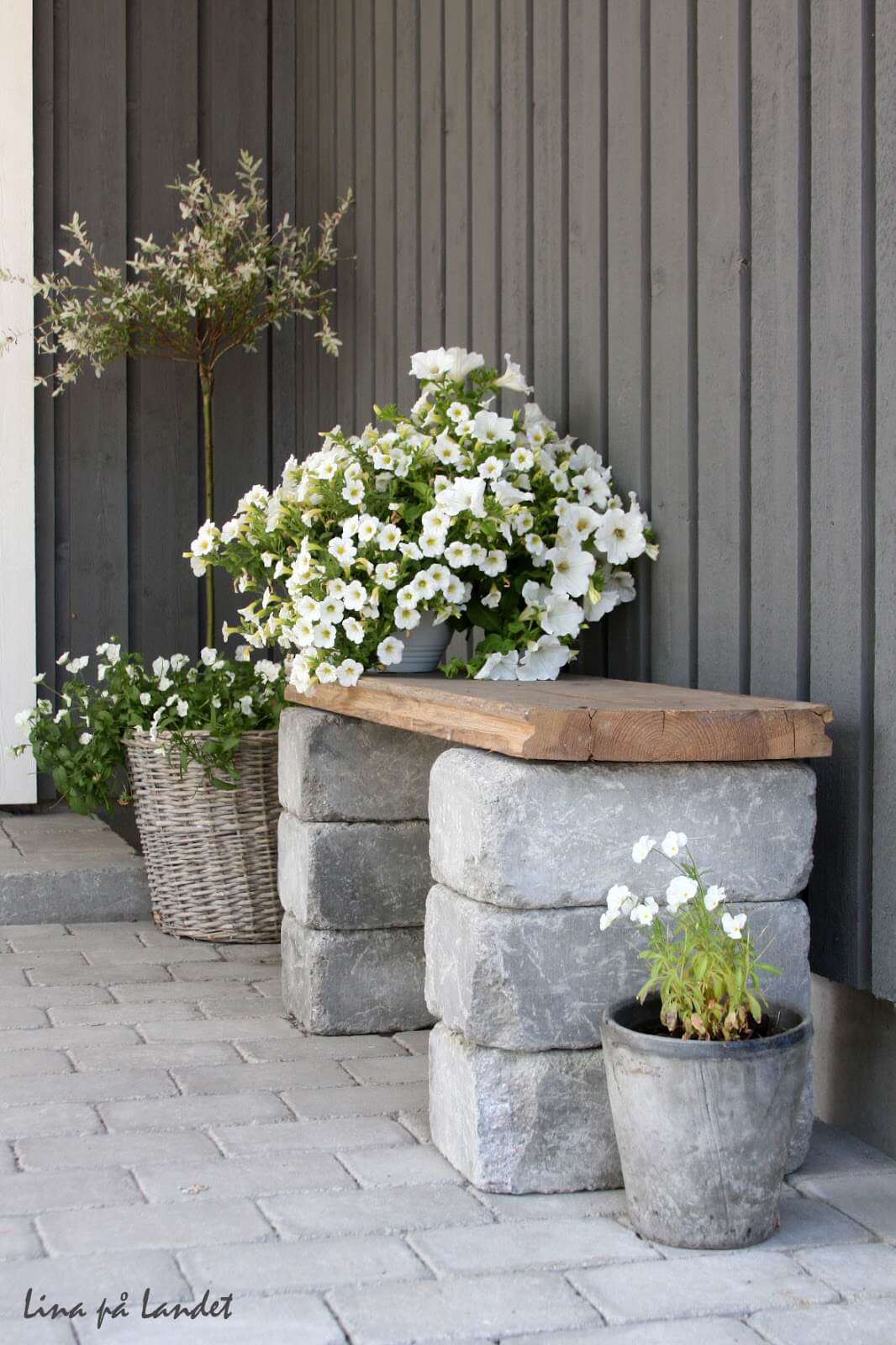 DIY Project Details: linapalandet.blogspot.com
Sometimes you want to think outside of the box when it comes to home decor. Take some inspiration from nature and use stones for the legs of a stone-henge garden and patio bench. With a little creative searching in nature or on classified sites, you can find stones of similar sizes to create the legs, and then use an unfinished plank of wood for the top of this unique patio seating area. Sanded to remove rough edges, the bench can be used to showcase seasonal garden flowers and foliage.
10. Simple and Easy Farmhouse Bench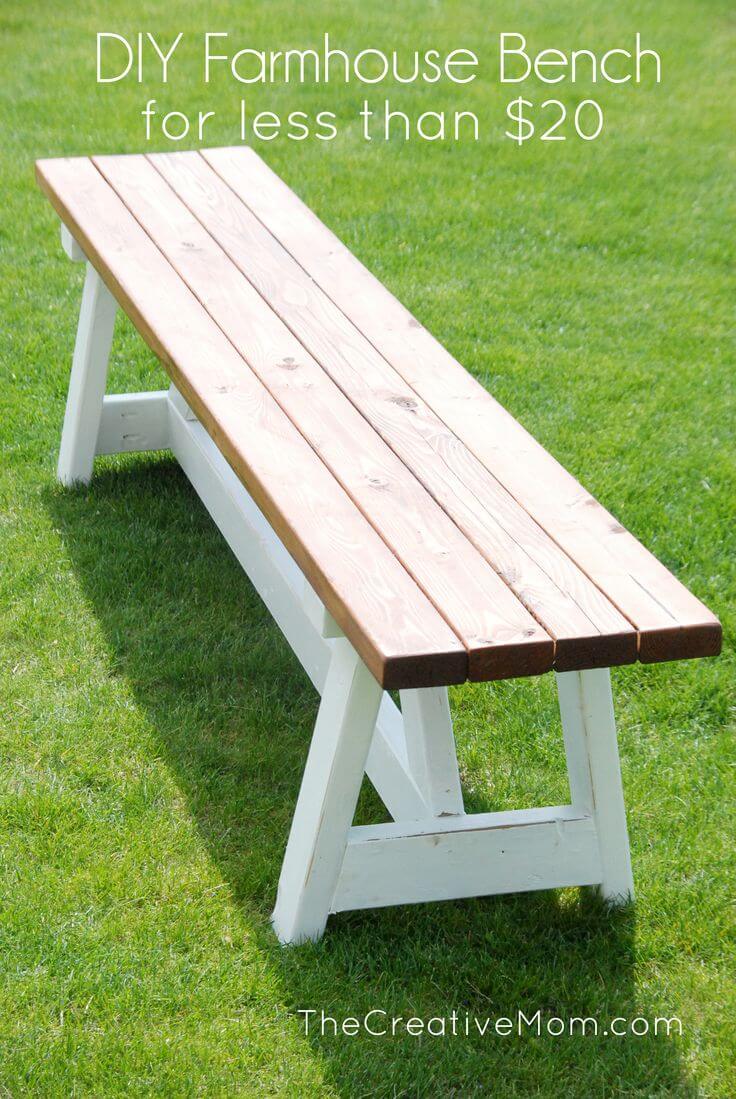 DIY Project Details: thecreativemom.com
This farmhouse bench is easy to build, as well as inexpensive. It just takes a few pieces of lumber that you can buy at your local hardware store, some basic carpentry knowledge, and a few hours on a weekend. After that, you will be rewarded with this simple and classic outdoor bench.
11. Soft and Comfortable Patio Pallet Daybed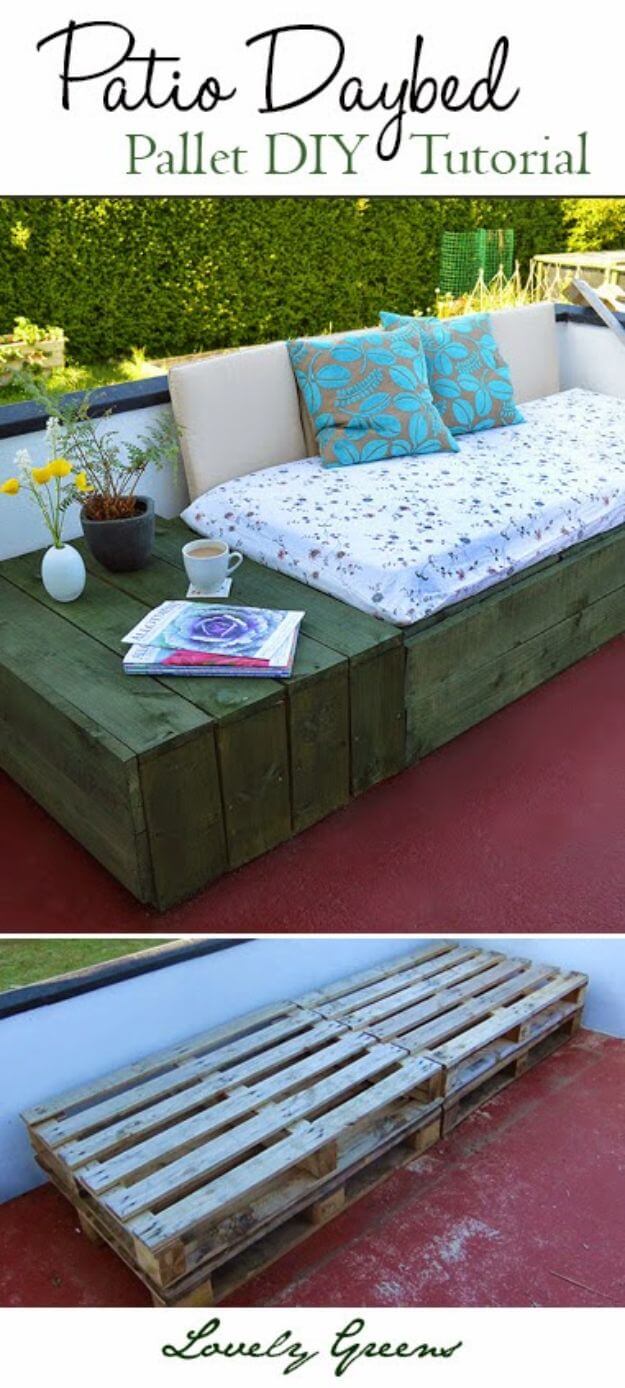 DIY Project Details: lovelygreens.com
Pallet furniture is all the rage, and this pallet daybed is no exception! With just a few pallets and a few cushions, you will have a comfortable pallet daybed to lounge on while you soak up the sunshine. Pallets are easy to find locally if you ask on social media sites.
12. Adirondack Multi-Colored Wide Bench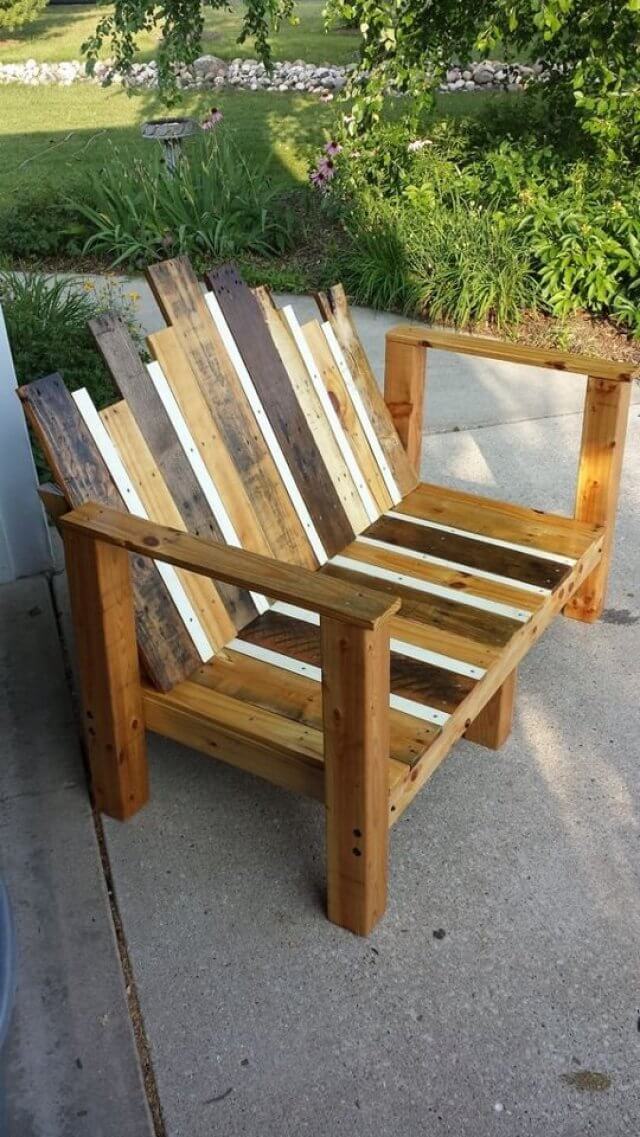 DIY Project Details: instructables.com
Sometimes you want to sit next to a loved one when you drink your morning coffee, and this bench allows you space to do just that. Created from reclaimed wood and stained alternating colors, this bench will be a great asset to your property.
13. Four-Poster Splash-Of-Color Up-Cycled Head-Board Bench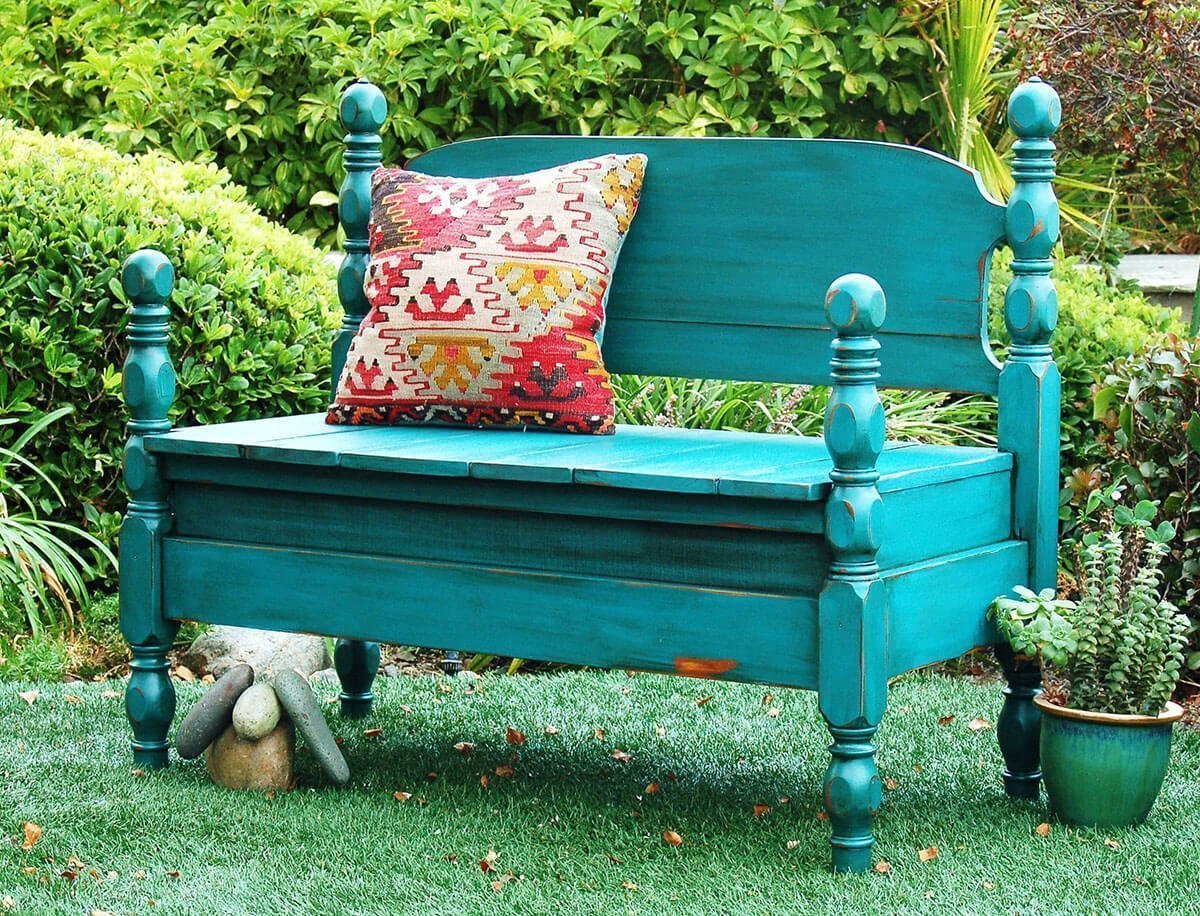 DIY Project Details: jillsabode.com
The Four-Poster headboard bench adds color and function to your garden or patio. Painted in bright colors, this bench is eye-catching and useful. This bench sits a little higher than a traditional garden bench and has posts on each corner. While this bench is painted a bright shade of paint, you could easily adapt it to any color that you would like.
14. Creative and Innovative Dual Chair Bench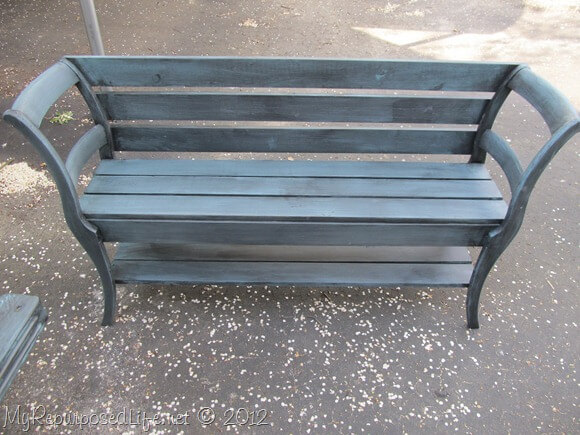 DIY Project Details: myrepurposedlife.com
Instead of throwing away old chairs that you no longer need, repurpose them to create this unique piece of furniture! This he dual chair bench is created from two discarded chairs and a few pieces of scrap lumber. Since the chairs are placed sideways, this creates the unique curved sides of this bench. You could paint this a subdued color such as the one shown or any other color of your choice.
15. Colorful Taste of Central America Bench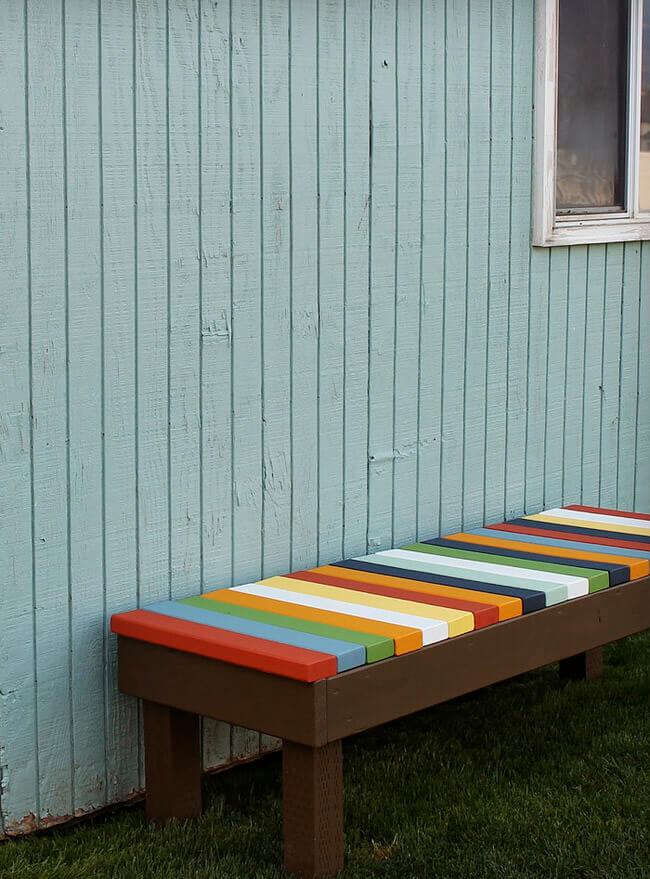 DIY Project Details: aristocrafty.blogspot.com
Maybe you have an eclectic home style, or just need a pop of color in your yard. Either way, this colorful bench will definitely bring personality to your yard! Painted with alternating colors, it is reminiscent of the artistic culture of Central America. This bench would be perfect placed by a garden shed or alongside a modern style house.
16. Garden-Box Happy Place Bench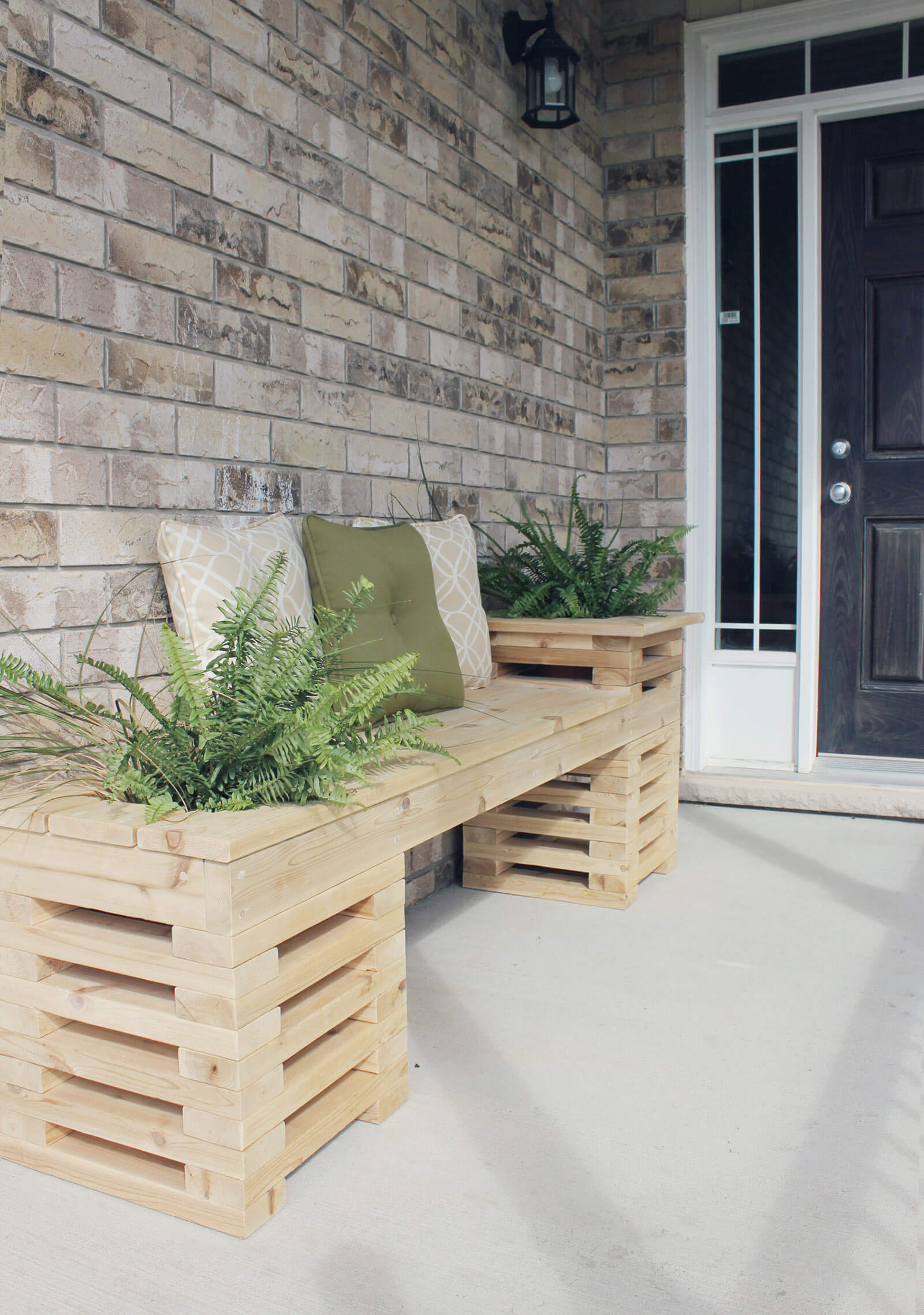 DIY Project Details: brittanystager.com
Plants bring a sense of nature to a porch or patio, and there are some varieties that are easy to grow. Add planters to your patio by building a seating area with built-in planters. The open slats on the legs and seat add visual interest to this bench and the dual flower planters are perfect for ferns or other plants. This bench is left a natural color so it does not detract from the colors of the plants.
17. King-Size Extra Long and Stylish Headboard Bench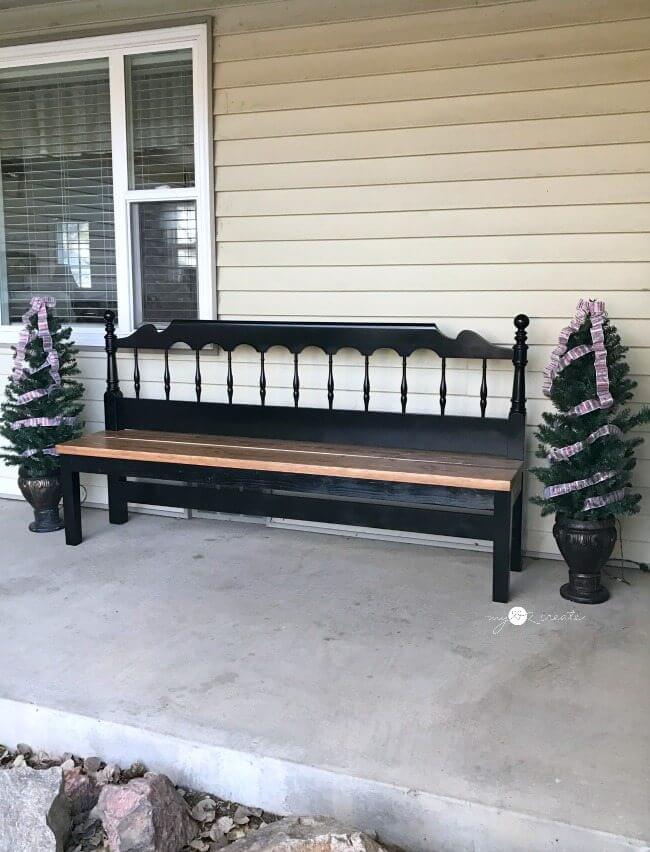 DIY Project Details: myrepurposedlife.com
Do you happen to have a long porch and an extra king-size headboard? If you do, put them both to good use in this project. If you don't have an extra headboard, check out rummage sales or the classified ads to find one for this project. The stunning black color of this bench contrasts nicely with the natural wood seat.
18. Exotic and Luxurious Canopy Bench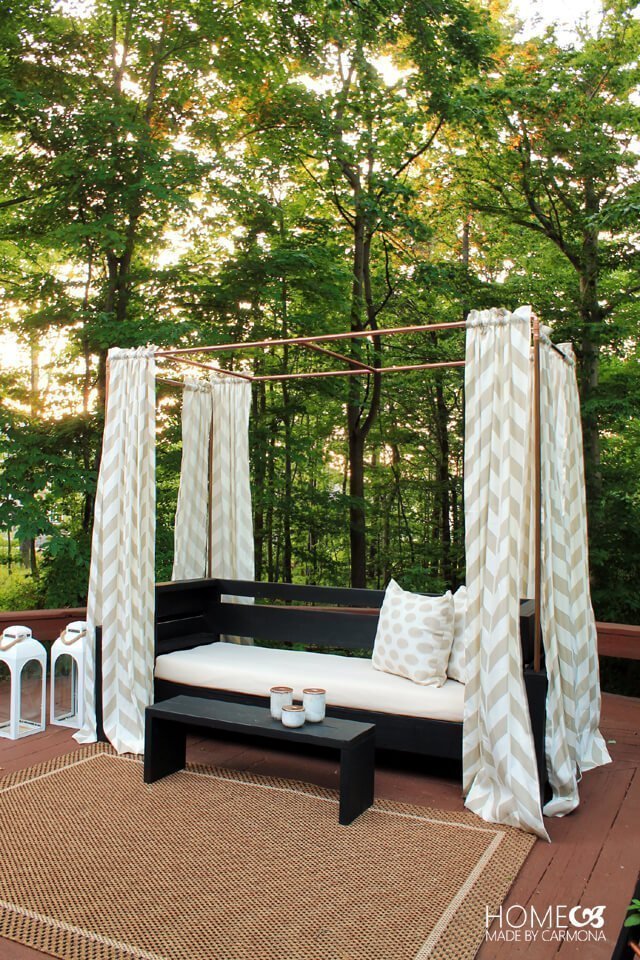 DIY Project Details: homemadebycarmona.com
Reminiscent of the canopy beds that little girls wanted when they were young, this canopy bench brings that feeling of luxury to your outdoor space. The bench itself is a simple wood frame with a neutral cushion, and the canopy surrounds the bench. Draw the curtain closed and you have your own private hideaway outdoors!
19. Extra Comfy Shabby Chic Bench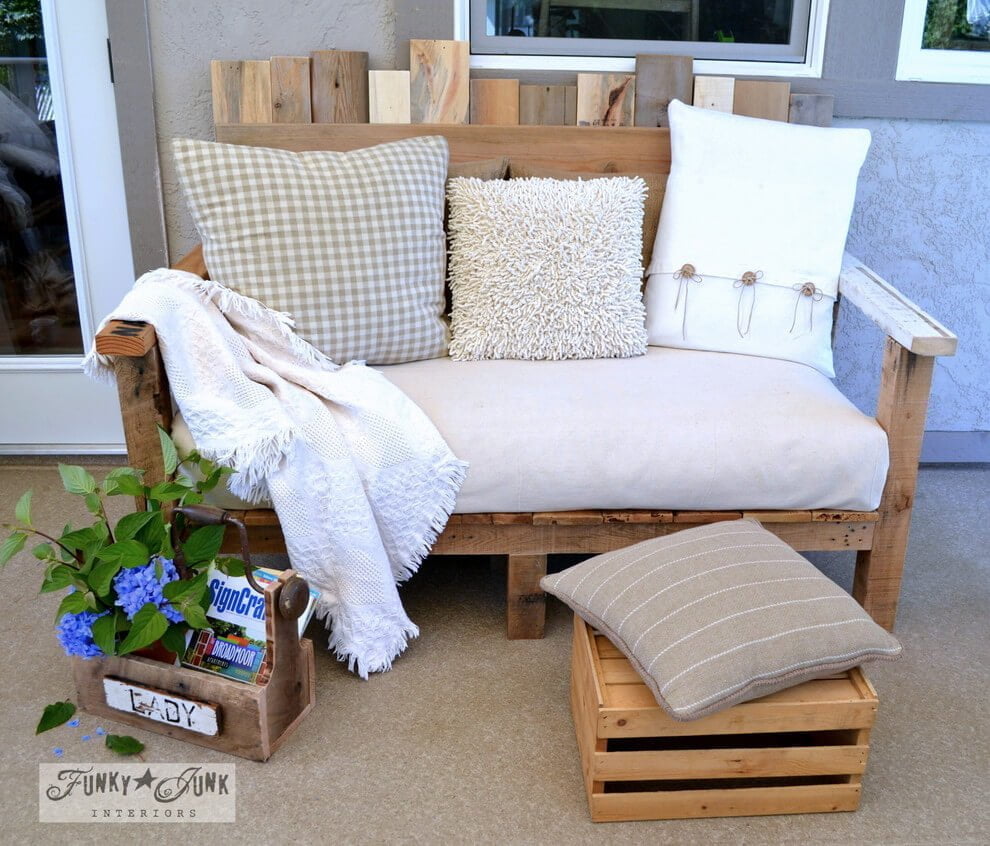 DIY Project Details: funkyjunkinteriors.net
This extra shabby country chic bench has simple lines and a wooden stool to rest your feet after a long day. Add an extra thick cushion and some matching pillows and you won't want to leave this bench to go indoors at night!
20. European Countryside Provincial Style Bench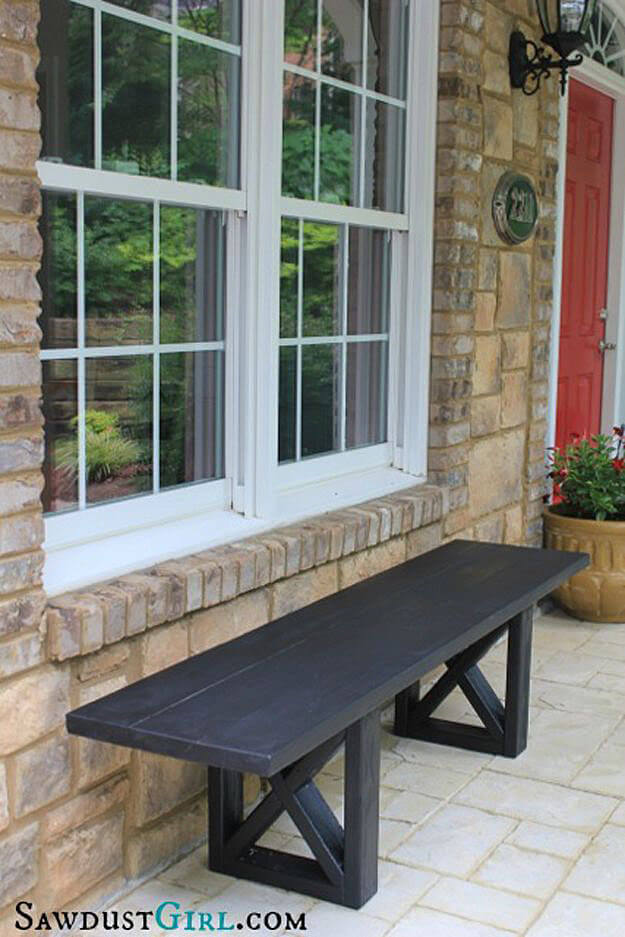 DIY Project Details: sawdustgirl.com
This European style bench boasts geometric legs and a glossy black paint finish. It is small enough to fit in a small porch area or nestled under a tree in the garden, yet it is big on functionality. It does not have armrests or a back to it, but its simple design makes it easy to fit into any decor.
21. Perfect for Bonfires Semi-Circular Bench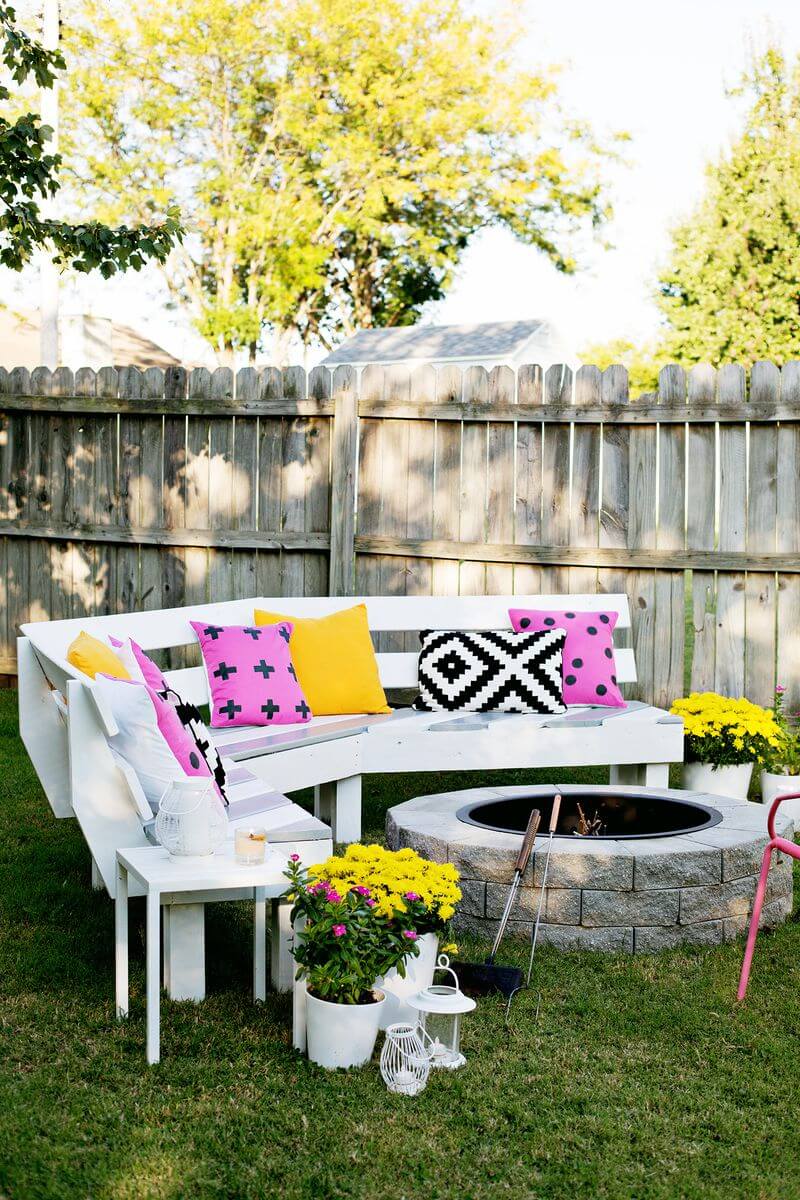 DIY Project Details: abeautifulmess.com
Do you have a bonfire pit but are always gathering lawn chairs for your guests? Consider building this semi-circular bench to have permanent seating for your summer campfires! This seats many people and has a sloping back for comfort.
22. Cabin Style Double Chair Bench with Built-In Shared Table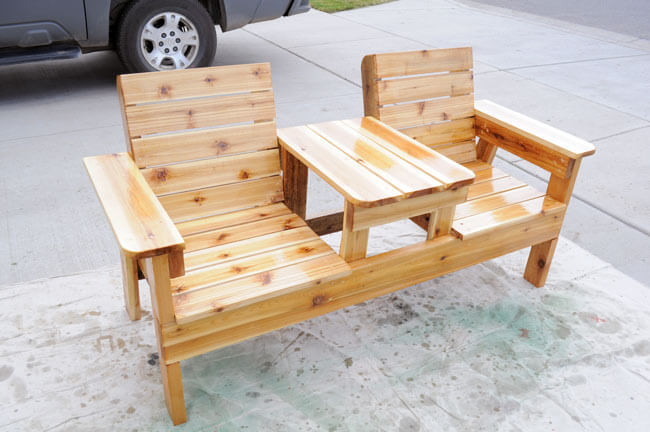 DIY Project Details: diypete.com
The double chair with built in table bench would be great to relax in while at a cabin overlooking a lake. You and your family member can enjoy the great outdoors and have a table next to you to place your drinks or meals. This bench is very sturdy which means you'll have it for many years to come.
23. Picnic and BBQ Style Long Bench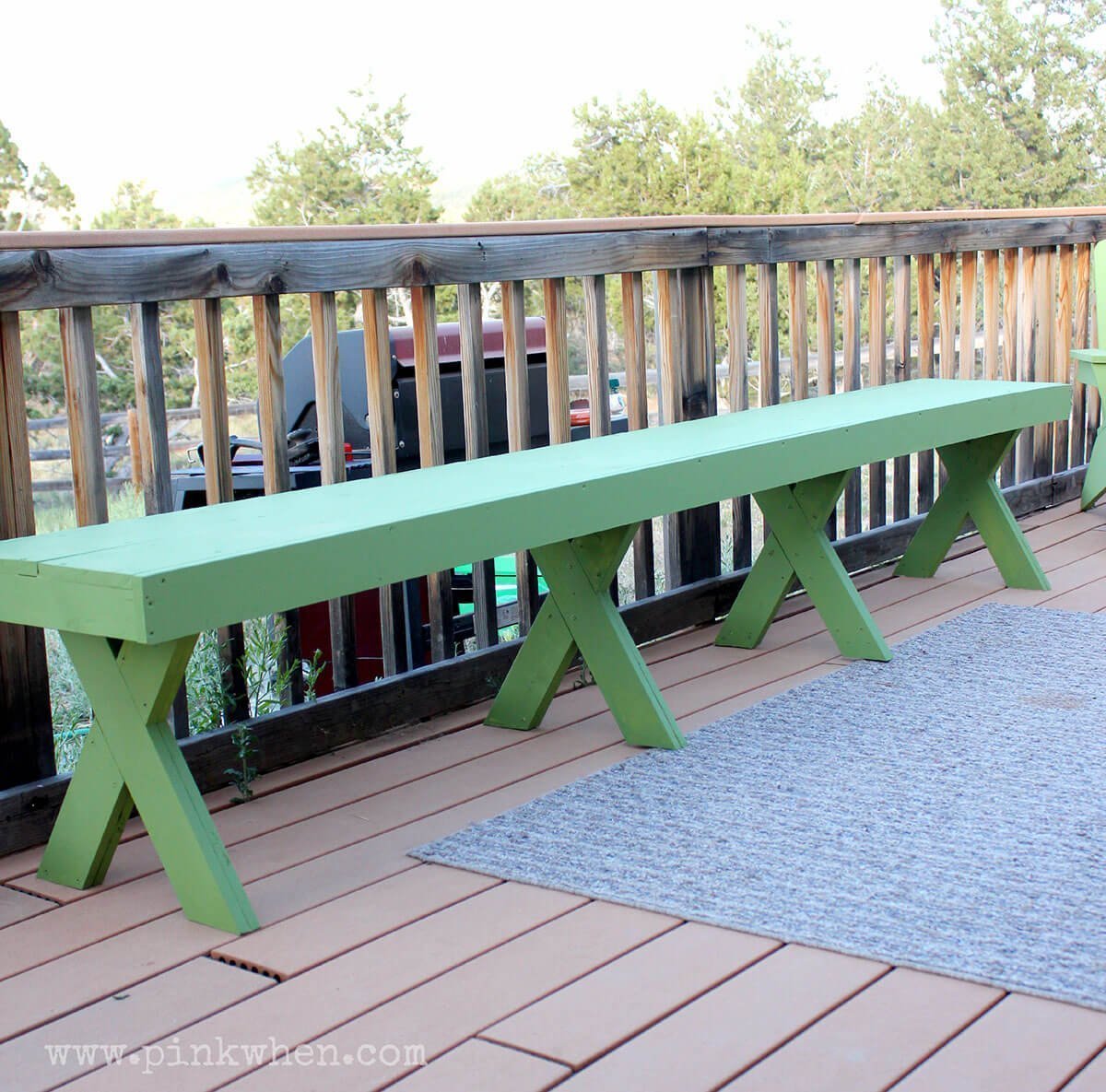 DIY Project Details: pinkwhen.com
Like an extra-long picnic table bench, this will seat many people comfortably yet is simple to create. Painted a bright color, this bench will be a focal point of your patio or deck. You might want to place it against the side of your deck to give your guests some back support!
24. Simple Style Corner Bench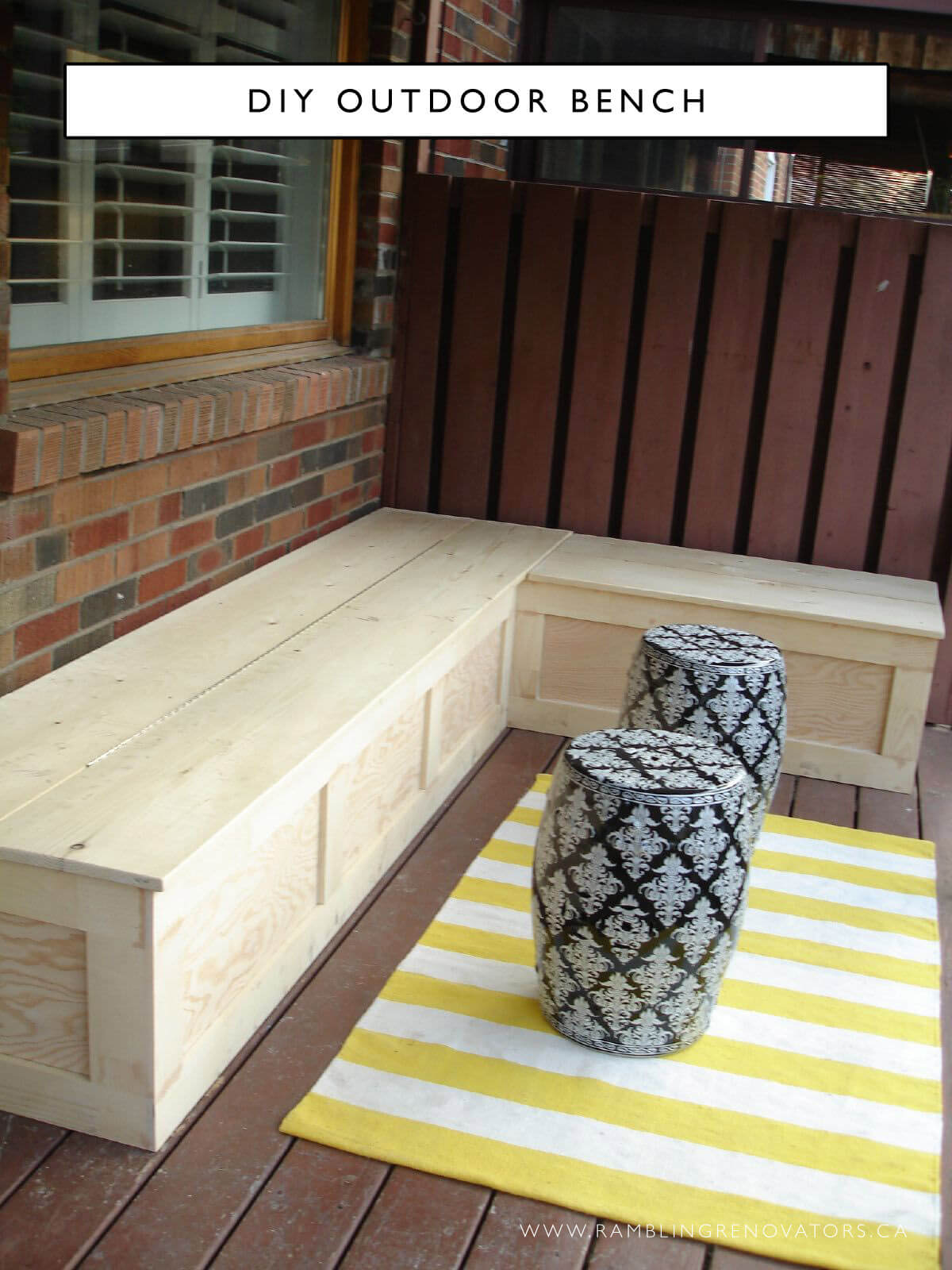 DIY Project Details: ramblingrenovators.ca
This is a great project for anyone, even with limited supplies and carpentry skills. You can make this with any hardwood that you choose and paint any color you choose. There is not any storage in this bench, but you could easily adapt the plans to add storage space.
25. Nature Loving Forest Meadow Bench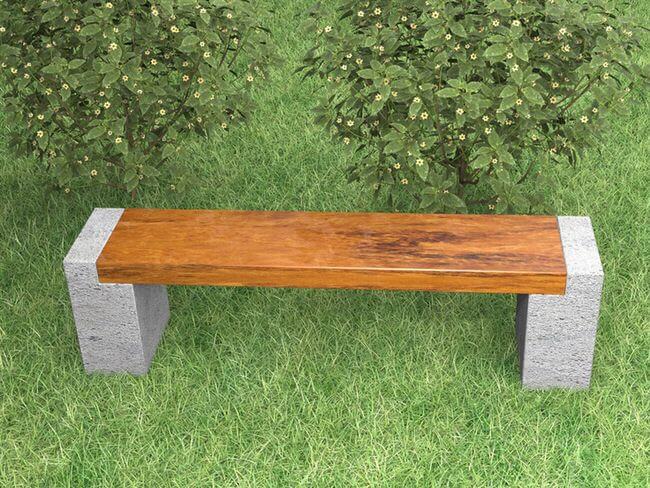 DIY Project Details: community.foundry.com
The nature meadow bench has a unique design with a smooth wooden plank seat and concrete legs. This bench would be ideal in a cottage garden or under a grove of trees. It might look complicated, but with a little attention to detail you can make this great bench for your yard!
26. By-The-Seaside Cottage Bench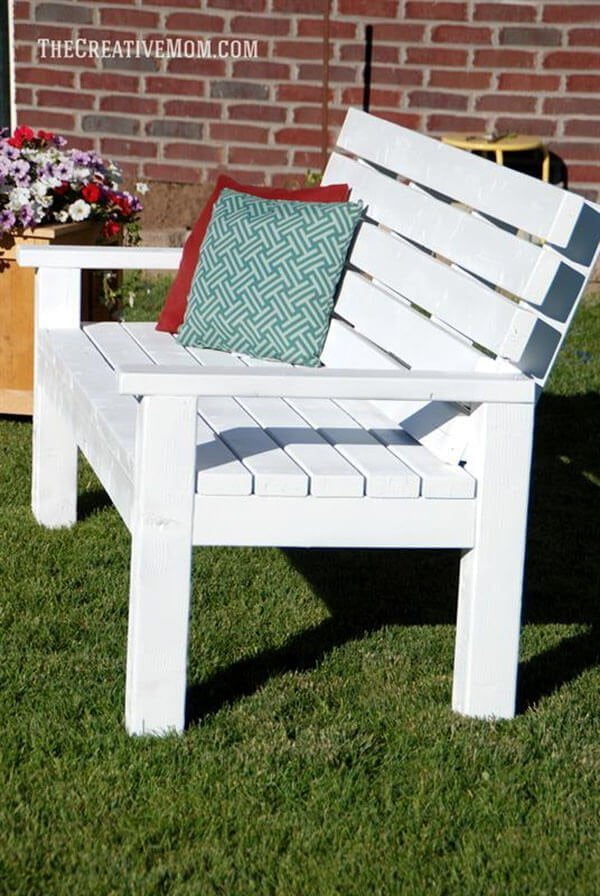 DIY Project Details: thecreativemom.com
Do you want to feel like you are relaxing by the sea on a sunny day even if you live in a land-locked state? Made from simple materials and painted a coastal white, this bench brings a bit of the coast to your yard. This is also very durable, making it a great choice for families with young children.
27. Sitting-In-The-Park Style Bench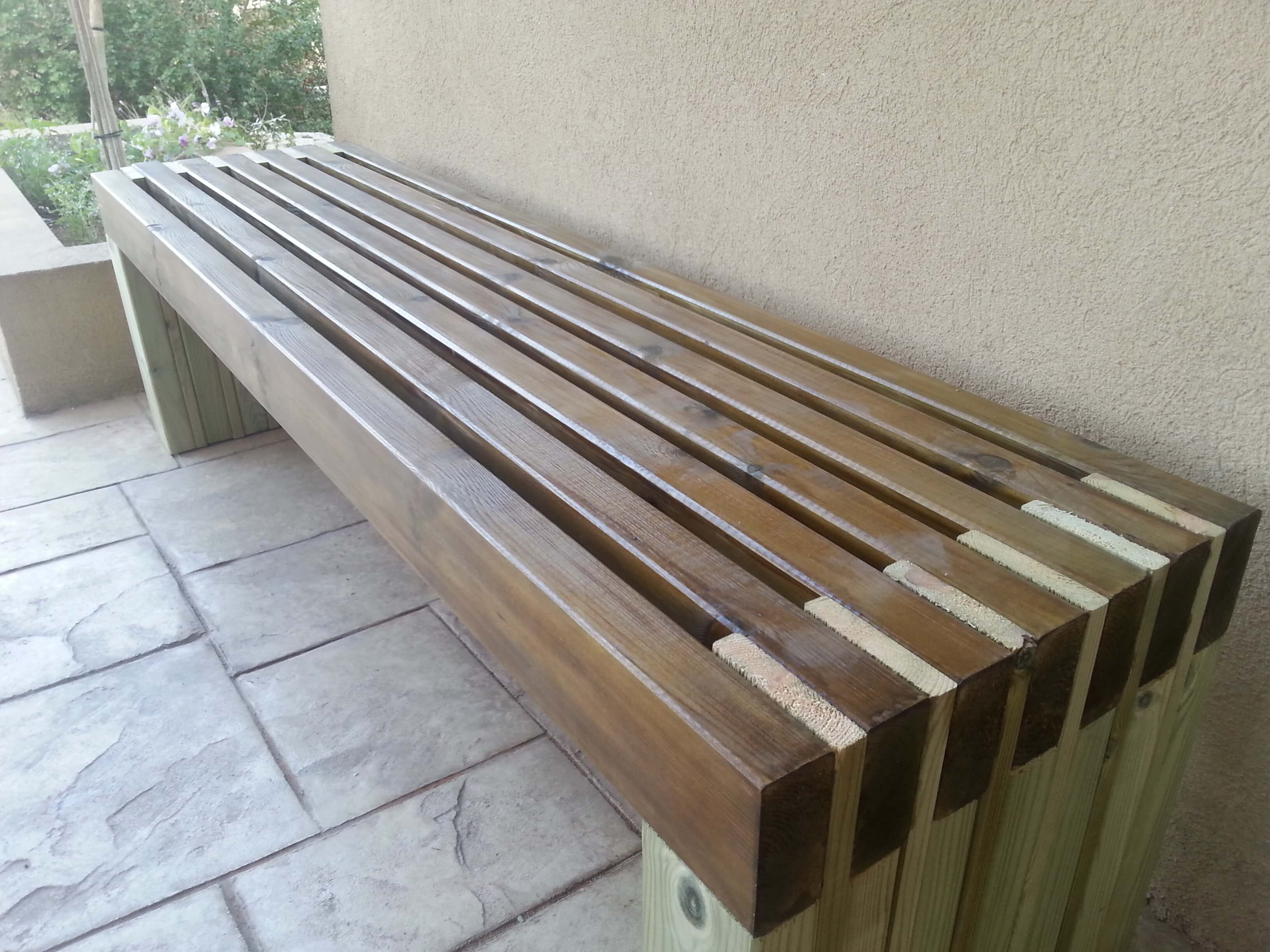 DIY Project Details: ana-white.com
When you are walking through a city park, you may sometimes take a short break and sit awhile as you people watch or enjoy the wildlife. This park style bench will invoke the same feelings of the city park, but on your own property. It is made from pine and finished with a dark stain. It would look great against a modern house or in the city. This bench can easily be completed in a weekend, and is a great project to include your family with.