28 DIY Divine Rustic Decor Ideas
Below are 39 delightfully curated DIY rustic home decor ideas to suit every home and style. A day at the beach or walk in the woods can mean a whole new ensemble for your abode, and at last you can implement all your beloved odds and ends into timelessly workable domestic accents.
1. Multi-Purpose Repurposed Mason Jar Decor

DIY Project Details: thehambyhome.com
Getting started making your own home décor can feel daunting. This super simple Mason jar wall vase is the perfect project to build your confidence and get you started on your DIY shabby chic adventure. The best part about a Mason jar is that you always have the option to use either fresh or silk flowers.
2. Deadwood Style Rustic Headboard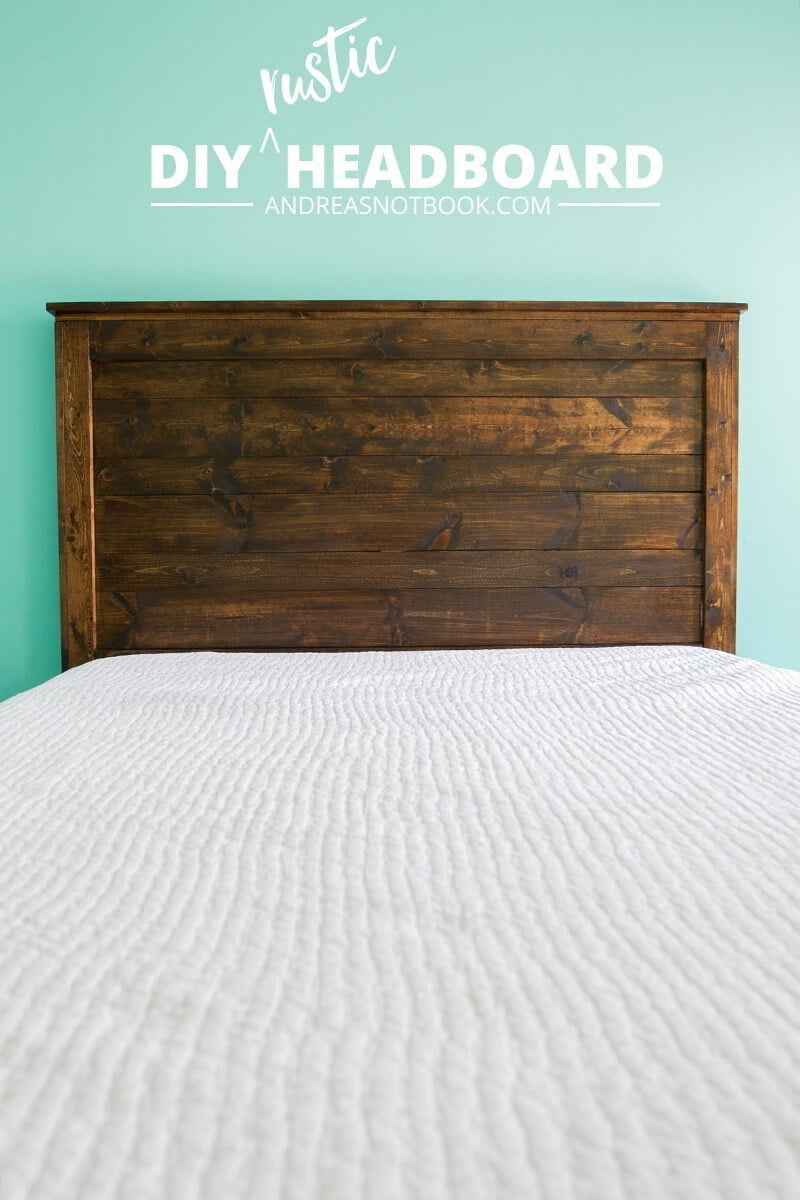 DIY Project Details: andreasnotebook.com
If you are looking to add a rustic yet classy element to your bedroom, then consider this beautiful headboard. You can create this piece on your own using your favorite project wood and simply staining it as light or as dark as you like. Adding a beautiful headboard, while simple, can significantly elevate the look and feel of your bedroom.
3. Chic and Shabby Hotel Door Mirror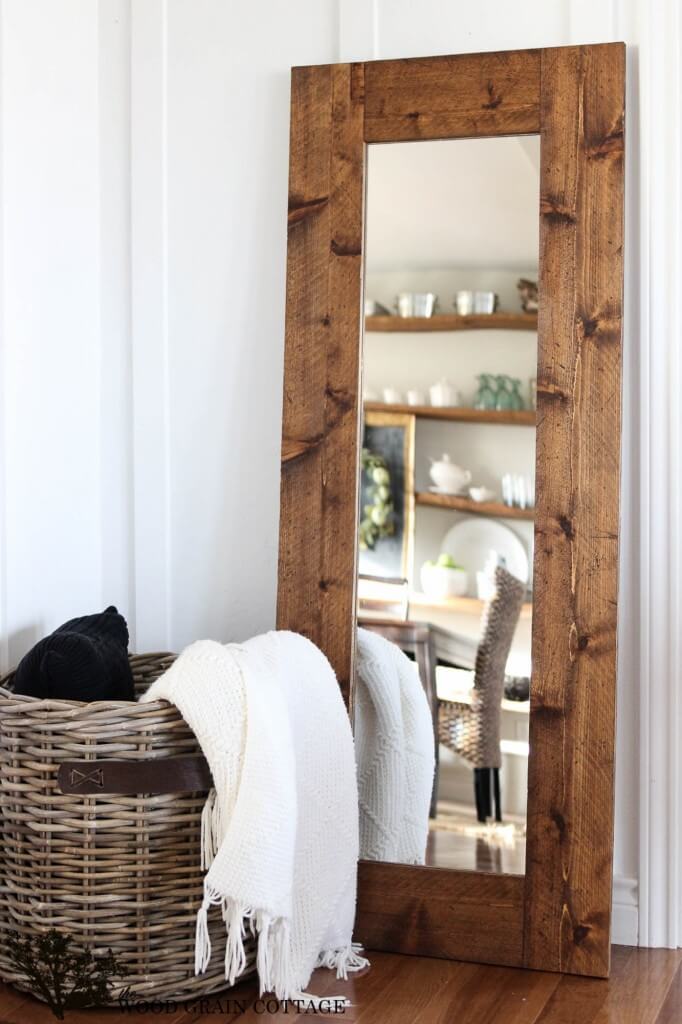 DIY Project Details: thewoodgraincottage.com
This gorgeous mirror – which may set you back well over $100 if purchased new – can be made at home, by you, with mostly basic home shop tools and supplies. Simply pick up a cheap full-length mirror to use as a base, choose your favorite wood and stain, and then get to crafting. This mirror adds a rustic touch to any bathroom or bedroom.
4. Venetian Blind Bench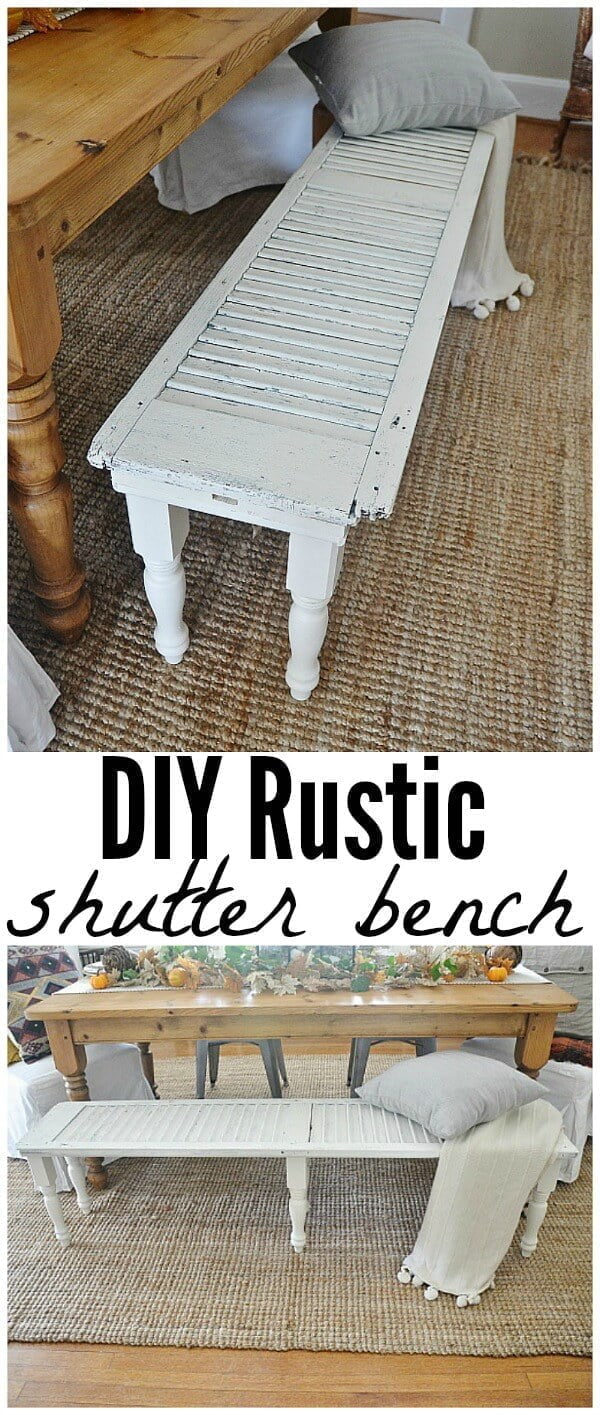 DIY Project Details: lizmarieblog.com
Upcycling is on the rise and is the perfect way to create an affordable, rustic chic-inspired home. This beautiful bench captures the very best of upcycling and shabby chic. Using traditional bench legs for support, you need only find a sturdy discarded set of wooden shutters and stain it all to match.
5. Connect The Blocks Wooden Wall Mounts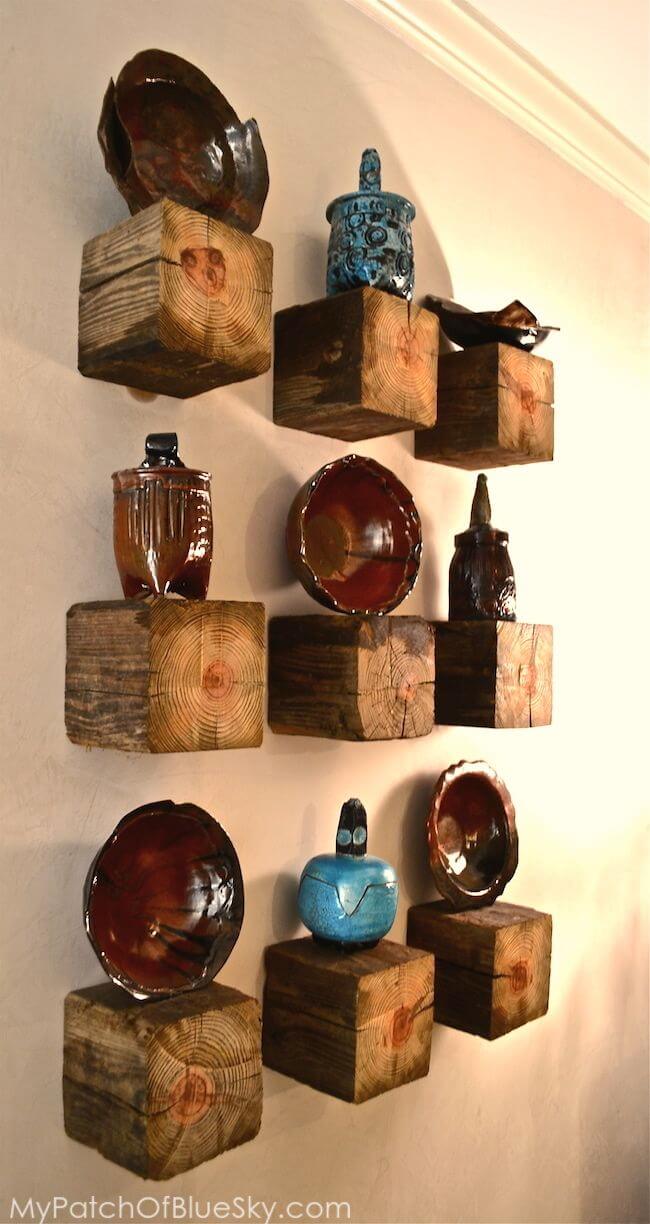 DIY Project Details: mypatchofbluesky.com
If you have beautiful pieces that get lost in traditional chests or bookcases, then consider adding these DIY wood block shelves to your home. Each square holds a single piece, which allows you to create as many as you like to fill a whole wall or simply use a few to make each displayed item really stand out.
6. X End Marks The Spot DIY Table

DIY Project Details: ana-white.com
A piece this beautiful would be hard to find at your favorite home décor store, and no way would it be exactly the right color and styling to match your home. That is why it is so great that you can create and customize this table on your own by following a super simple step-by-step guide.
7. Pretty Pallet Wooden Planter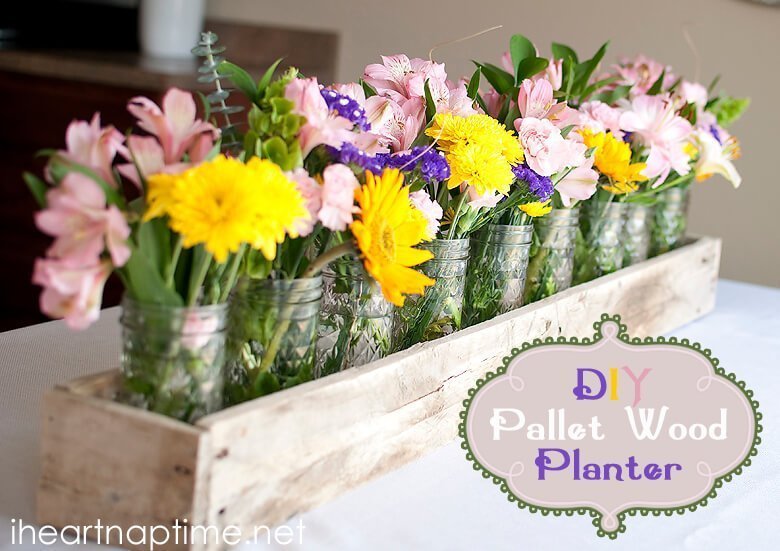 DIY Project Details: iheartnaptime.net
This super cute pallet planter is a great DIY project for any crafting skill level. Super simple yet effective, this planter can be used to directly add soil and seeds, or to store multiple cute vases or votive candles. Use this to accent any free kitchen space, or add to the center of a long table for a warm and rustic centerpiece.
8. Ship's Bottle Repurposed Lamp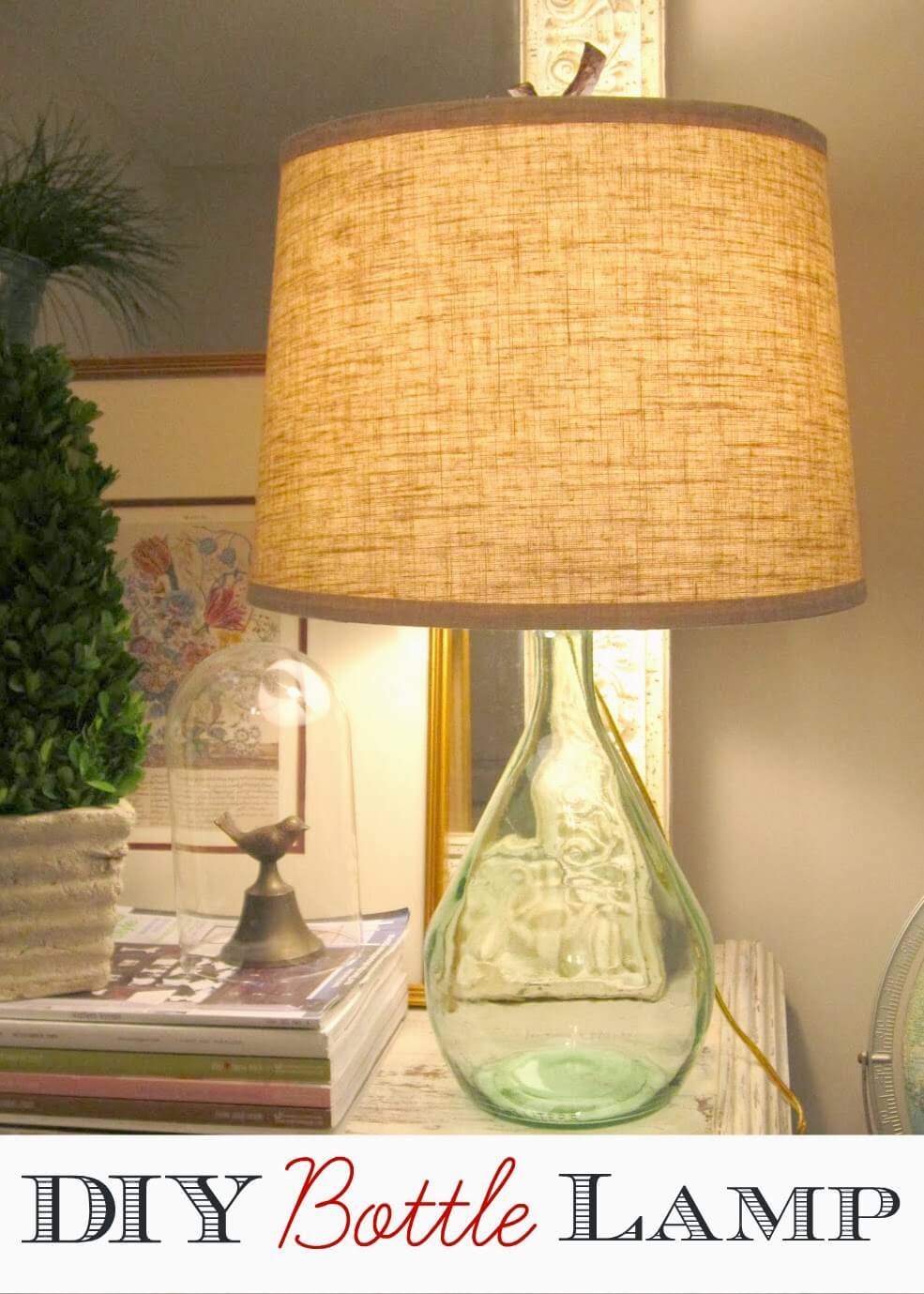 DIY Project Details: repurposedvintagefinds.blogspot.com
You could buy a vintage, shabby chic-inspired bottle lamp for $200 plus, or you can make your own for a fraction of the cost! Just keep your eyes peeled at your next flea market or estate sale for the perfect bottle or glass vase, pick up a bottle lamp kit and shade, and you will be all set.
9. Crafter's Cottage Shelves

DIY Project Details: lollyjane.com
Doing your own distressing can be nerve wracking. You want to make sure you don't do too much, but you still have to do enough to give it the perfect rustic farmhouse appeal. Your best bet is to start with something simple like these cute and sturdy shelves. Just follow the easy tutorial and you will be a shabby chic distressed wood pro in no time.
10. Rustic Industrial Spool Side Table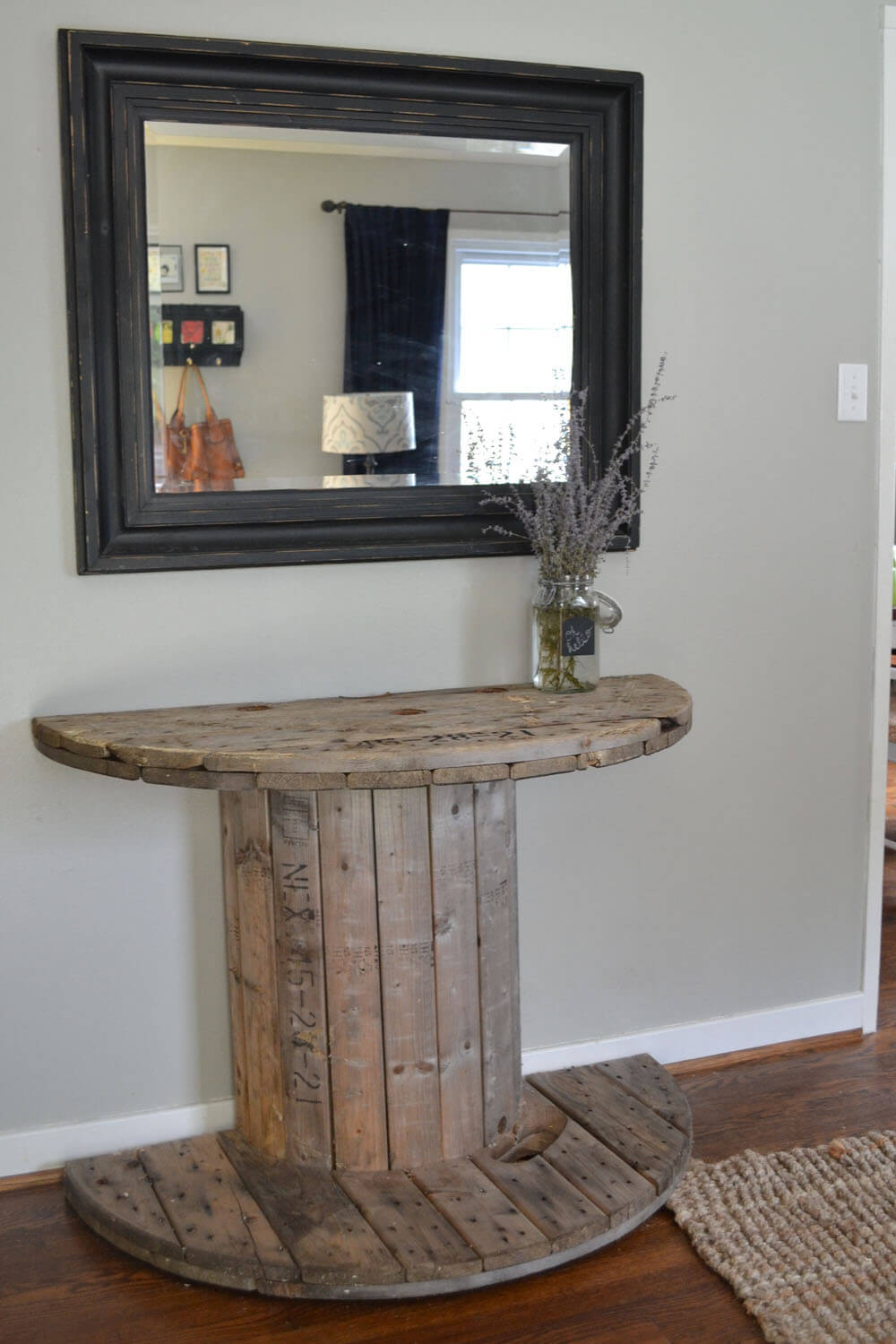 DIY Project Details: crookedhousewife.com
As any DIYer knows, an industrial spool is rustic chic gold. These large pieces are the epitome of upcycling and can be used to make everything from staircases to beautiful side tables like this. This table is so great because you need only saw it down, give it a good cleaning, and put it to use displaying fresh flowers or a family photo.
11. Shabby Manor Layered Candlesticks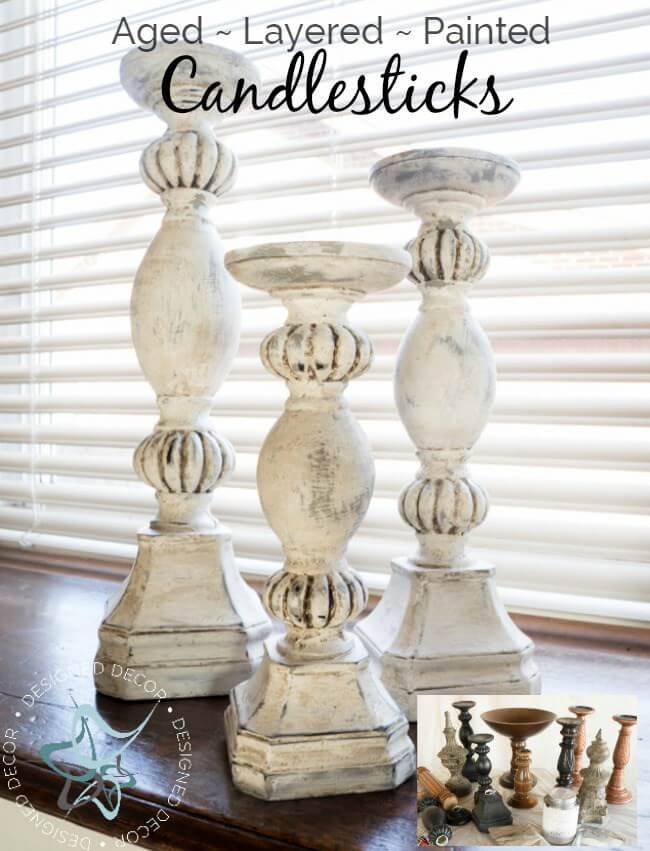 DIY Project Details: designeddecor.com
Put those mismatched thrift shop candlesticks to good use by getting crafty and creating a perfect shabby chic set. You can personalize these to match your home décor style and color and, using the techniques in the tutorial, give them the perfect vintage feel. Never worry about finding a complete set of candlesticks again.
12. Homestyle Bedroom Love Sign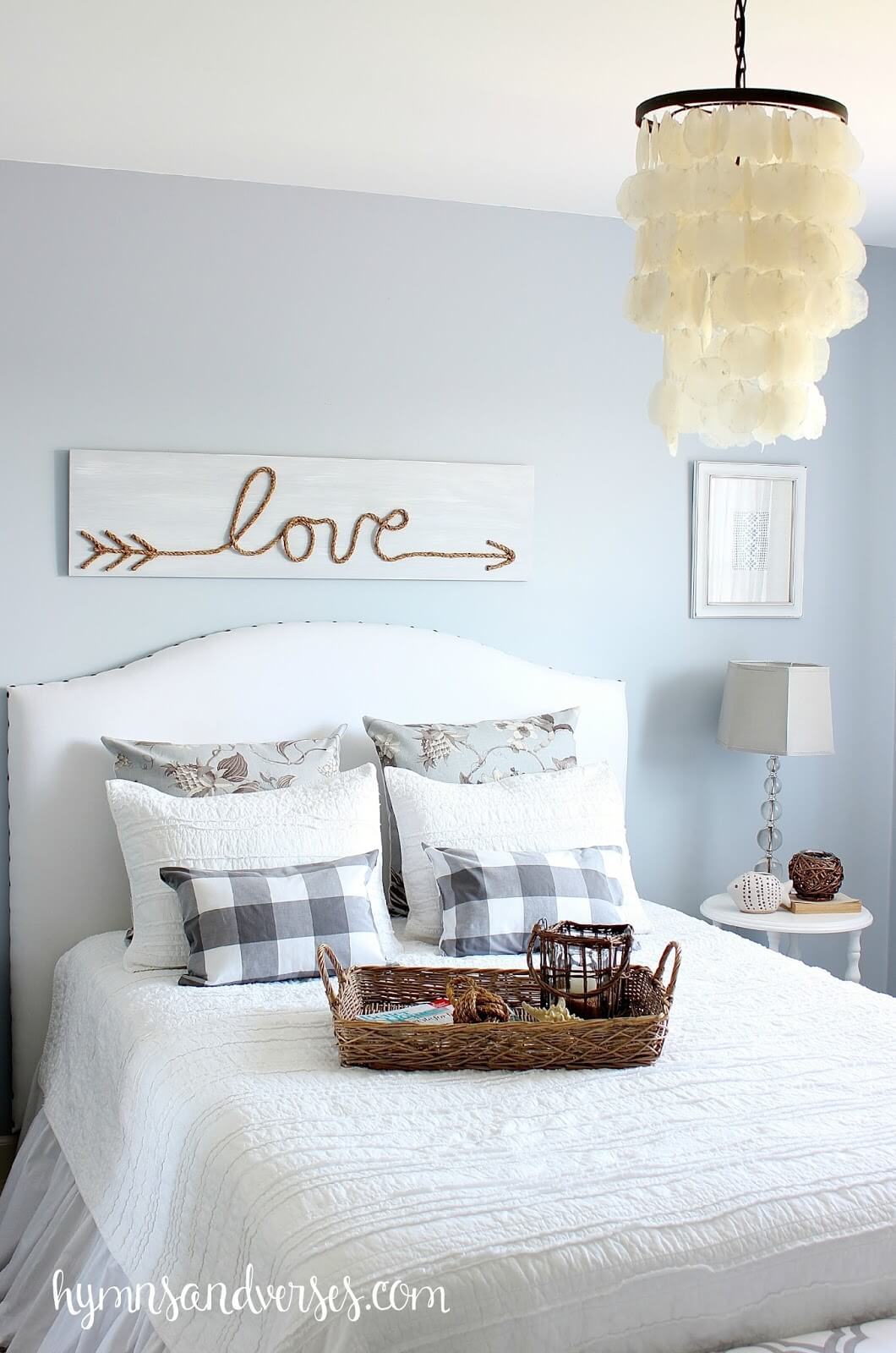 DIY Project Details: hymnsandverses.com
Wall art becomes so much more meaningful when it is homemade. Knowing that you crafted this "love" art by hand makes it that much more powerful. Using jute rope, you can create any design or word that suits you. Add a whitewashed board and you have a perfect, beachy, rustic-inspired piece.
13. Pacific Ambiance Mason Jar Sconces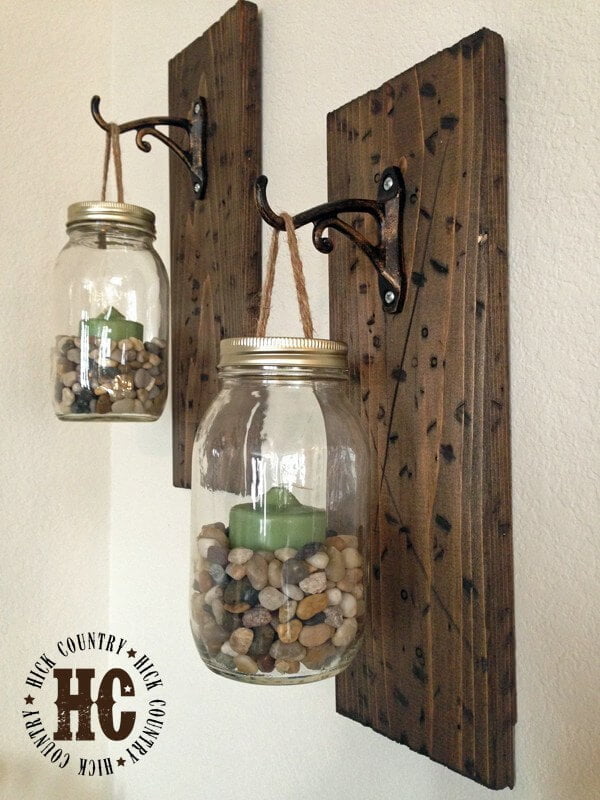 DIY Project Details: asouthernfairytale.com
This Mason jar wall sconce can be personalized to any home and adds a warm, beachy feel to an entryway or hall. Fill with your favorite pebbles, sand, or shells, then light a votive candle to create a warm glow. The simple wall-mounted board serves as a clean and chic base for these beautiful home-made wall lights.
14. Edwardian Schoolhouse Coat and Hat Rack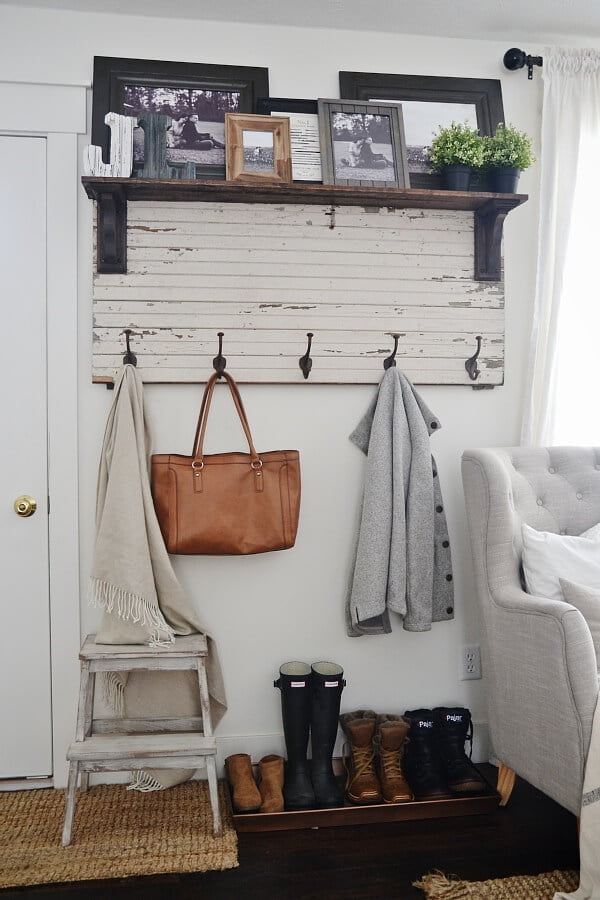 DIY Project Details: lizmarieblog.com
Sometimes it feels impossible to find a coat rack that fits your style and space. The obvious solution? Make it yourself. This project creates a big impact and can be made using a repurposed barn door (or other pieces of wooden board) and a simple shelf. Great for coats, bags, picture frames, plants, and more, this will surely enhance your entryway.
15. Antiquated Railway Headboard Lamps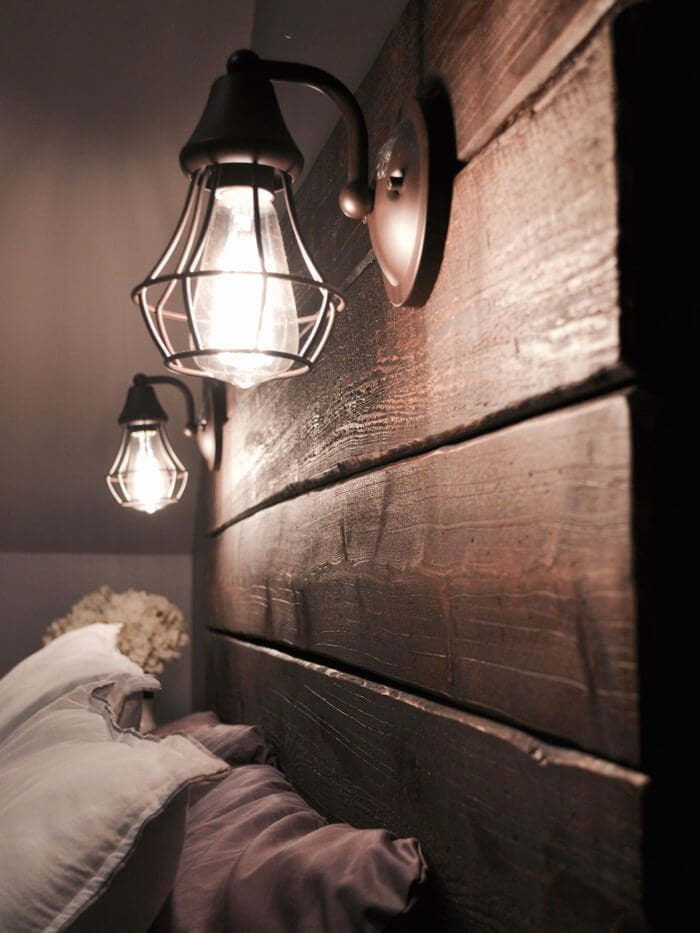 DIY Project Details: liveyourgoals.ca
Finding the perfect headboard that exudes your rustic style and includes lighting is just a DIY project away. This project is a bit more involved than some, but is still totally doable for beginners and has a beautiful end result. Just make sure you are extra careful when working with electrical wiring, especially for the first time.
16. Jug and Knot Mason Jar Rope Lanterns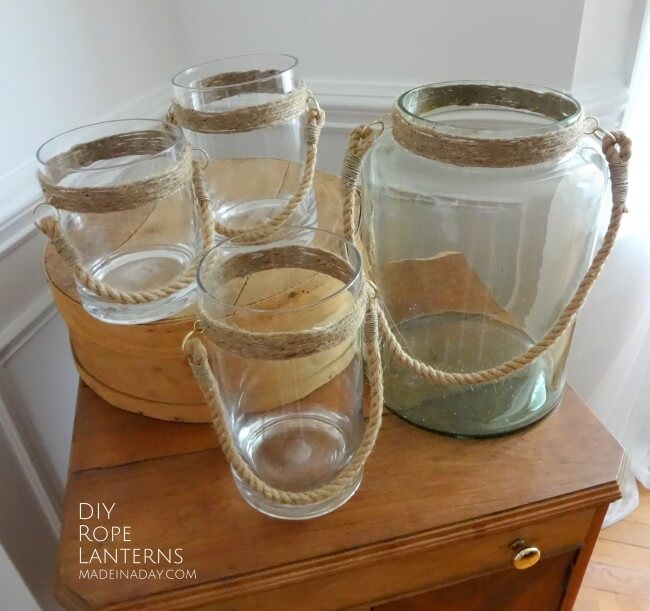 DIY Project Details: madeinaday.com
Perfect for a wedding or any beach or farmhouse-inspired home, these rope lanterns will perfectly house any candle, light, sand, shells, or trinket that you choose to display within. They also work very well on their own and can be situated as a centerpiece, hung up, or placed on an end table.
17. Forest Finds DIY Chalkboard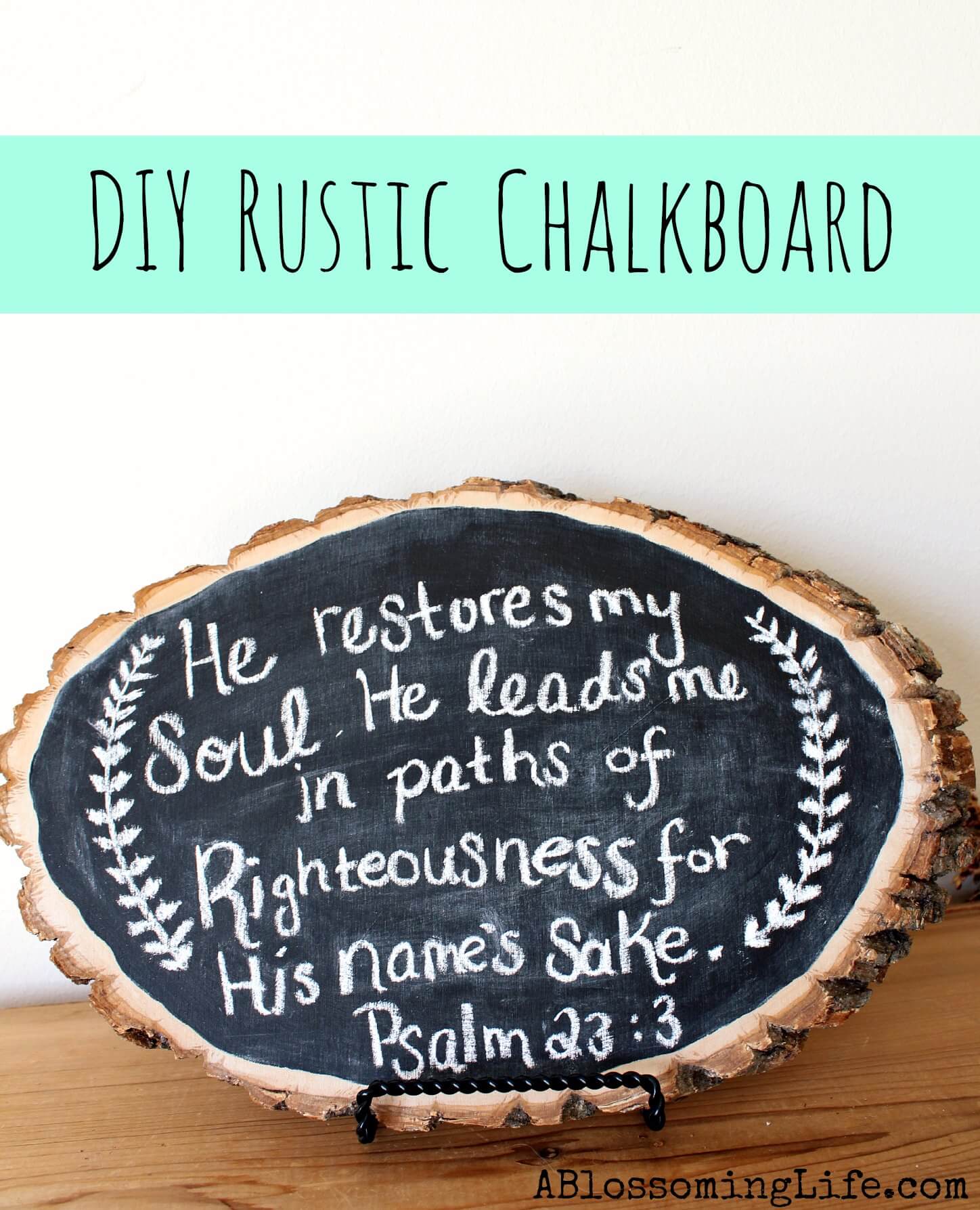 DIY Project Details: ablossominglife.com
If you are going for a woodsy theme to your home décor, you should consider adding this whimsical and super simple piece to your collection right away. Consisting of only four materials, this cute rustic chalkboard will be ready to go for a home display, a wedding, or a gift in as little as twenty minutes.
18. Rustically Repurposed Barn Door Cabinet

DIY Project Details: mountainmodernlife.com
The best DIY projects are often ones that either create or update something functional in your home. Instead of ordering your next sideboard or buffet online, keep your eyes peeled for dumped or donated cabinets. From there you can work your magic and beautify the cabinets until they exude shabby chic perfection.
19. Provincial Governess Style Chalkboard

DIY Project Details: lizmarieblog.com
Creating your own chalkboard is so easy and fun, and makes for endless reuses as you can update the chalk art as often as you like. All you need for this is a frame, a board, and some chalkboard paint. Display in your living room, or let the kids use it for fun and games in their rooms.
20. Wire Basket and Reclaimed Wood Botanical Display
DIY Project Details: thriftyandchic.com
Reclaimed wood in any state can add a charming and homey feel to any space. Throw in some greenery and you really have an inviting piece that brightens up a room. This wire basket display can house live or artificial plants and works great for any bathroom, entryway, porch, or hall.
21. DIY Painter's Ladder-Side Table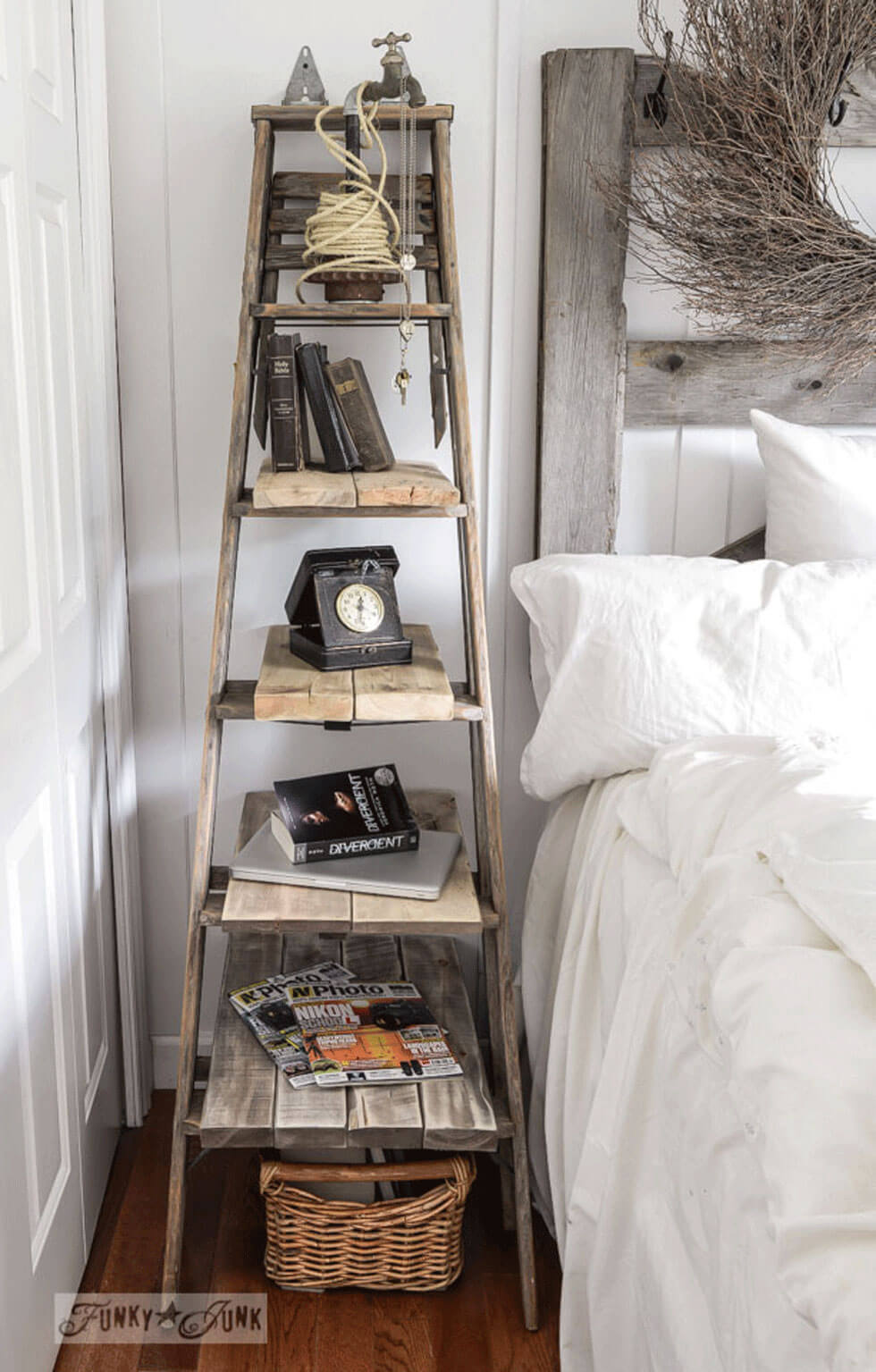 DIY Project Details: funkyjunkinteriors.net
This quintessential shabby chic piece embraces the rustic nature of the wooden ladder by keeping some of its original elements, yet brings it up a notch by adding planks to create a highly functional side table. The height of the ladder lends itself to creativity, as you have so many shelves to display all your favorite odds and ends.
22. Prairie Cabin Chest of Drawers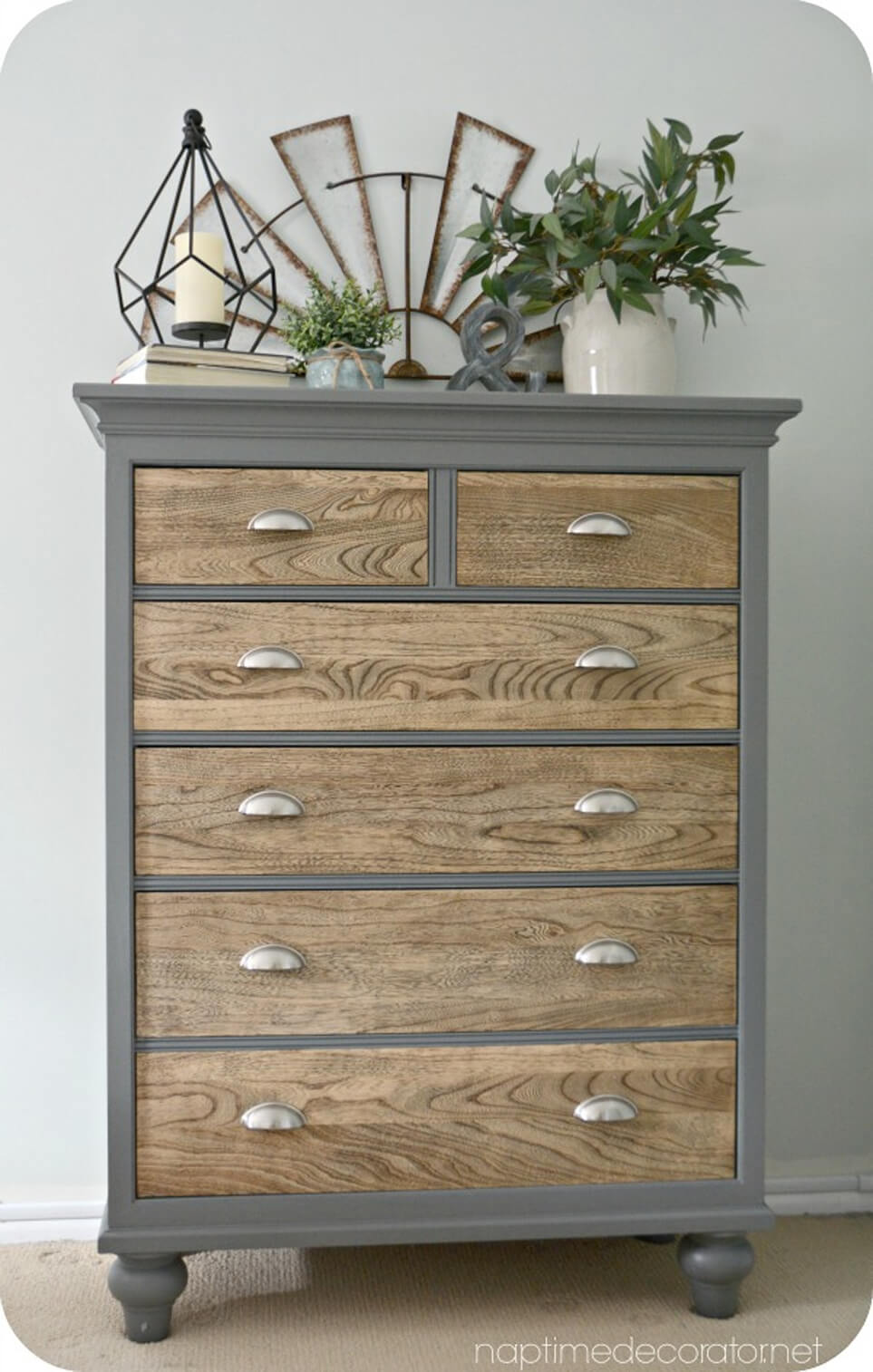 DIY Project Details: naptimedecorator.net
If you are hoping to change up the look of your bedroom without having to go on the hunt for all new pieces, consider making over the pieces you have. With a little sanding, paint, and new knobs, you can update your old outdated dresser as often as you like, changing the whole look without all the cost of traditional redecoration.
23. Homemade Tiny-Twig Frame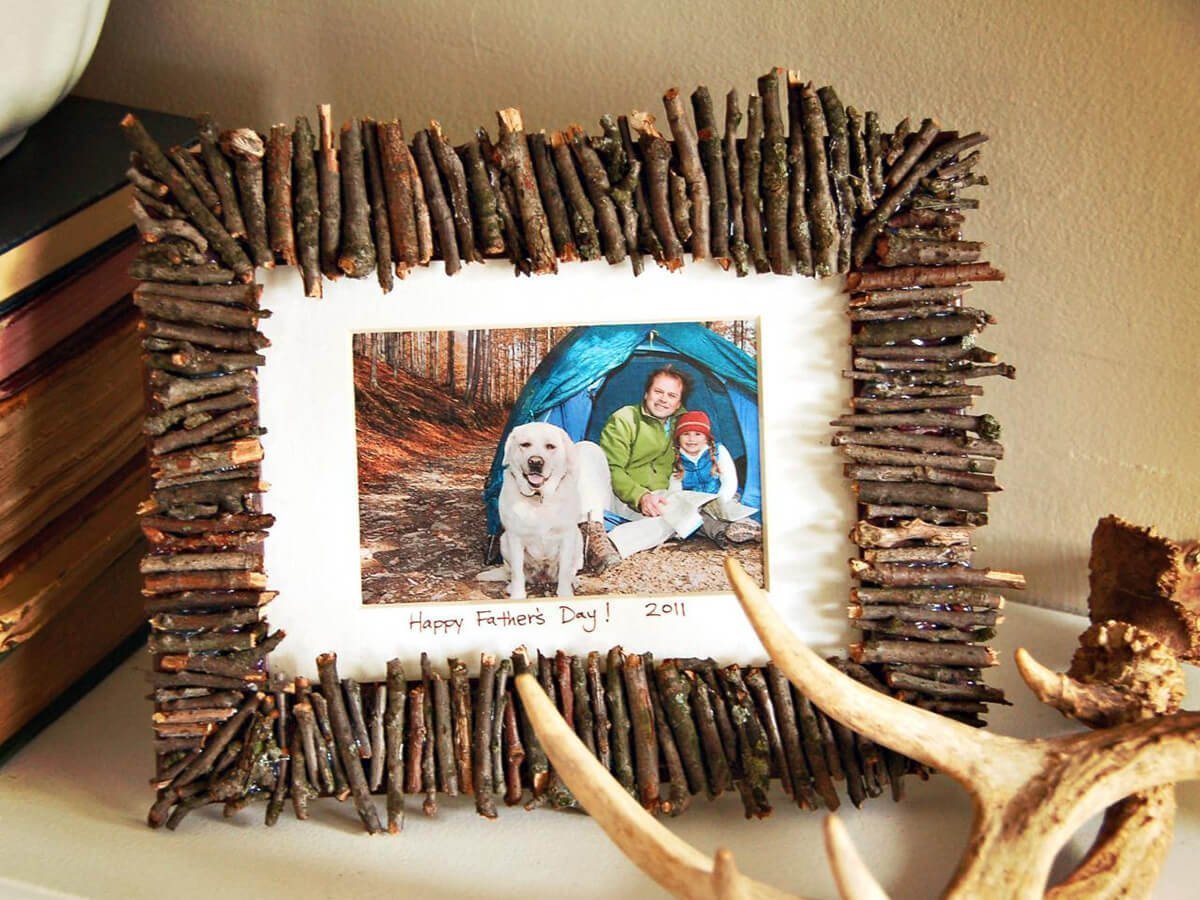 DIY Project Details: hgtv.com
This home-improved picture frame is a great project for the whole family. Head outside and pick out your favorite twigs, then bring them in, break them up, and simply hot glue them to one of the old frames you have sitting around that you aren't super fond of anymore. Then just add a favorite family photo and you're done!
24. Handmade Harvest Fall Wreath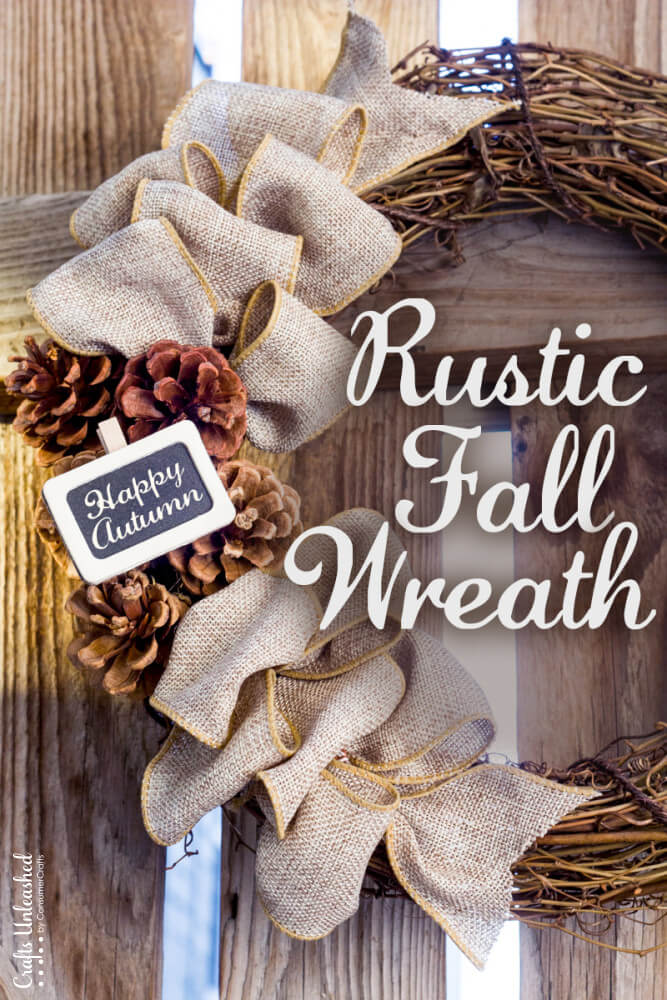 DIY Project Details: blog.consumercrafts.com
A wreath adds instant warmth and friendliness to any home. This harvest-inspired wreath also adds a touch of rustic charm. With fun fall elements like burlap, pine cones, and twine, everyone will know that your home is one that welcomes the warmth, love, and hospitality that come with the fall season.
25. Restoration Wood Accented Curtain Rods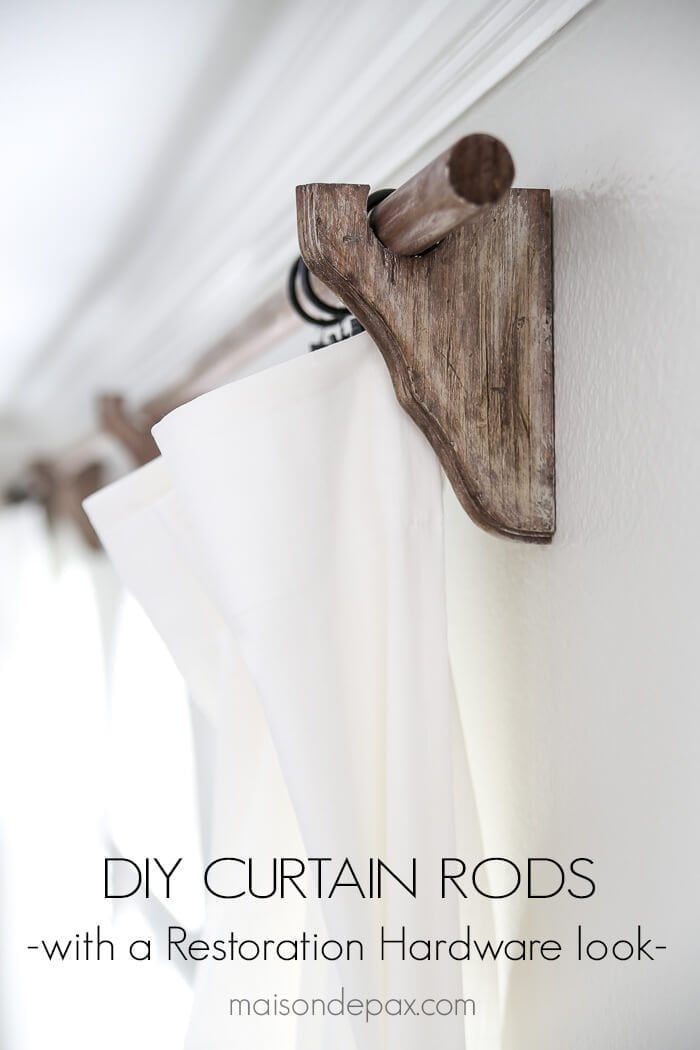 DIY Project Details: maisondepax.com
Curtain rods are one of those items that always seem to be more expensive than they should be. With this DIY tutorial, you can turn that around by making your own beautiful curtain rods and holders for a mere $15 – $20. The rustic wood of these rods against soft curtains makes for the perfect marriage in any living space.
26. Rustic Parlor Style Gallery Wall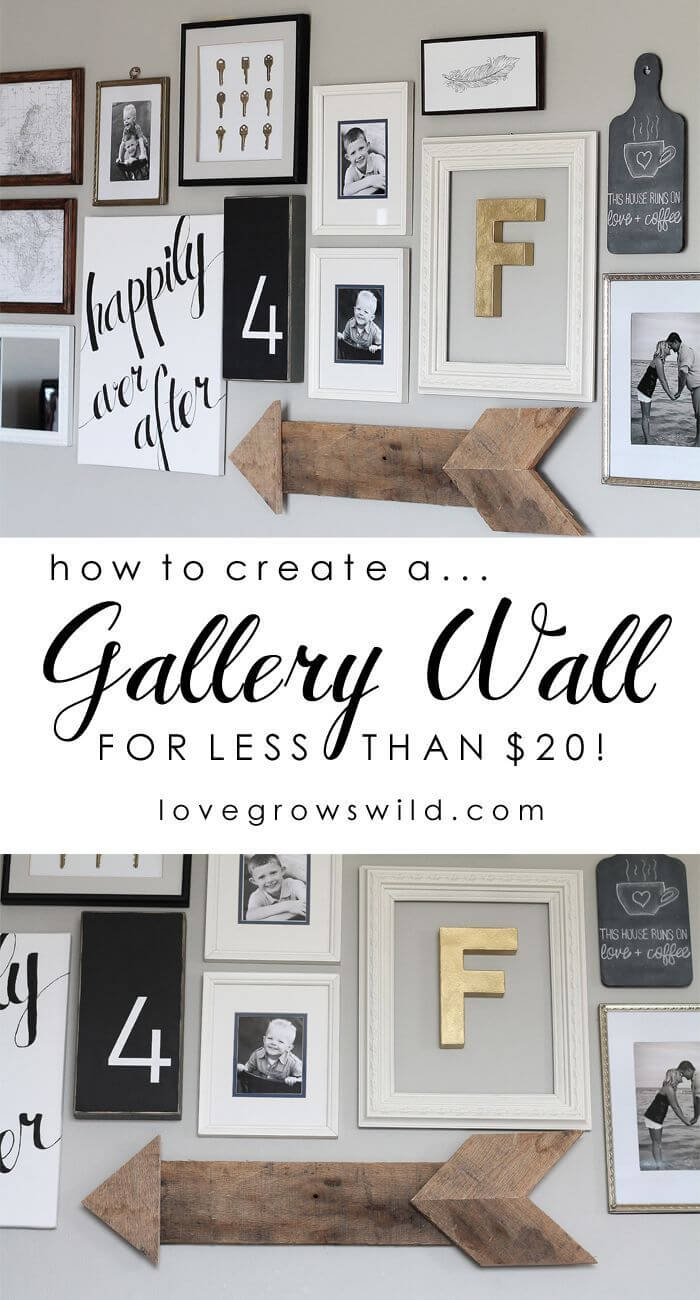 DIY Project Details: lovegrowswild.com
If you have eclectic tastes, than a gallery wall is a must. This DIY project will help you get started on creating a large number of fun pieces for your rustic-inspired gallery wall, including distressed signs and wooden arrows. It will also help you decide how to hang up all your fantastic mismatched pieces.
27. Bed and Breakfast Style Wooden Bath Runner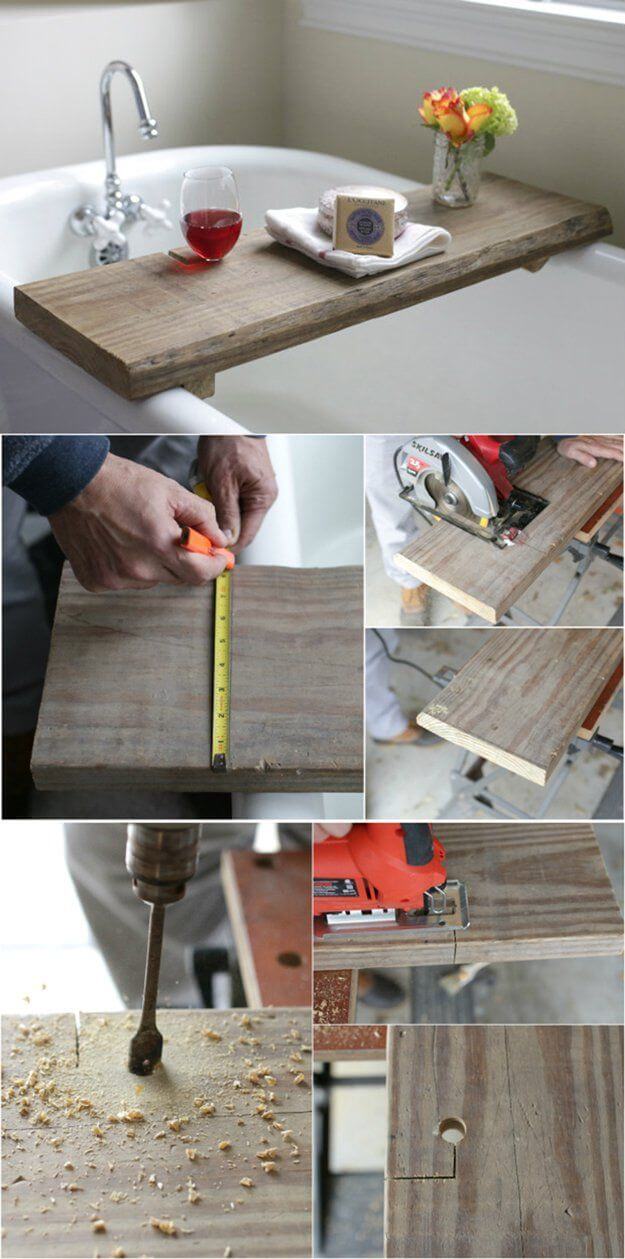 DIY Project Details: ehow.com
A luxurious bubble bath is the perfect way to unwind at the end of the day. And of course, what is a bubble bath if you don't have somewhere to set your glass of wine? Take on this fun and simple wooden bath runner project to add a little more luxury to an occasionally overlooked room.
28. DIY Wooden Tree Ring Holder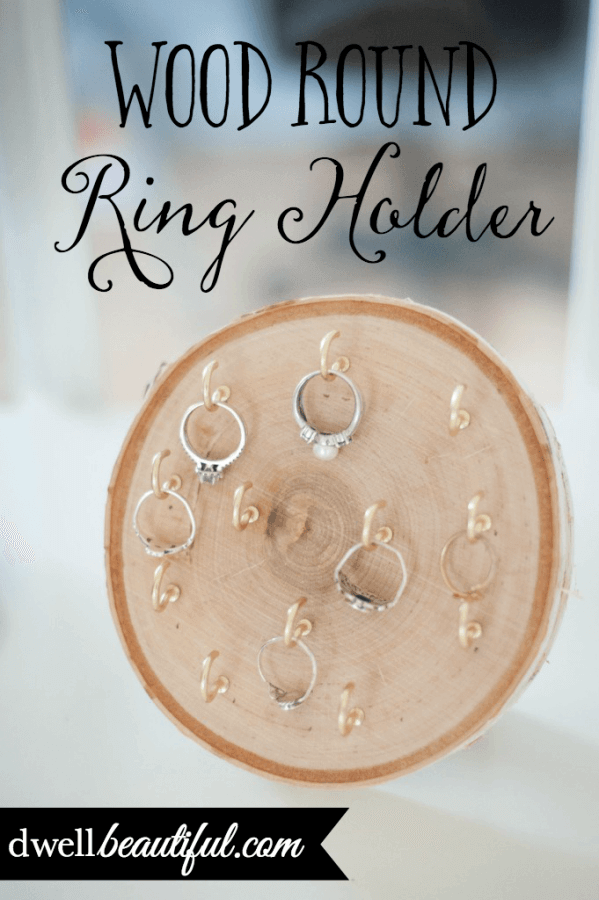 DIY Project Details: dwellbeautiful.com
Digging through a jewelry box to find that one special piece can be a nightmare. Take out the hassle while adding a delicate, rustic piece to your bedroom décor with this lovely ring holder. Even though the holder is pretty on its own, once you have your favorite rings adorning the delicate hooks, it will be the perfect blend of sparkly and country.