11 Creative Wood Wall Art Ideas | Weekend DIY Projects
Decorate your home with some beautiful wood wall art! I have here the most artistic ideas guaranteed to give life to your humble abode.
Stunning Wood Wall Art You Can Do On Weekends
Wood is one of the most useful and versatile materials there is. People have found ways to turn it into great furniture, simple housing, or even elegant storage. But just when you thought wood couldn't be fashioned into anything else, here comes wood wall art! It's a trend everyone's obsessed with, and I can see why! Keep on reading to find the most genius wood wall art ideas you can make this weekend!
1. Salvaged Wood Art
The great thing about creating wood wall art is you don't have to spend much. The raw materials themselves can come from practically anywhere—just like this salvaged wood art! Its texture is already great for that rustic feel. Just add a little color to finish it up.
2. Pallet Board World Map
Painting on wood may be tricky, but the effect it achieves is amazing. Just take this pallet board world mapfor example. A simple outline of a map on any other material would've been unnoticeable. But wood wall art makes the world look so much better.
3. Wood Slice Wall Art
There are no limitations in making your wood wall art. Even a slice of wood can be turned into a superb decor! Combining a great quote and a fashionable slice of wood makes this wood slice wall art an eye-catching masterpiece.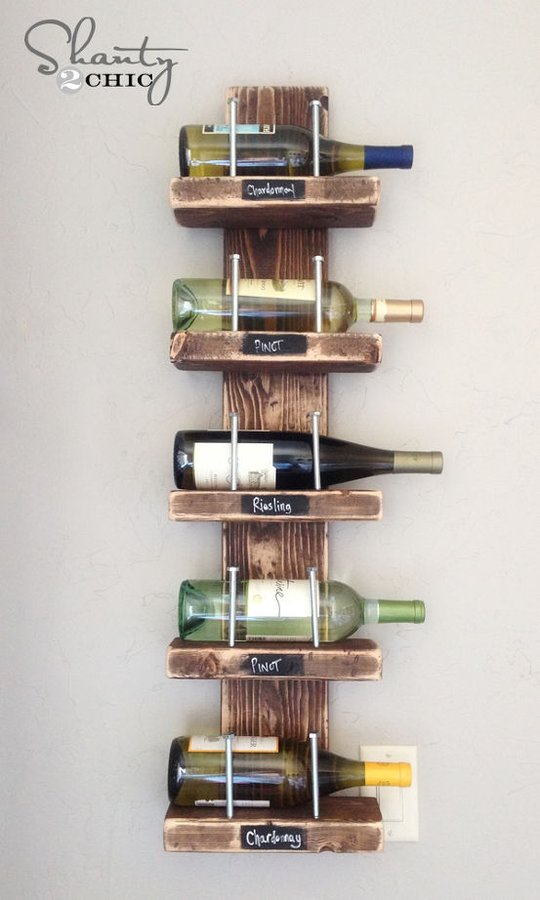 If it's made out of reclaimed wood, we'll take it. Check out these amazing projects! http://bit.ly/2dfppC8
4. Wooden Jewelry Wall Art
Many kinds of wood wall art tend to use large pieces of wood in almost the same patterns. Creating this wooden jewelry wall art shows your creativity and uniqueness. It's minimal, original, and definitely a refreshing take on this trend.
5. Wood Grain Wall Art
If you're a DIY novice, then I suggest making this wood grain wall art! The effort here goes into picking out the kind of wood to use because it will determine the result of the painting. With a bit of creativity, no one will be able to tell how simple it was to make this gorgeous wood wall art.
6. Wood Shim Wall Art
Wood shims—too simple to be art? Think again! The key to creating this wood shim wall art is arranging the wood shims in a striking pattern. The results are so marvelous, you might not want to make wood wall art in any other way!
7. Wooden Kilim Wall Art
In keeping with a true artistic tradition, this wood wall art takes inspiration from kilim, the Native American pattern. The wooden kilim wall art is an exquisite example of how DIY crafts can be practical, easy, and deeply meaningful.
8. Wooden Mosaic Wall Art
If you ask me, this wooden mosaic wall art is a cut above the rest! Unlike many kinds of wood wall art, this one magnifies the dimension of the design and seems to have a life of its own. Talk about decorating a space on a whole new level!
9. DIY Wooden Arrow
Hanging something that doesn't come in the shape of a rectangle is always a great idea. The contrast of these DIY wooden arrows against a blank rectangular wall shows how ingenious wood wall art pieces can be. And this tutorial shows you it's not difficult to make at all!
10. Driftwood Pineapple Pallet Wall Art
We've rearranged wood into different patterns and shapes—why not rearrange them into a pineapple! Mastering how to make this driftwood pineapple pallet wall art will give you hours of fun and fulfillment. It's truly a unique kind of wood wall art which can be transformed into many other forms you can think of!
11. Gilded Wood Shim Wall Art
If wood shims can follow a unique pattern, then certainly they can come in unique color combinations! This gilded wood shim wall art is the perfect accent for a minimalist space. Subtle and elegant, this is the wood wall art that will be the topic of many conversations.