20 Stunning Wood Home Decoration Ideas that You Will Adore
1. Woodsy Room Divider that Resembles a Sliding Door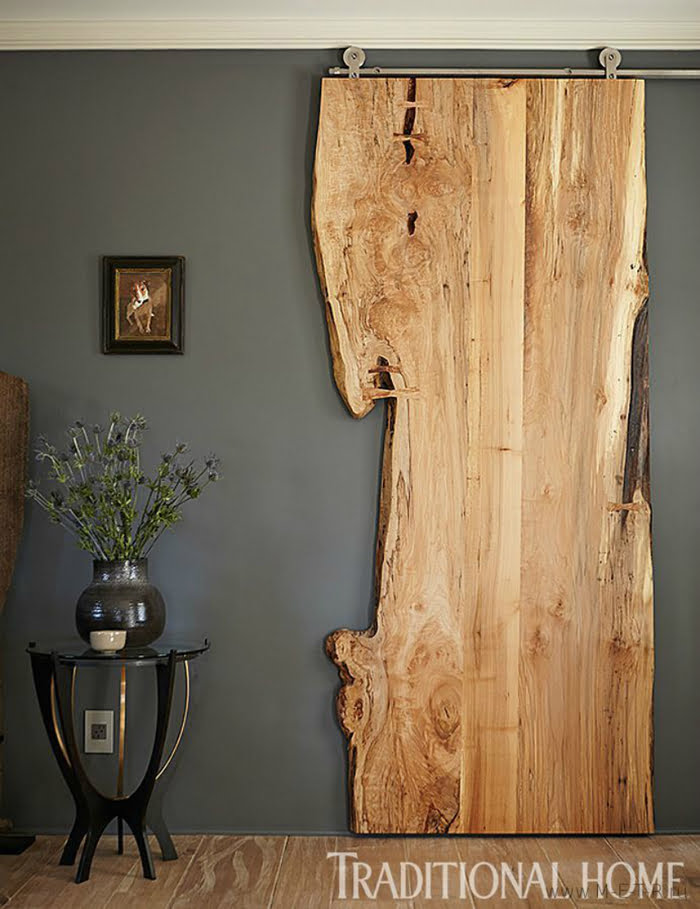 Source: wi-fi.ru
This room divider makes use of large, rough-edged planks cut from logs. These planks are cleverly joined together so that it looks like they were cut from a huge tree. The wooden divider is placed on a rolling door frame like a closet door so it can be easily moved from place to place.
2. A Luminescent Centerpiece with Tea Light Accents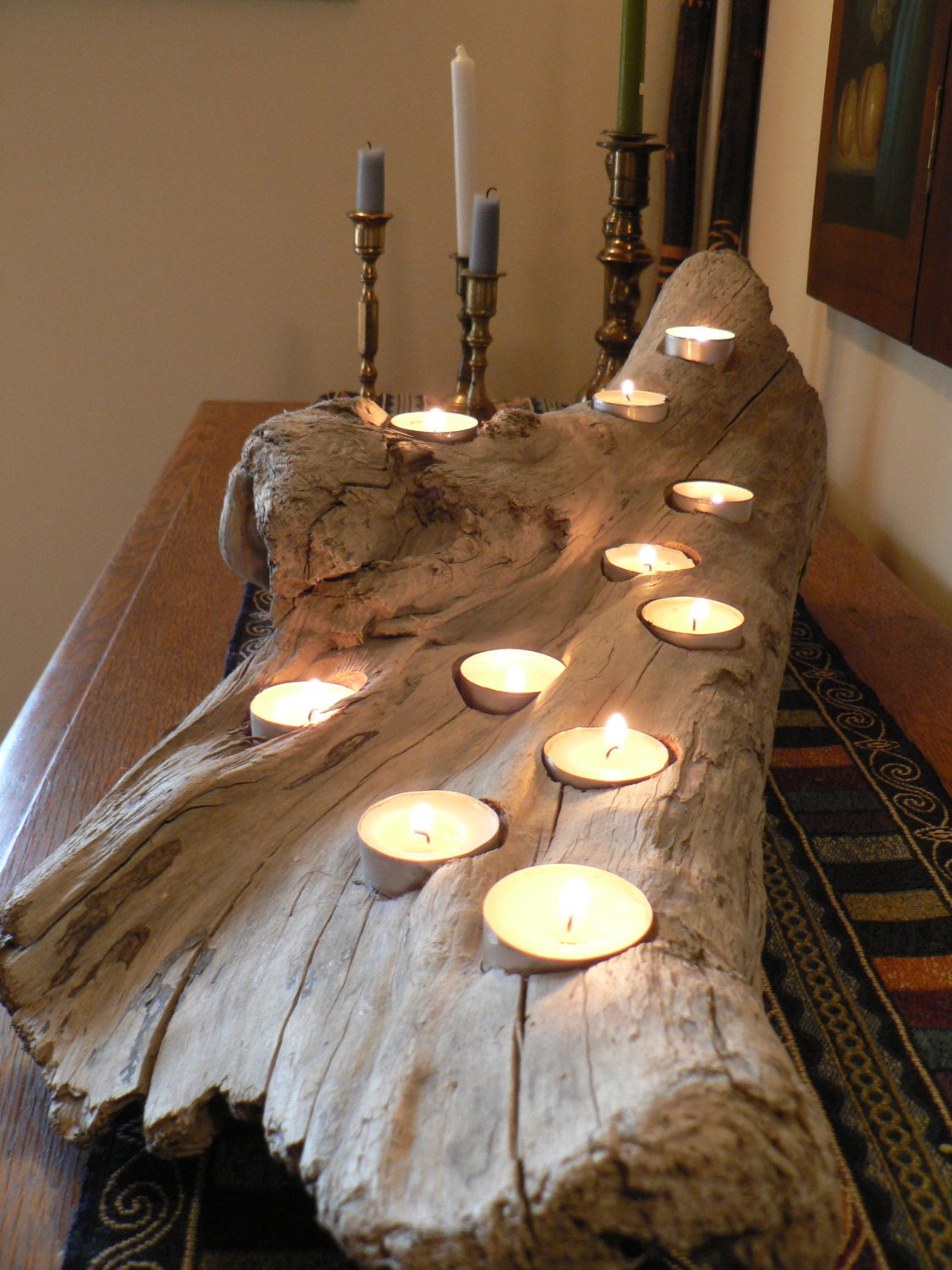 Gorgeous driftwood makes this tea light candle holder special. The wood is laid on its side and tea light sized holes are drilled in it. This would be an easy project for anyone who is handy with power tools. Its dramatic looks would make it a fitting focal point for any living room.
3. Hallow End Table with a Glass Surface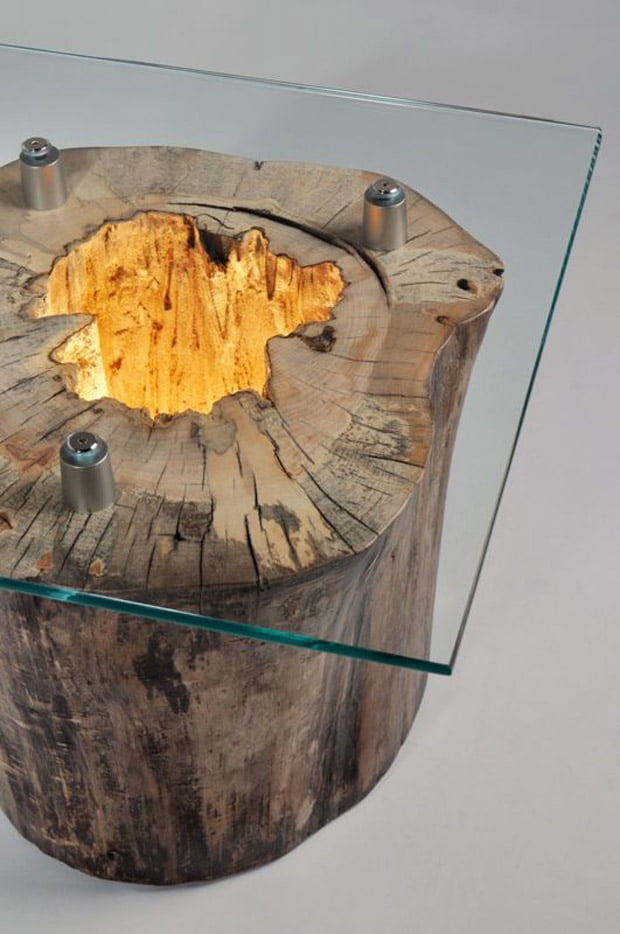 Source: diy-ideas.org
This interesting end table uses an old hollow log as its base. A light is placed near the bottom, illuminating the table and providing a nice accent to any room. The glass surface allows the light to shine up and through the table. This table will be a conversation piece for you and your guests.
4. Chalkboard in a Splice of Log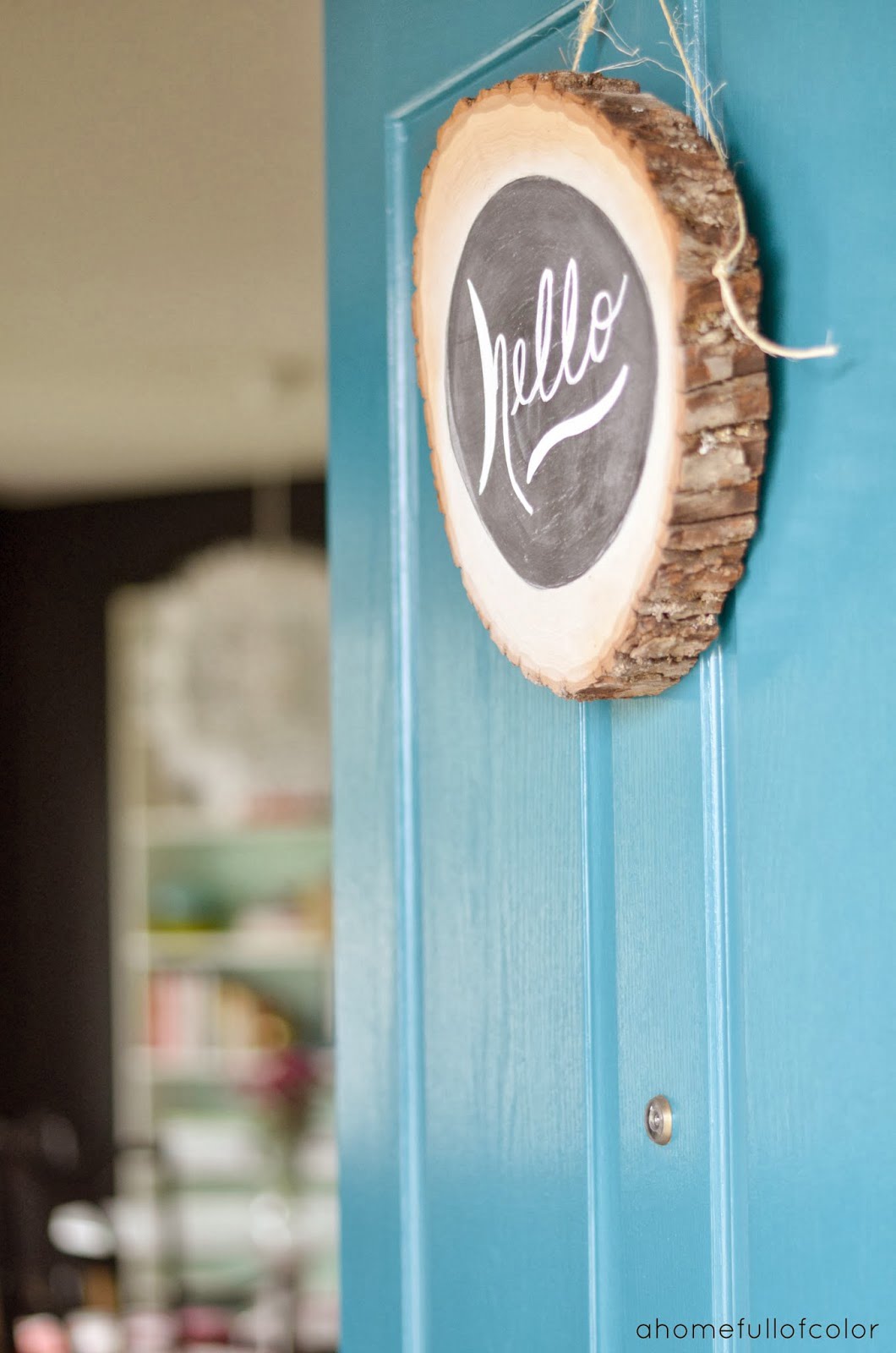 Source: sgstyleblog.com
This cute chalkboard sign is made from a slice of log. The center of the slice is painted with chalkboard paint. The slice is hung easily from the front door with twine. It would be fun to be able to change the message on the chalkboard sign whenever you liked.
5. Corner Bookcase for a Hobbit Hole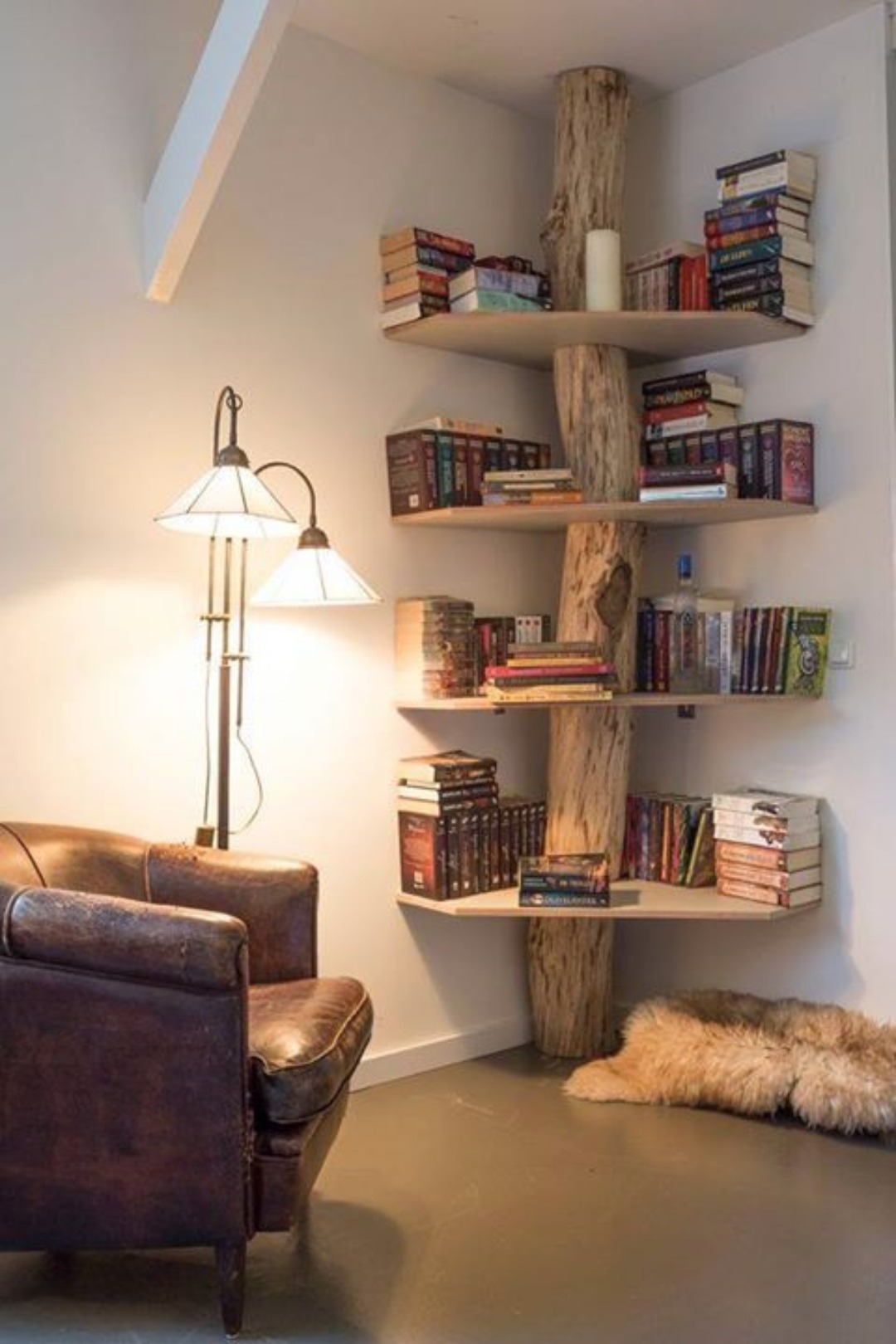 Source: ohou.se
An old log with no bark provides the support for this unique corner bookshelf. The wood is cut in a diamond shape to maximize space. Each shelf is able to hold a lot of heavy books. The bookshelf provides a quirky focal point to any living room or bedroom.
6. Tall and Narrow Wood Home Decor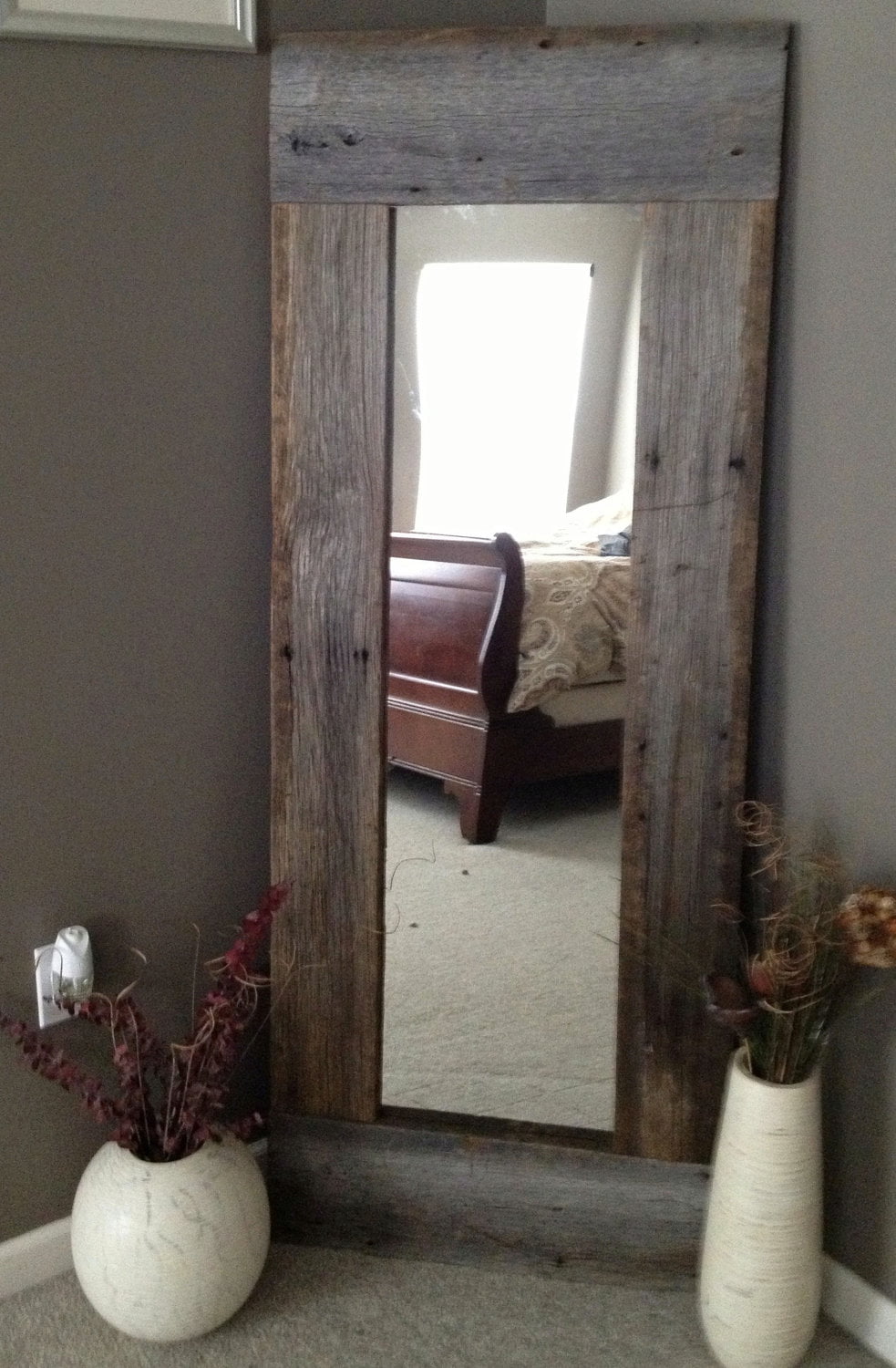 This tall and narrow mirror is made of reclaimed wood. It is freestanding and leans in the corner of a bedroom. The rustic wood brings a touch of the country into the bedroom. The exposed nail heads give the mirror a homemade look. Vases with dried plants stand in front of the mirror.
7. Three Tiered Shelf with White Birch Legs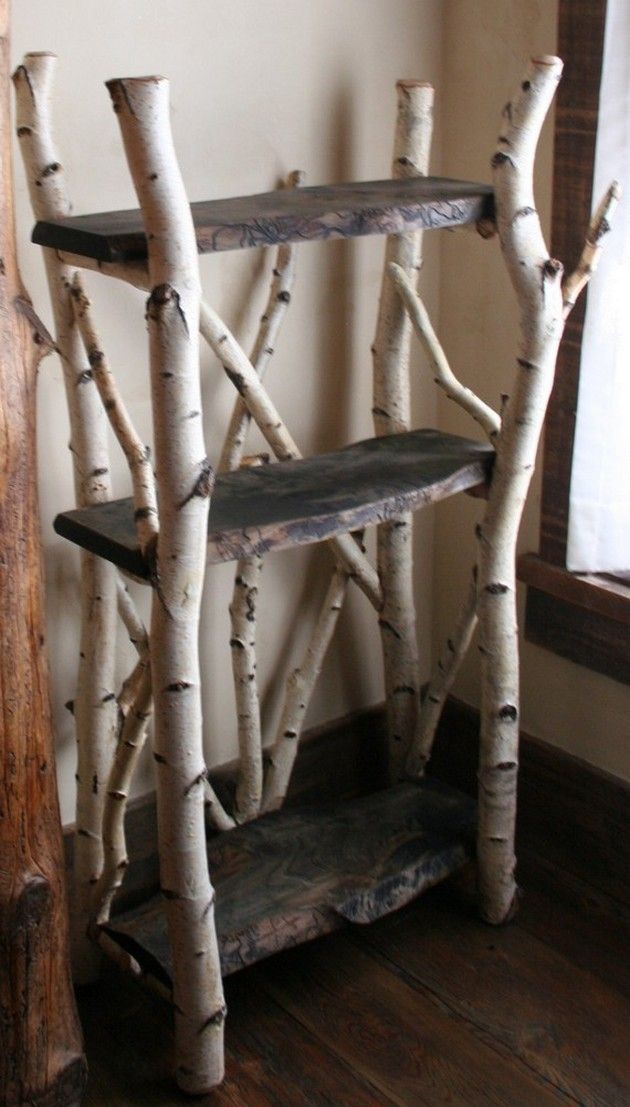 Source: pinterest.com
Birch logs are used in this unique shelf for a natural look. The corner supports are made of thicker logs, while the back is crisscrossed with smaller branches. This would keep books and other items from falling out through the back. This shelf would be great in a room with other wild touches, or by itself for a modern and understated look.
8. Hallowed Out Wooden Vase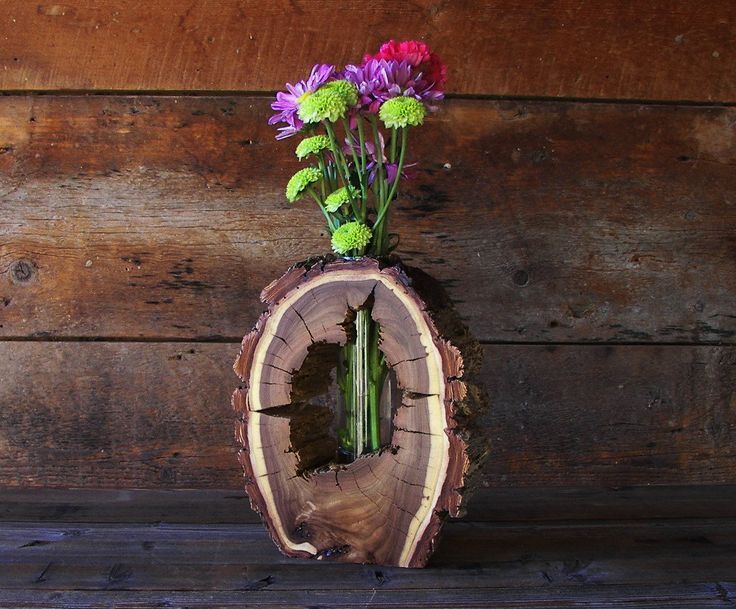 This vase is made from a slice of hollow log with a glass insert to hold the flowers. The texture and color of the hollow log provide a nice contrast to the freshness of the flowers. This vase would look great with any style of décor, but would blend in nicely with other rustic wood touches.
9. Log Cabin Inspired Coat Rack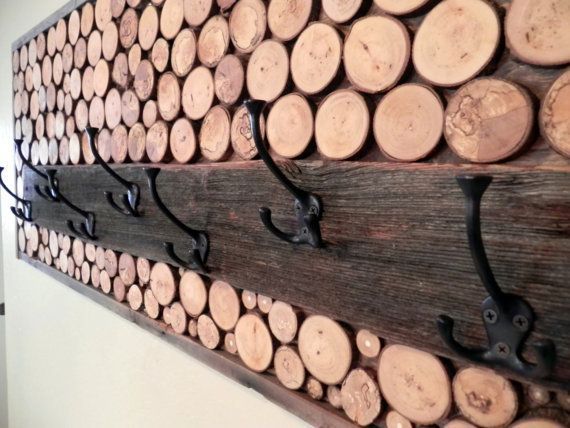 Source: decor12.com
Slices of wood that vary in size make up the background of this coat rack. The irregular circles of wood give the coat rack a varied texture. A simple wooden plank stained in a dark brown holds old-fashioned coat hooks. This is a practical home accent that brings a touch of woodsy style into your environment.
10. A Light from the Forest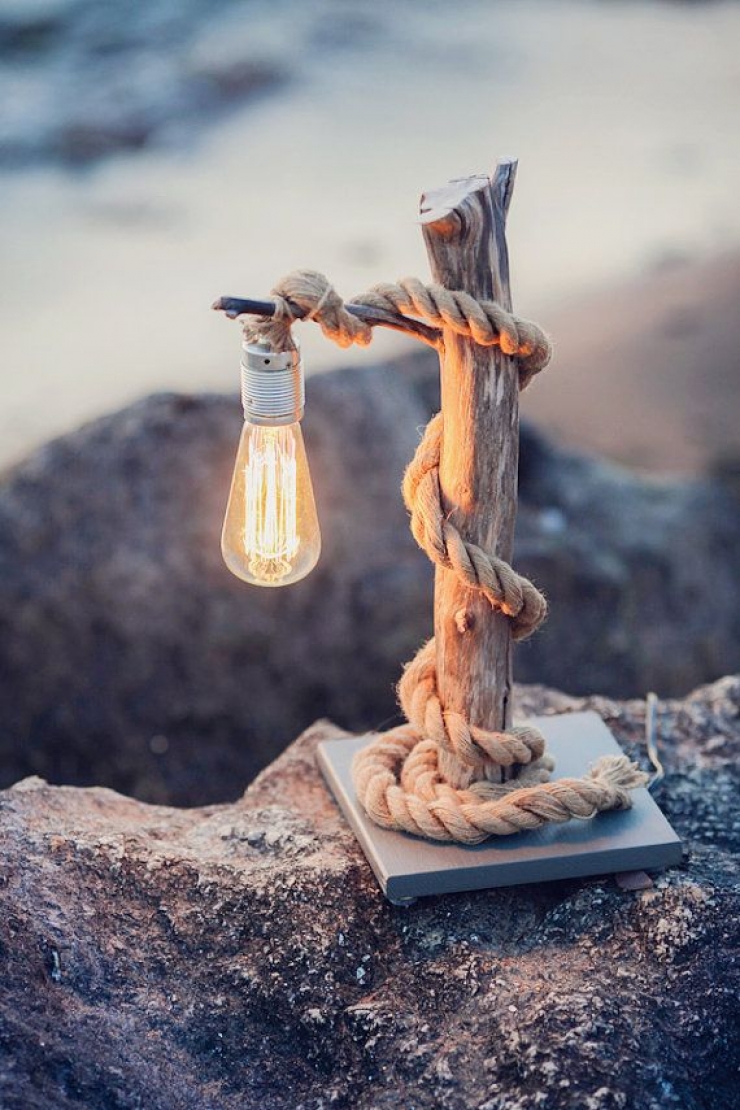 Source: espacebuzz.com
This nautical inspired lamp is made of a small log fixed to a square board. Thick rope is wrapped around the log to conceal the electric wiring for the lamp. An exposed bulb in a unique shelf gives the lamp an old fashioned feeling. This lamp is perfect to bring a rustic touch to your room, whether it is woodsy or ocean themed.
11. Family Name in a Wooden Style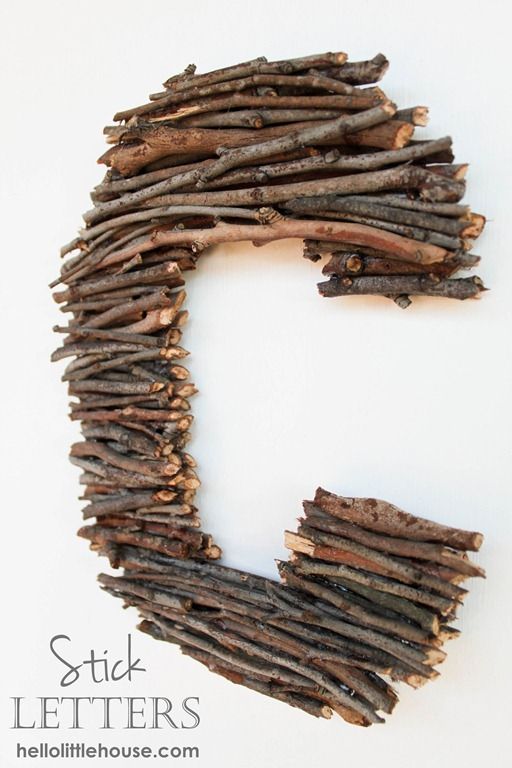 Source: hellolittlehome.com
Make wall letters with layered sticks. This is a simple project, and the materials can be found outdoors if you live in an area with enough trees. Lay the twigs across a backing board cut into the shape of the letter you wish to make and trim them to the right length.
12. Hardwood Coasters for your Drink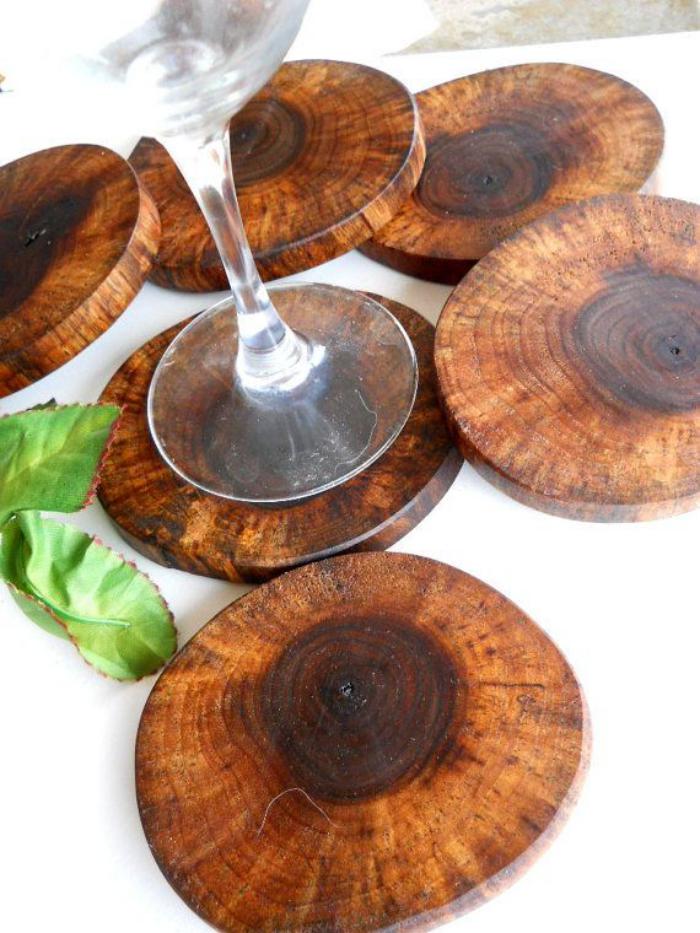 Source: goodshomedesign.com
These simple wooden coasters make a pretty accent to any coffee table. Finished with a gorgeous wood stain and polished to remove any rough edges, these coasters are as refined as they are natural. Leave them out for your guests to use and enjoy their pretty colors while your furniture is protected from stains.
13. Dangling Wood Home Décor from a Sturdy Log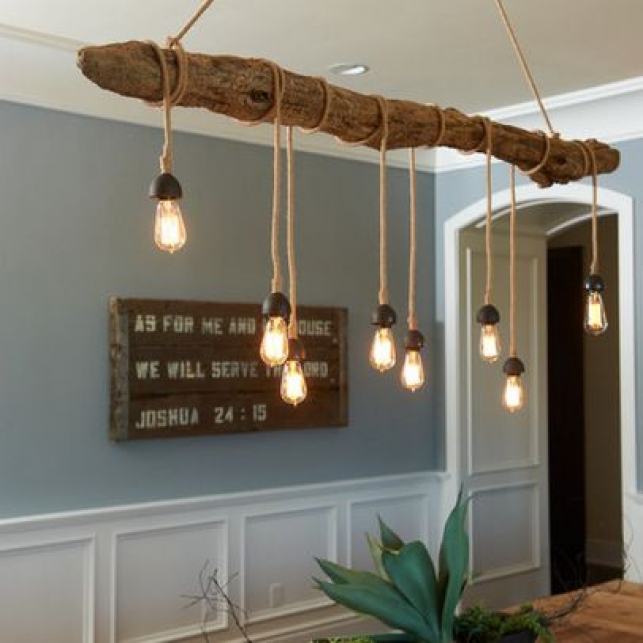 Source: povesteacasei.ro
This rustic light fixture is made of an irregular log with the bark removed. Old fashioned exposed light bulbs are hung from the log using ropes. The ropes are wrapped around the log, giving the light fixture an interesting texture. The rope conceals the electrical wiring used to light the bulbs.
14. Tree of Light and Hope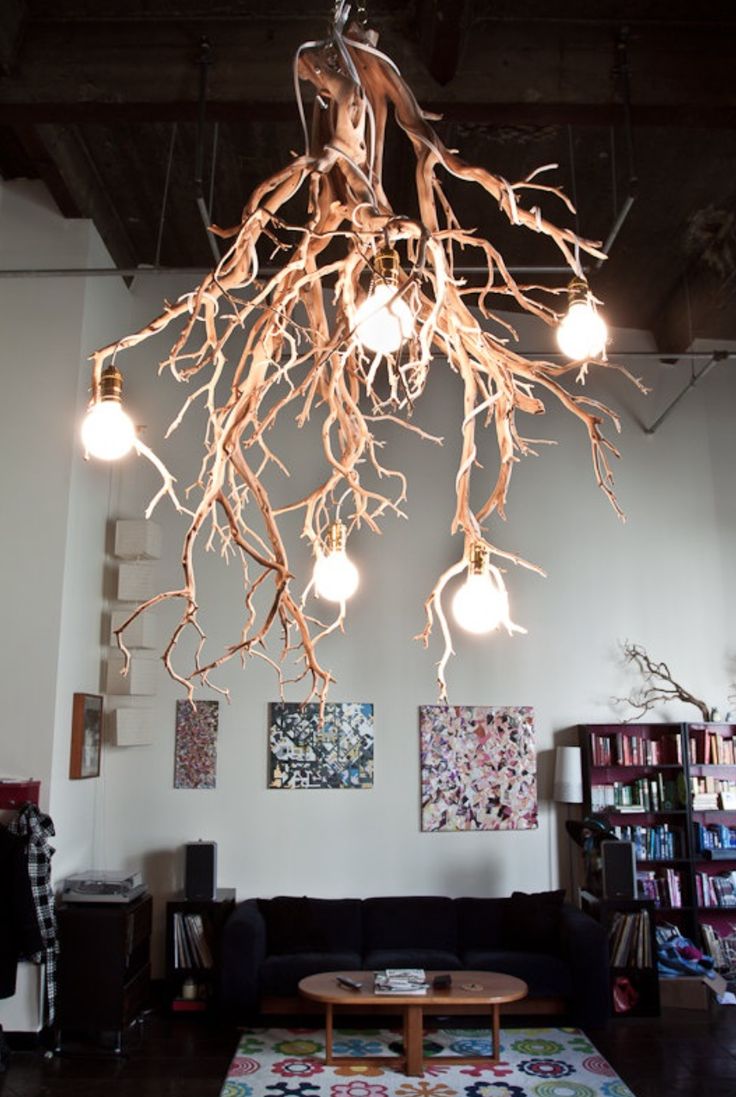 Source: secondstreet.ru
This showy light fixture is made of a beautifully twisted bush. Electrical wires are wound around the branches to conceal them. Exposed globe lights glow in the branches, creating beautiful light and shadows. This light fixture makes a stunning accent to any living room or dining room.
15. Rustic Wood Home Decoration with a Homely Feel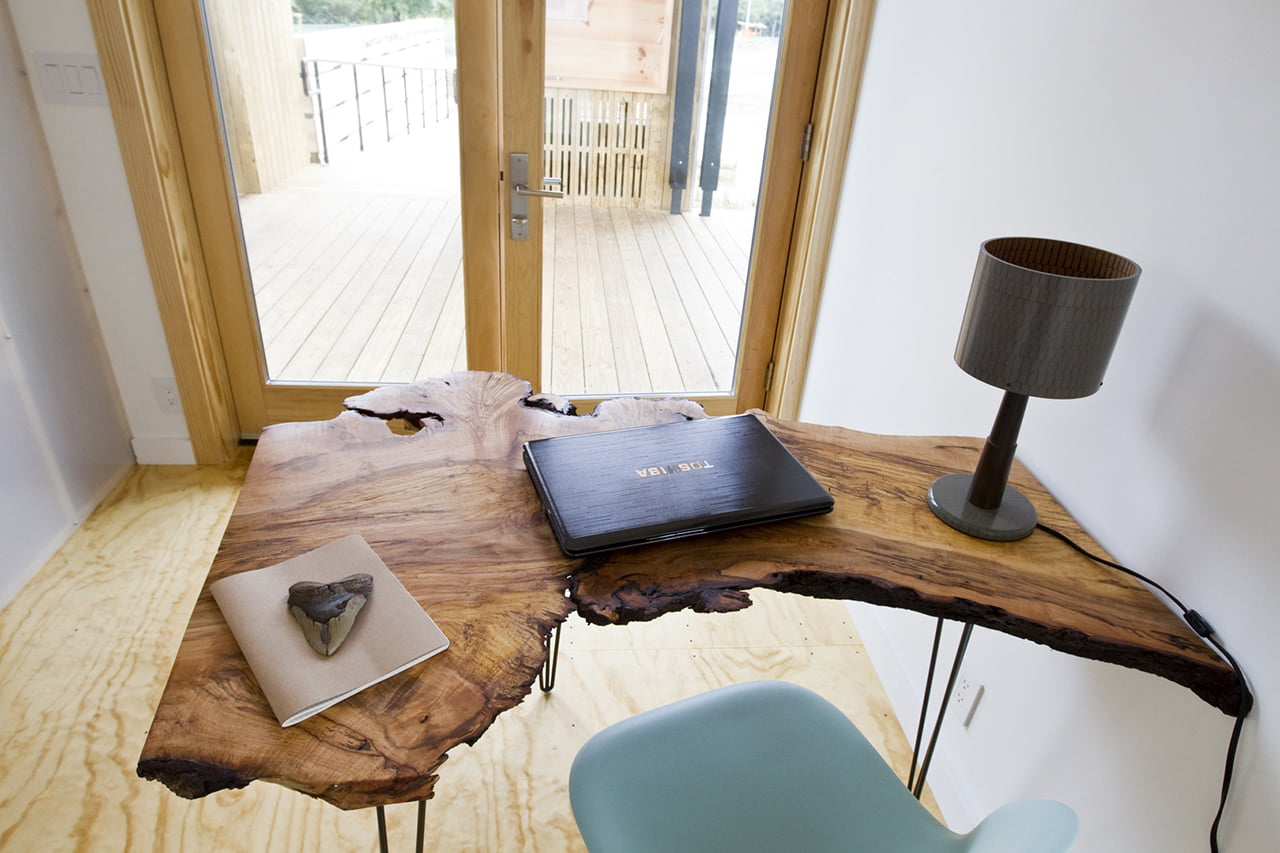 Source: barkhouse.com
This wooden desk is made from a plank with irregular edges. Some of the bark is left on for a textural element. The desk is accented by a simple, modern lamp. This desk draws the eye and makes an eye catching accent to an otherwise minimalist room. The desk combines form with function, making a peaceful place to get work done.
16. Log Enclosed Mirror that the Light Runs Through

Source: elo7.com
A mirror is framed with irregular wood planks for a natural look. The curves on each plank echo each other, making the mirror an artistic accent to any room. The contrast between the rough wood and the smooth glass make this mirror visually interesting. It looks nice in an all-white room to let it stand out.
17. Bamboo Inspired Coffee Table on Wheels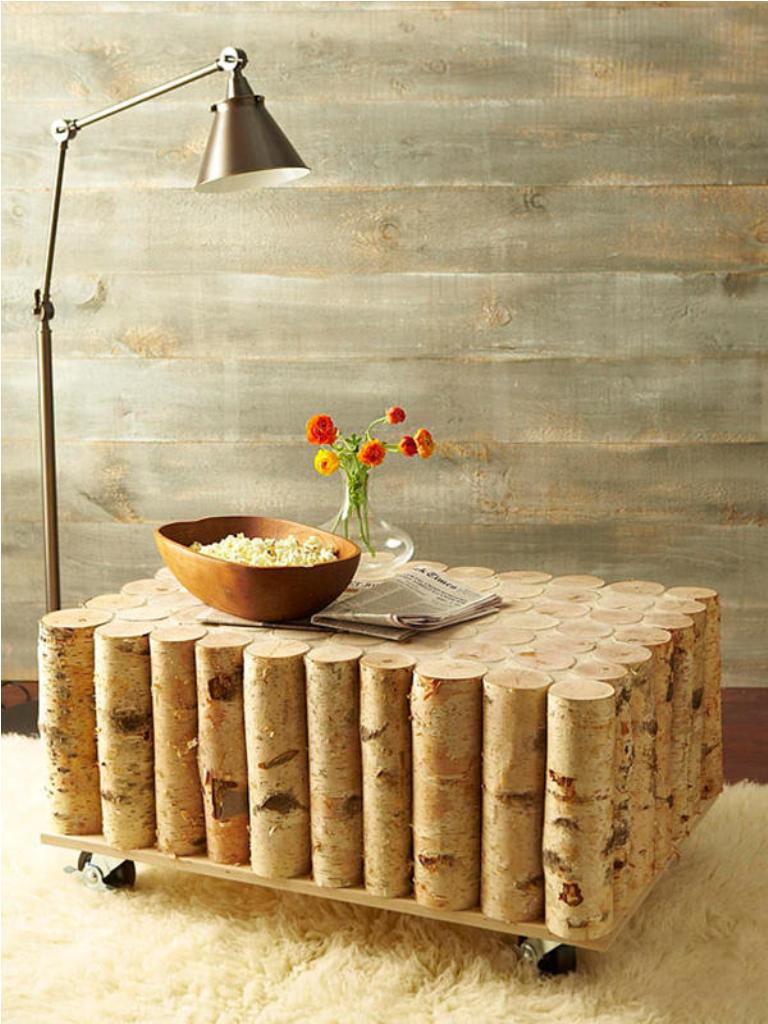 Source: homevil.com
This ingenious wheeled coffee table is made of birch logs stood up on their ends and bonded together. The look resembles a stand of bamboo. This coffee table has a fun and fresh look. It would go nicely with rustic home décor as well as with a more modern room, as pictured.
18. Tree Ornament of a Wooden Heart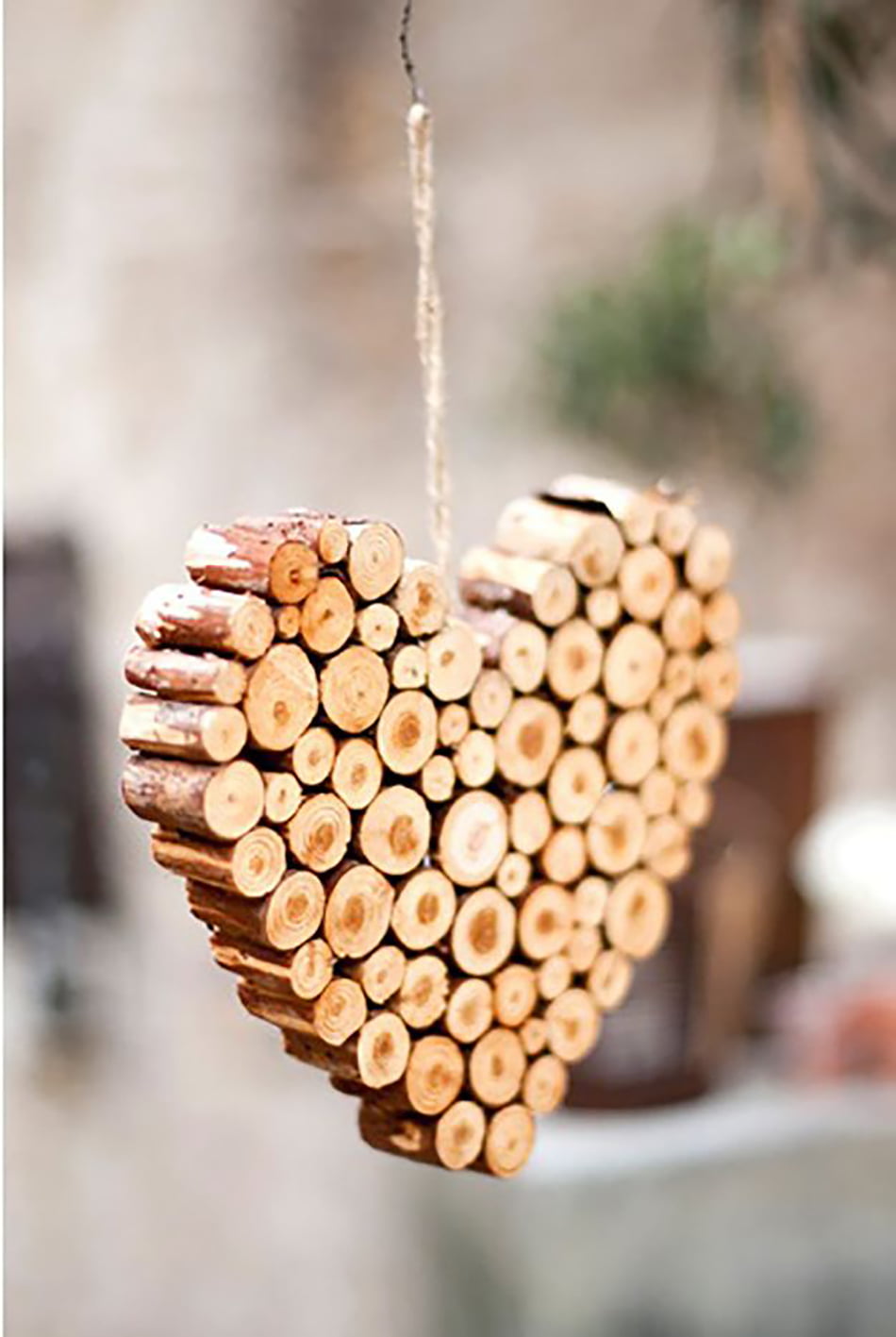 Source: wedding-venues.co.uk
This adorable heart is made from slices of sticks glued together. An easy project for any woodworker to make at home, this would be great for a wedding decoration. It would also work nicely as a Christmas tree ornament or as a rustic Valentine's gift. Try hanging it up with a length of twine.
19. Votive Holders for your Woodland Haven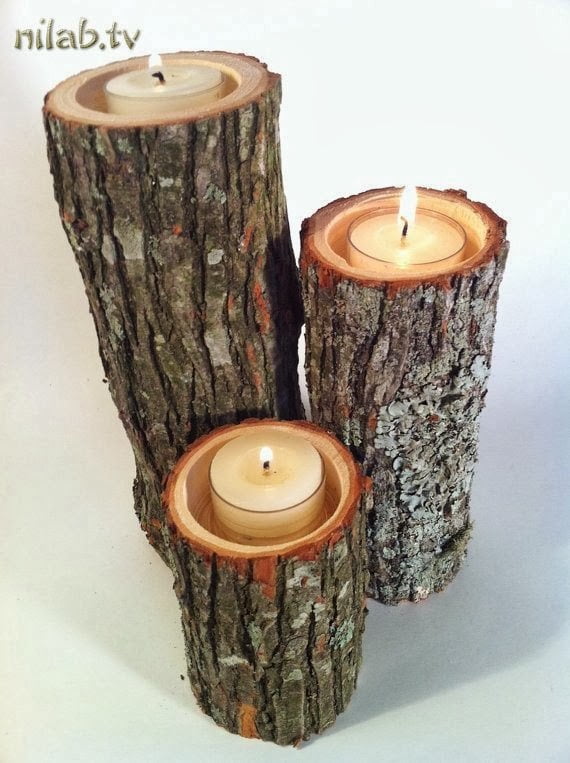 Source: persiannilab.blogspot.com
These log votive holders create a charming accent to any room. The bark is left on the logs for a natural touch. The colors and textures of the moss and lichens look pretty against the rough bark. These logs are cut in three lengths for an arrangement with different levels.
20. A Wooden Herb Garden of Love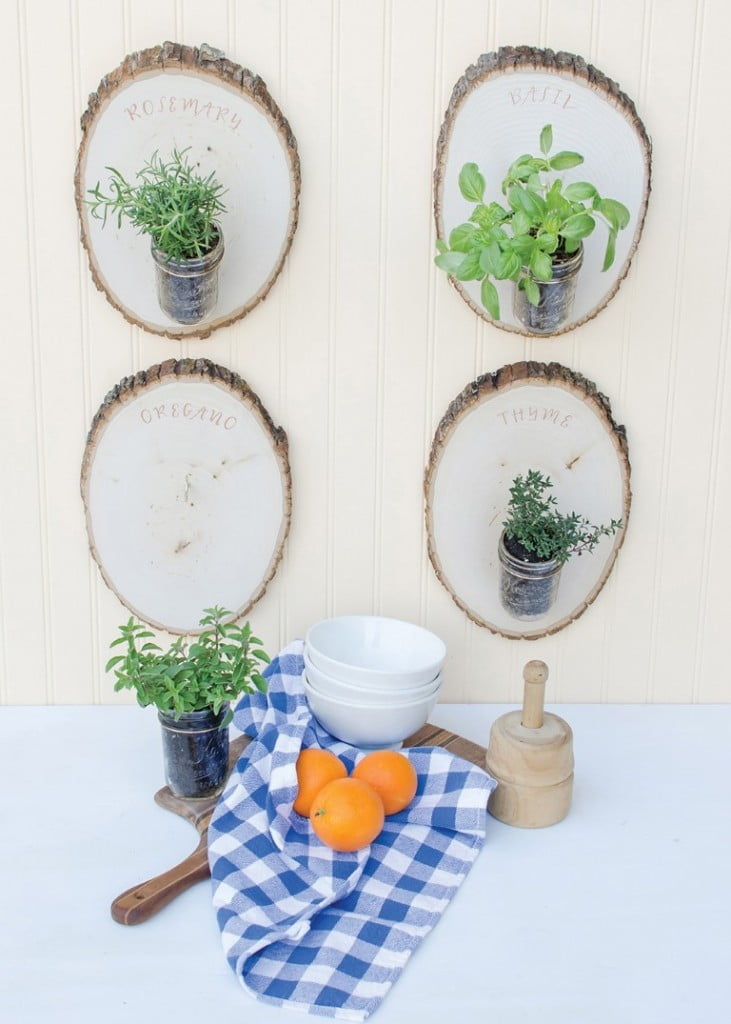 Source: tipsaholic.com
These cute wall hangers hold little Mason jars with growing herbs. The log slices are labeled with the names of the herbs. It would look nice to paint the names on, or you could engrave them for a pretty touch. The top of each log slice is sanded down for a smooth surface. This would be a great accent for any farmhouse kitchen.