18 Easy DIY Wood Craft Project Ideas on a Budget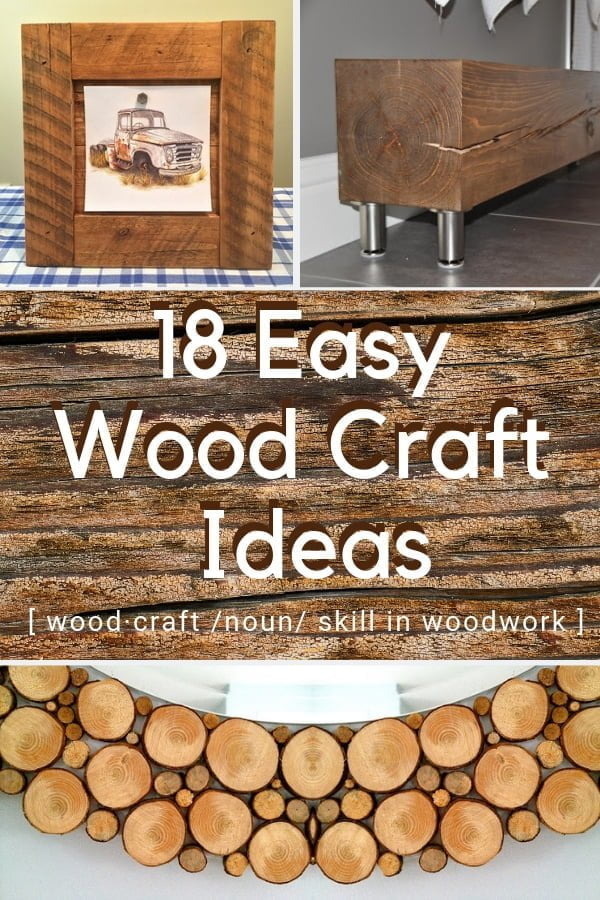 We've picked 18 amazing but still easy DIY wood craft projects for home decor so that you can build something unique yourself. Check out these tutorials.
Wood craft projects are very popular in DIY home decor. There's something about the uniqueness and character that each item crafted from wood brings to the table. No project is ever the same, and you can be sure you add something unique to your home decor, whether you do it yourself or buy something from Etsy.
We also like to keep it simple. Even if you aren't a seasoned crafter, you should be able to craft something from wood. That's why we've picked 18 amazing but still easy DIY wood craft projects for home decor so that you can build something unique yourself.
Table of Contents
Wood Slice Mirror Frame

Tutorial: thatsmyletter.blogspot.com
This is a simple and easy DIY project in a way that all you need to do is cut a lot of wooden branch slices and glue them together in a circle. It makes a great rustic DIY mirror frame that has some whimsical quality and a lot of charm.Related:35 Easy DIY Rug Ideas You Can Make Right Now
Pallet Wood Christmas Tree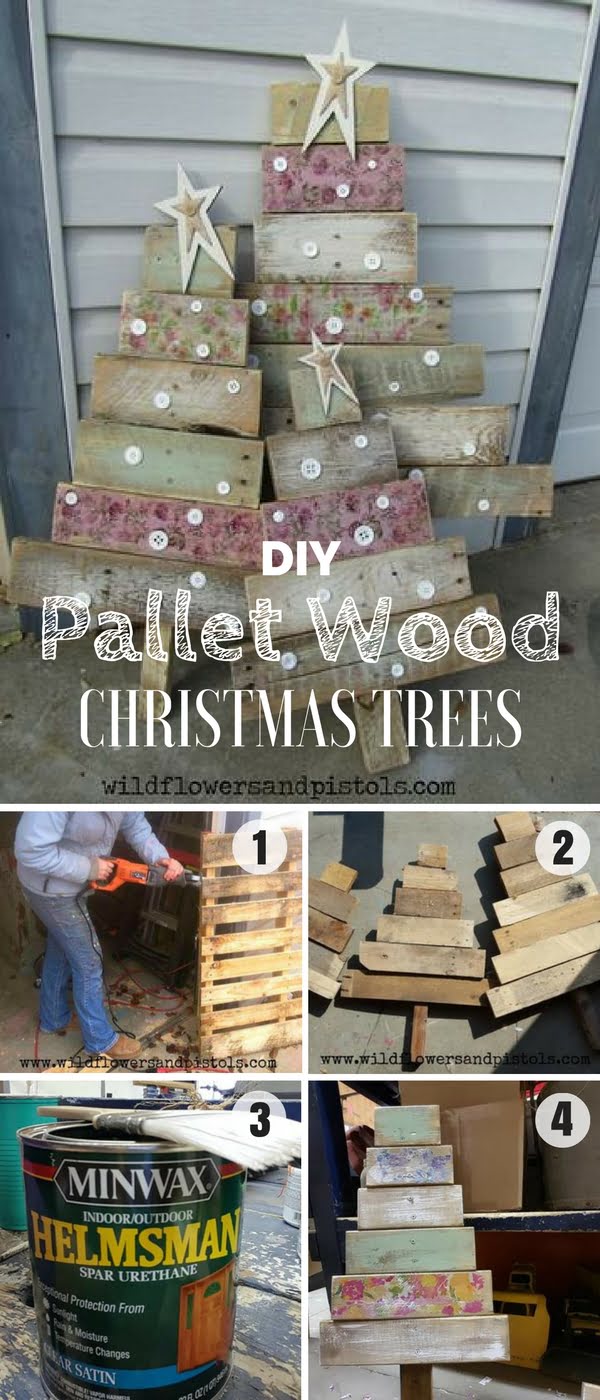 Tutorial: wildflowersandpistols.com
It's never too early to get ready for Christmas, and if you have some pallet wood to use, you can create wonderful decorations. It's a very simple and easy project, but the result is adorable.
Easy Quilt Ladder

Tutorial: sydneymakesstuff.wordpress.com
These things are popular and now is your chance to build one yourself. The project is straightforward and you get a rustic accent as well as a very functional decor item. Place it in any room to store your fabrics for easy access.

Small Wooden Coasters

Tutorial: designdininganddiapers.com
It's time for the artist within you to shine by making these adorable wooden coasters. If you're good at it, you can even make handmade gifts or sell them. In any case, these little rustic accents will make your home a cozier place.
Pallet Wood American Flag Sign

Tutorial: www.housebyhoff.com
Feeling patriotic? Build some pallet art rustic decoration for your home to show your love for your country. It's simple enough and won't take you more than a few hours to complete.

Easy Wooden Signs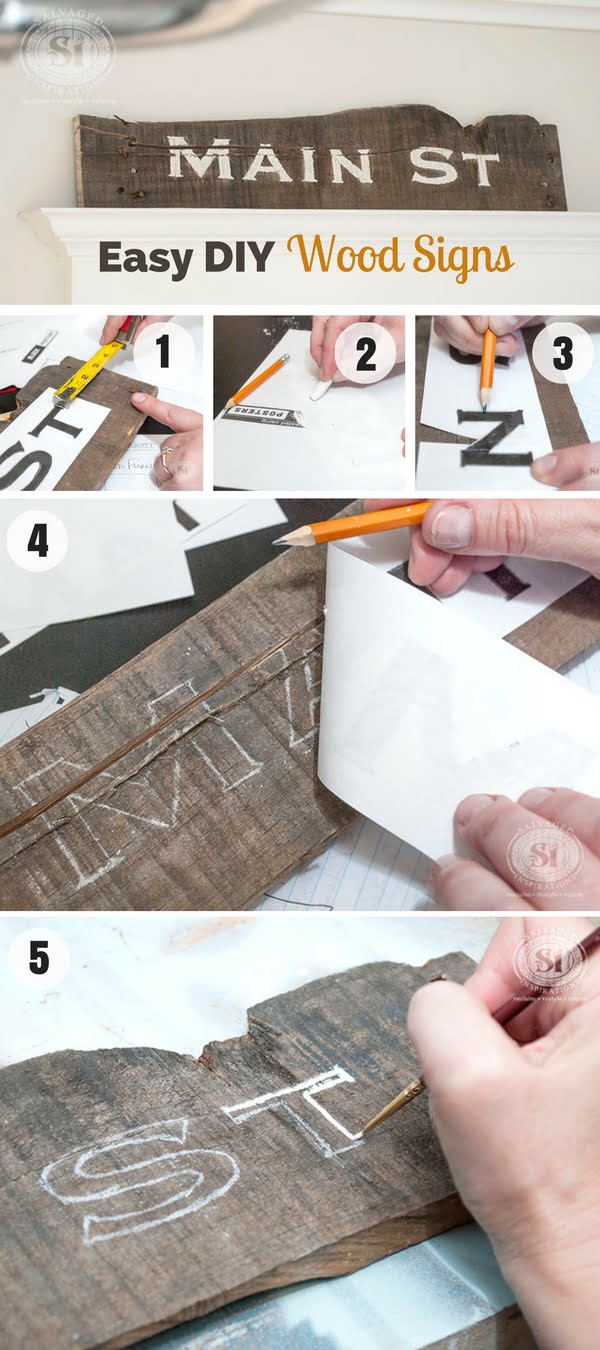 Source: salvagedinspirations.com
Do you like rustic wooden signs but think they are too complicated to make? Not with this tutorial which shows you how simple it is if you know how. There are several free printables available to help you too.Related:20 Charmingly Easy DIY Candles and Candleholders
Rustic Tray

Tutorial: howtonestforless.com
One more rustic accent for your home decor – a stained wood tray with a touch of industrial style with pipe handles. It will work in your kitchen decor as well as the bedroom for a lovely breakfast in bed.
Rustic Centerpiece

Tutorial: lovegrowswild.com
Here's a very versatile and useful decor item to craft from wood – a rustic centerpiece box. If you can build a box, you can build this centerpiece. We bet you'll create wonderful vignettes with it too.
Unique Twisty Table

Tutorial: www.woodshopdiaries.com
How brilliant is this design? All it takes is a single board of wood to craft it. It does take some precision work to cut it right, but it's straightforward enough when you have this tutorial to follow.
Wood Slice Clock

Tutorial: thesummeryumbrella.com
Do you need another clock in your home? You may very well build one and enjoy doing it. It's quite an easy project, and the result is charming enough to be a gift to someone.
Designer Cutting Board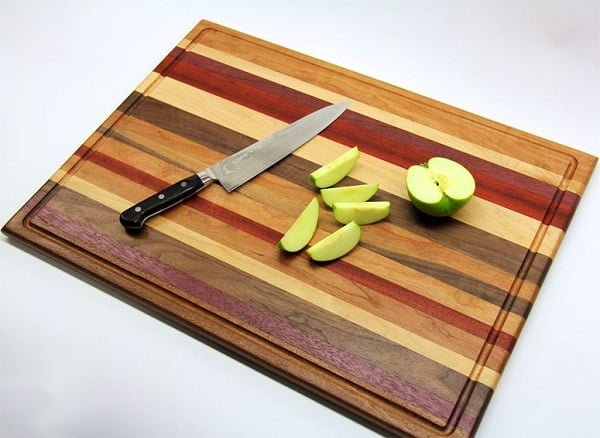 Tutorial: instructables.com
Kitchen decor can always use additional rustic accents even in everyday use tools. A DIY cutting board is one of the first things you may craft because it's so easy. But make it pretty by following this tutorial.Related:41 Most Creative DIY Anthropologie Knockoffs
3D Wood Snowflakes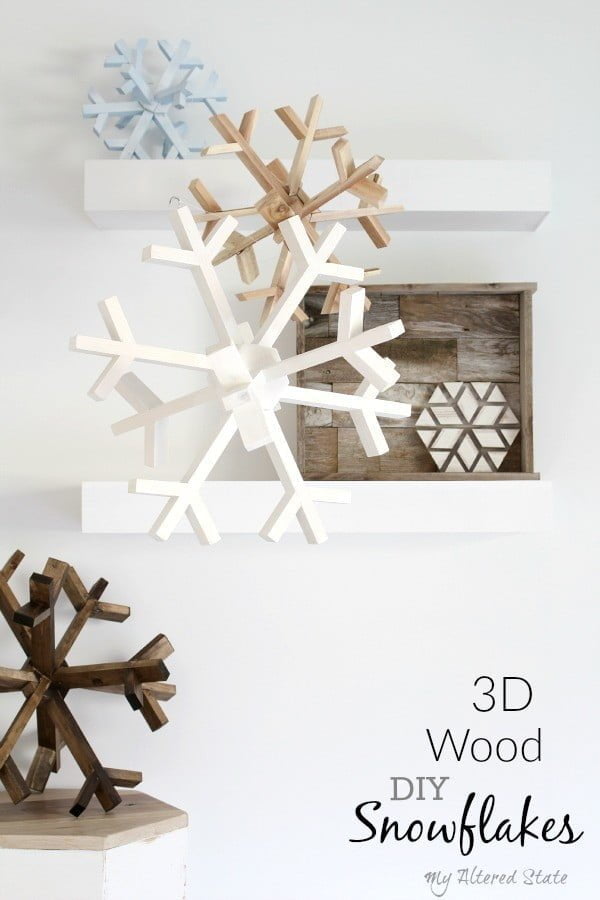 Tutorial: www.myalteredstate.co
Ready to create some art? These 3D wood snowflakes are brilliant, so much so that you don't need to wait for winter to make them. These little wonders will make adorable whimsical accents for your home decor in any season.
Pallet Table

Tutorial: www.curbtorefurb.com
Even if you haven't done it before, you can follow this easy tutorial and build a simple but very useful rustic pallet wood table. Its size is designed to fit even the smallest free corner in a room, so you'll find it useful.
Wood Slice Lamp

Tutorial: www.idlights.com
Here's another whimsical piece of rustic decor that you can build yourself. The lamp is adorable and looks a lot more complicated than it is if you follow the tutorial that is.
Pallet Wood Picture Frame

Tutorial: www.ozdiyhandyman.com.au
The last but not least wood craft idea on the list is for a cute handcrafted DIY picture framemade from pallet wood. It's very easy to build, and you'll enjoy doing it, not to mention get a very useful item in the end.
Rustic Modern Bench

Tutorial: timberandlace.blogspot.com
This rustic modern bench may be easy to build but it is wonderful accent furniture that you can place in the bathroom or the mudroom (anywhere you like, really). All it takes is a good piece of timber (reclaimed wood works great for this), wood stain and metal legs to attach.Related:16 Easy DIY Bedroom Decor Ideas You Can Do on a Budget
Rustic Pencil Holder

Tutorial: strawberry-chic.blogspot.com
If you want to make something easy, useful and beautiful, this is the project for you. A pencil holder made of a piece of dried wood looks so adorable, and it will help you organize your desk. It works as a lovely handmade gift too.
Rustic Cake Stand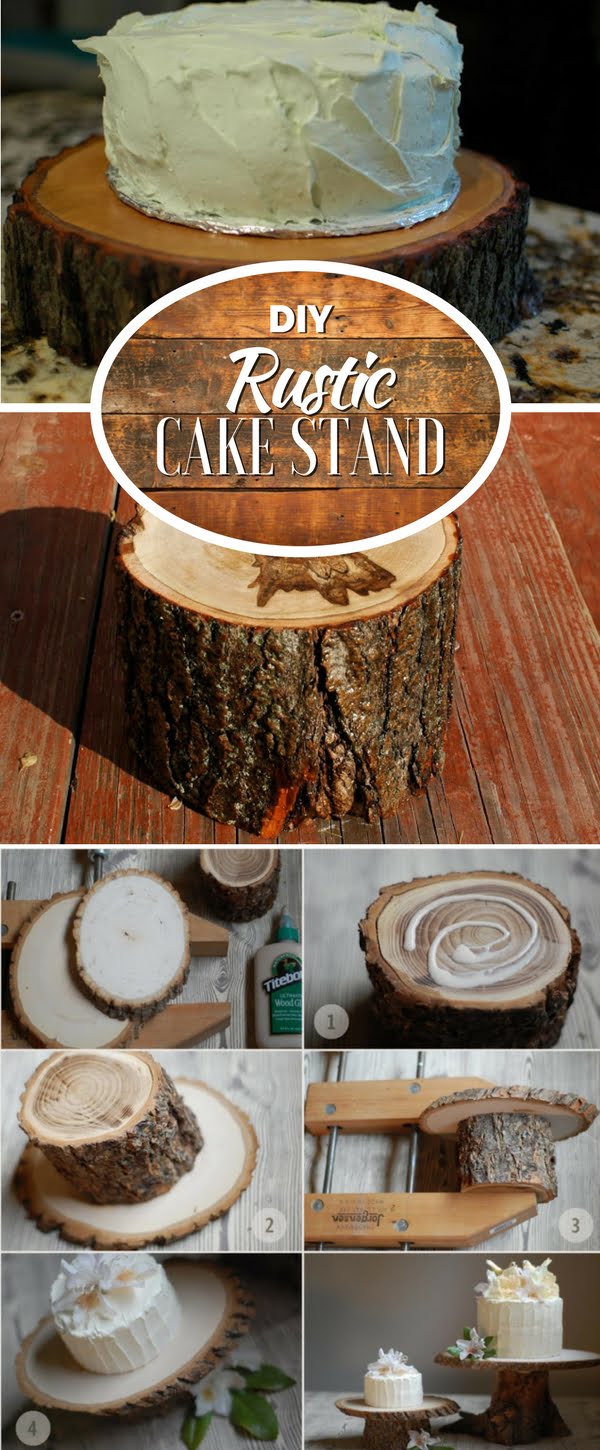 Tutorial: turtlecraftygirl.blogspot.com
You don't need a special occasion to use this adorable rustic cake stand made from a wood slice. It's a brilliant project, and it's not complicated for a quick weekend wood crafting job. Use it creatively for your home decor vignettes.