Workshop Organization Ideas
The cost of being disorganized is time. It takes me ten times as long to work on a project when I am scouring the room looking for a drill bit, the right screws, or trying to remember where I last used one of my 10 tape measures. Workshop organization is an ongoing project. As you acquire more tools, you have to rearrange your shop to work in storage for those new items. So mobile and modular storage, wherever possible will save you time down the road. Here are some amazing Workshop Organization Ideas that I hope will inspire you!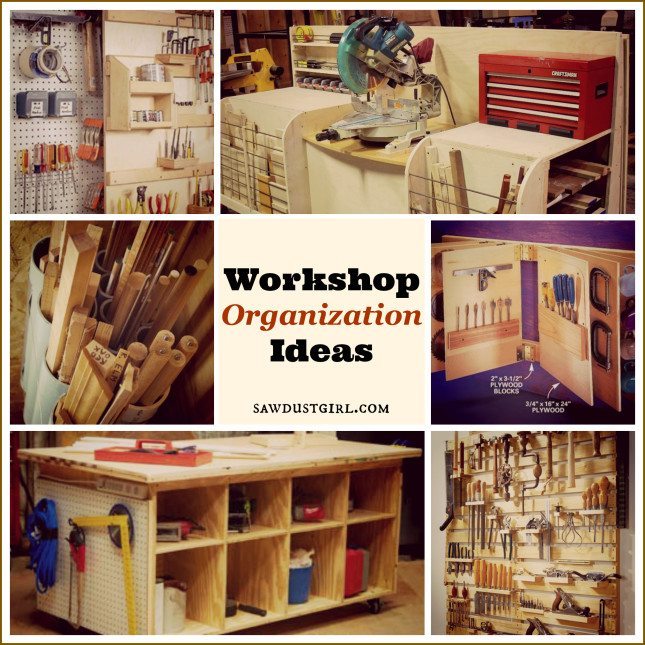 Workshop Organization Ideas
A good base of stationary cabinetry in addition to mobile storage is great if you have the space. This is my own garage workshop,right after I built the cabinets.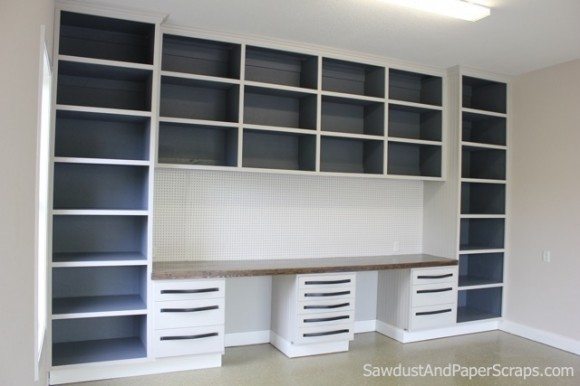 I've since added tons of drawer storage organization withlots of removable, sliding bit storage trays.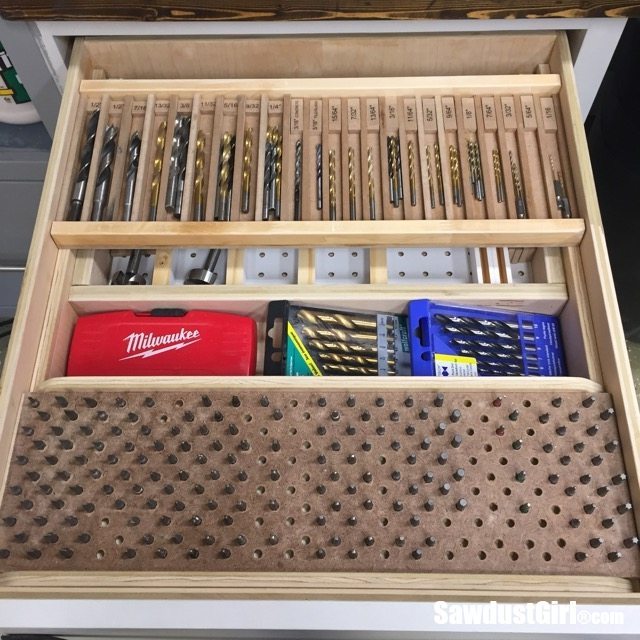 I also love the functionality of this vertical drawer storage organization.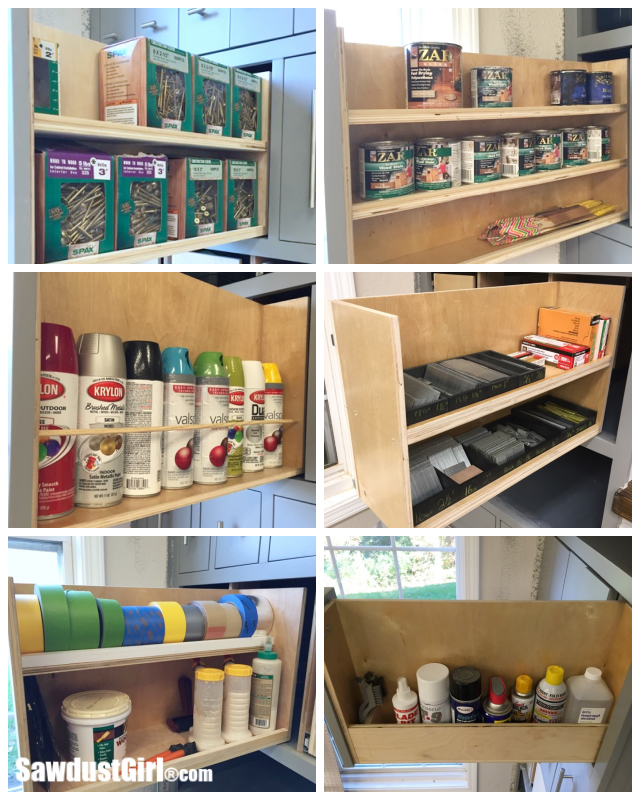 If you don't have an entire room to dedicate to your workshop, there are many freestanding units that are neat and functional. This workbench with built-in storage from The Family Handyman not only provides two levels of workspace, it also stores wood.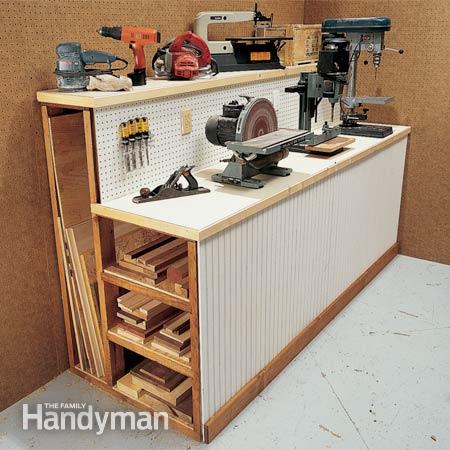 This Roll-Around Store-All from Shop Notes Magazine keeps your materials organized and accessible. Wheel this baby around whenever you need space!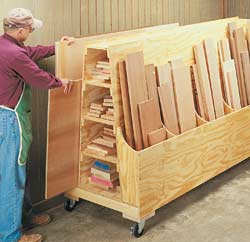 Or build this narrow lumber and scrap wood storage cart if it fits your space better.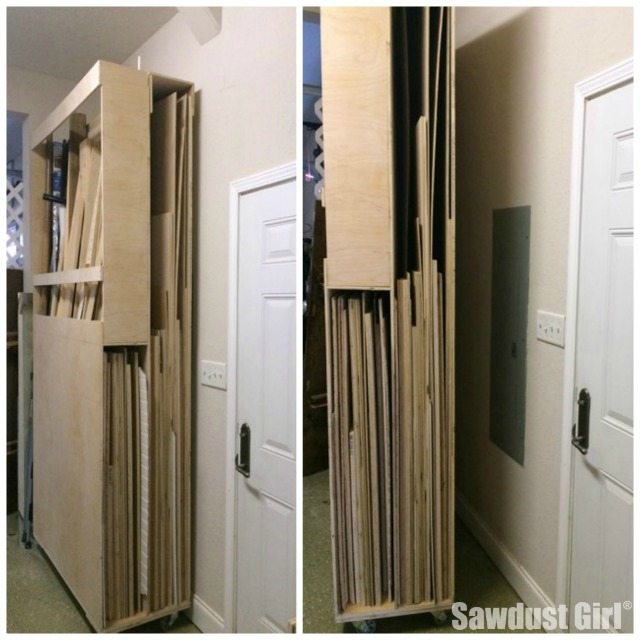 I think I'm in love with this Combo Miter Saw Station and Lumber Rack from Instructables. Wood storage, saw stand, tabletop workspace, wheels… you can't ask for more than this.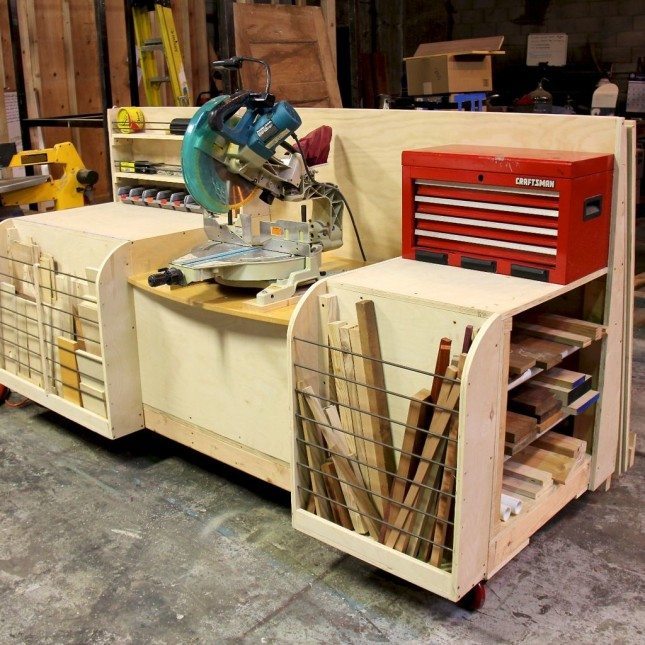 This portable tool storage cart has built in storage for an air compressor in addition to nail guns, drills, clamps, screws, nails and everything else you generally need at hand on the jobsite.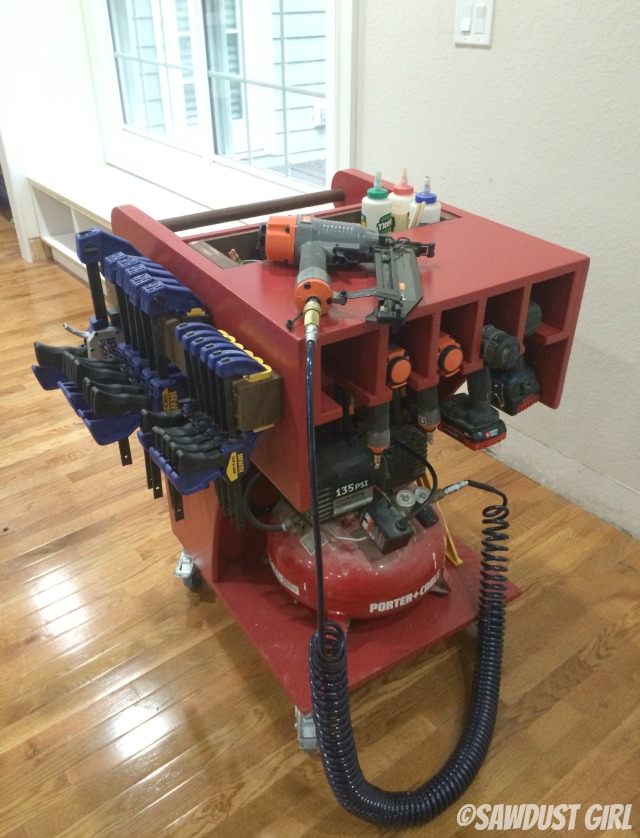 Sawdust 2 Stitches built this ultimate storage, assembly, and table saw outfeed table! It's got a hidden air compressor in there too!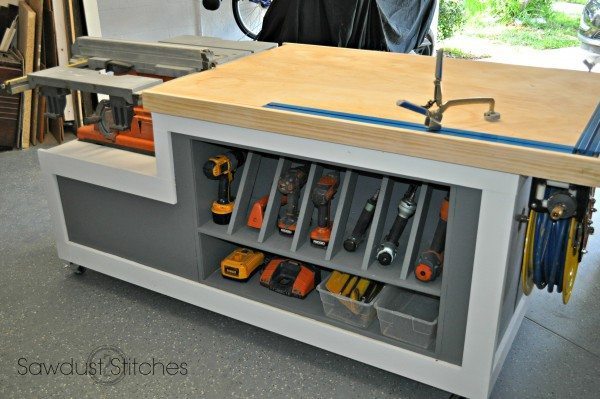 Wall storage
Sure, there are companies who will install an entire wall storage system for you, but the price can be exorbitant. This Customizable Garage Storage is hand made and therefore can be customized to exactly what you need, where you need it.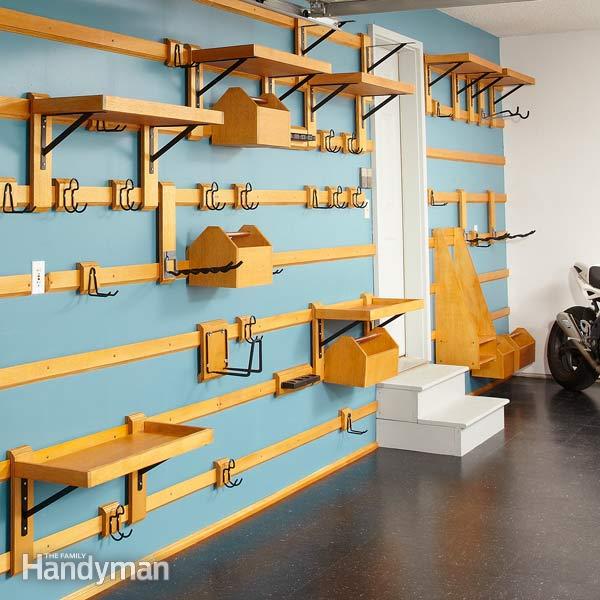 Woodworking tools are like pieces of art. This American Woodworker Hold-Everything Tool Rack displays them in such a way that they can be appreciated for the beautiful pieces they are.
Another wall storage option is a wall of pegboard like I did in my workshop.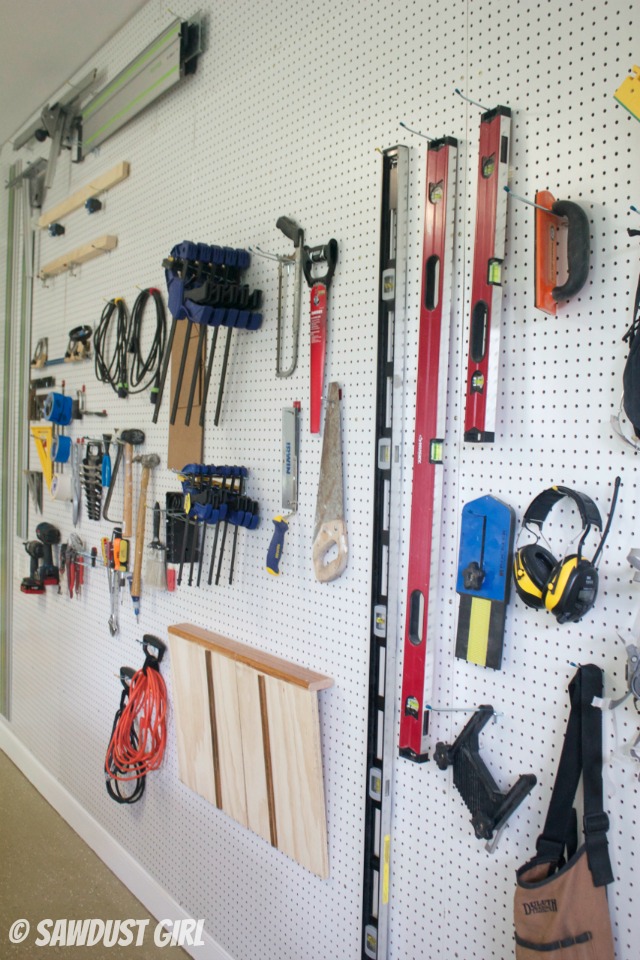 If you are really ambitious, Sliding Shelves can be built that give you tons of storage but hide the clutter. And apparently they come with your very own personal handyman. Well, hello there!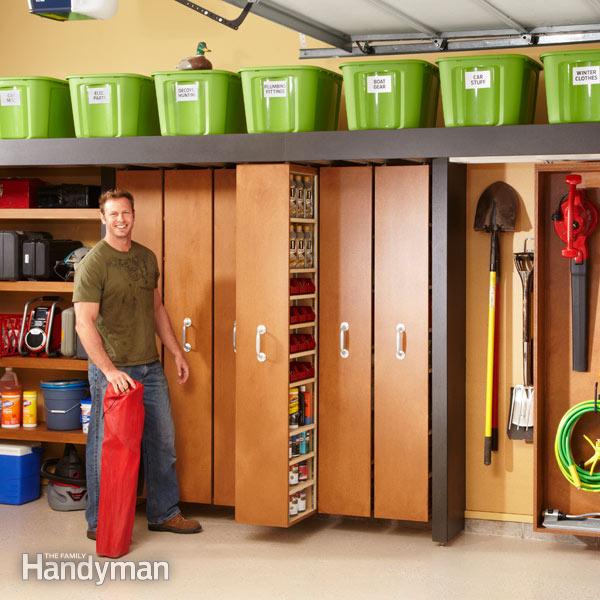 This project looks super easy, and (dare I say it, sorry guys) cute. I'm loving the final chapter of this Flip-through Tool Rack page turner. Coffee. Mugs.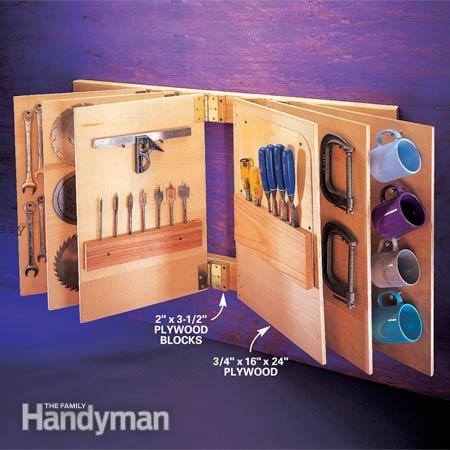 These American Woodworker Slide-By Panels are just plain fun. Look at this guy gazing at them adoringly. Hey wait a minute, isn't that Russell Crowe…?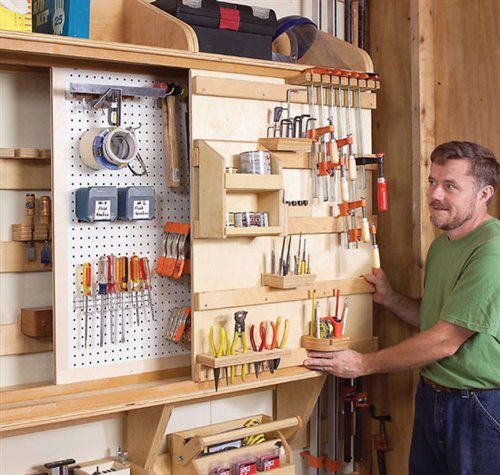 If it seems like some of these workspaces are even more complex than the projects you work on (I know for me they are), then keep it simple. Here is an easy workbench from The Family Handyman you can build for $50: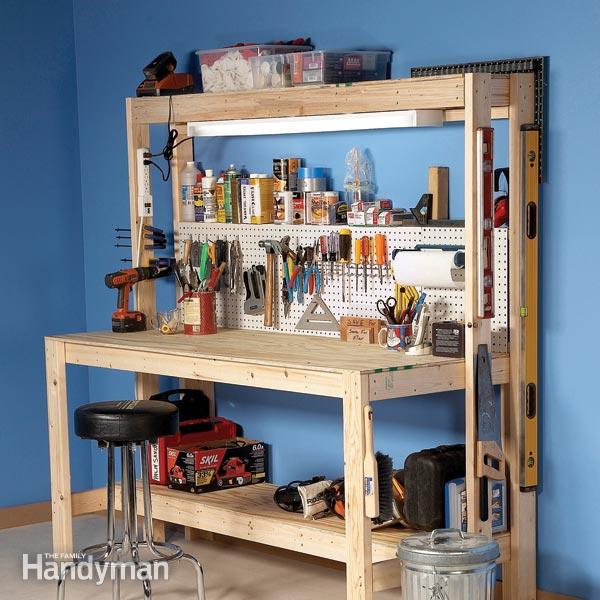 This PVC Pipe scrap storage couldn't be any easier. Corral your trim and dowels and be done with it.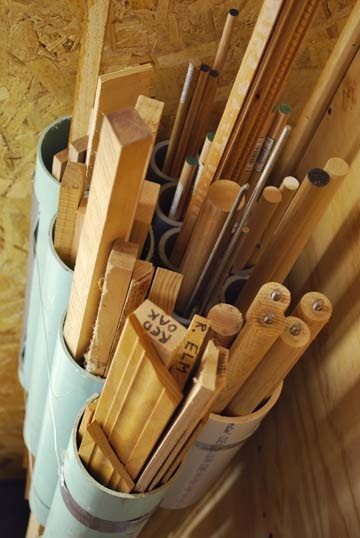 I think you can see from all of these choices, the best solution is the one that works for YOU and your home. Just make sure you create an environment that makes you feel creative and excited to work. And while there are amazing workshops online for inspiration, don't go crazy thinking your work area needs to be a renovation in and of itself! Use bits and pieces of inspiration, then get going on your projects!